Fishermen Who Snagged Great White Shark In Manhattan Beach Attack Are Off The Hook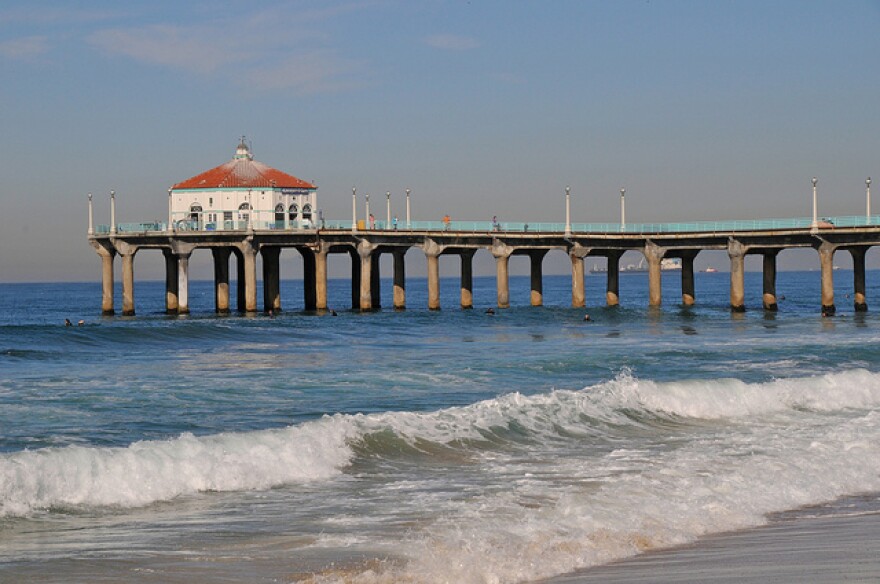 LAist relies on your reader support, not paywalls.
Freely accessible local news is vital. Please power our reporters and help keep us independent with a donation today.
The fishermen who hooked a great white shark who went on to attack a swimmer in a rare attack in Manhattan Beach this weekend won't be cited.
Fishermen had hooked a 7-foot-long shark and kept it on a line for 40 minutes, according to the Los Angeles Times. It's illegal to fish for great whites, but the fishermen said they didn't cut the line immediately because they hoped to guide the shark away from swimmers. It didn't work out that way. In its agitated state, the shark bit long distance swimmer Steven Robles. Though he thought he was a goner at the time, he's expected to recover.
Capt. Rebecca Hartman, a law enforcement officer with the California Department of Fish and Wildlife, told the Times that they reviewed a video showing the attack and interviewed the fishermen: "So far, we have found nothing to indicate that this was malicious."
Manhattan Beach announced yesterday that the city was banning fishing off the pier in the meantime.
Here's the video of the fishermen, some bystanders and the attack from afar:
Related:
Video: Footage Of The Manhattan Beach Shark Attack, Swimmer 'Thought This Was It'
Map: Shark Attacks in California Since 1851