This is an archival story that predates current editorial management.
This archival content was written, edited, and published prior to LAist's acquisition by its current owner, Southern California Public Radio ("SCPR"). Content, such as language choice and subject matter, in archival articles therefore may not align with SCPR's current editorial standards. To learn more about those standards and why we make this distinction, please click here.
Extra, Extra - Only Billy Corgan Could Get Weirder
Support your source for local news!
Today, put a dollar value on the trustworthy reporting you rely on all year long. The local news you read here every day is crafted for you, but right now, we need your help to keep it going. In these uncertain times, your support is even more important. We can't hold those in power accountable and uplift voices from the community without your partnership. Thank you.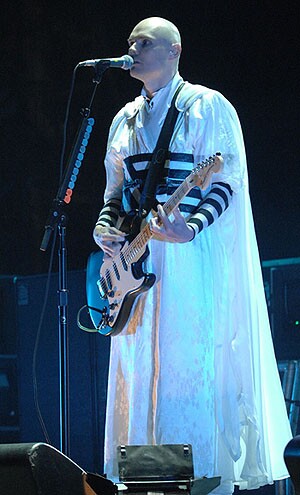 - Hey hippies, the world's largest wind energy conference and trade show ever is happening here in town - All American Patriots
- LAPD accused of beating up homeless - LAT
- Random two sentences out of today's LA Daily News: The 23-year-old star of "Teeny Tarts 4" and president of Hollywood-based Nautica Thorn Productions made a name for herself getting naked on camera. That name pushed her into mainstream consciousness recently as she appeared on the Fox reality show "My Bare Lady," which featured four porn performers trying to make it in London theater. - LA Daily News
- Bloggers save substitute teacher from 40 years in jail - BoingBoing
- Bright Eyes to play Hollywood Bowl with LA Phil - Pitchfork
- 81 year-old woman in Wilmington found with 100 rats and other "pets" - AP
- Cobra Snake goes to an 80s party - LA Weekly
- Anti-gang activist photographed flashing 18th Street Gang signs, while wearing an adorable hat - LA Weekly
- Lots of gangmembers have been taken off the streets in SoCal over the last few months - Reuters
- Fixit Ticket Tip: If you ever get popped for no front plate, instead of paying $15 to the LA Sheriff at the Vehicle Inspection Station, the CHP will inspect it for free. - Jalopnik
- Billy Corgan (pictured) and the new Smashing Pumpkins reveal their new look in Paris (video of Zero after the jump), but refuse to announce any LA tour dates - Myspace
photo by Ralf Heid via Flickr
Smashing Pumpkins - "Zero"

It's been many, many years since we saw this much snow in our mountains. Going up there right now isn't safe, but here are some places where you can enjoy the view and snap a pic.

April Valentine died at Centinela Hospital. Her daughter was born by emergency C-section. She'd gone into the pregnancy with a plan, knowing Black mothers like herself were at higher risk.

A look at years past when snows creeped into our citified neighborhoods, away from the mountains and foothills.

In the face of a drier future, that iconic piece of Americana is on its way out in Southern California.

Bob Gregory, 62, went missing the same day as Sands. His body was recovered near Mount Islip.