Wim Vandekeybus' Ultima Vez @ Royce
Stories like these are only possible with your help!
You have the power to keep local news strong for the coming months. Your financial support today keeps our reporters ready to meet the needs of our city. Thank you for investing in your community.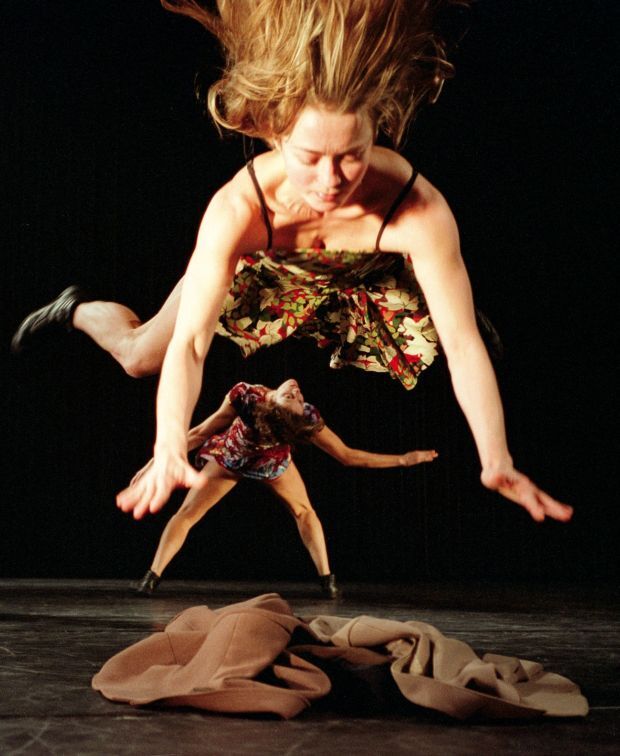 Photo by Jean-Pierre Stoop, courtesy of UCLA Live
Having broken into the international dance scene in 1987, Belgian choreographer/director/filmmaker Wim Vandekeybus is bringing a quasi-retrospective of his work to UCLA Live and Royce Hall for two performances of Spiegel on Friday and Saturday, May 2-3. Translating the title as "Mirror," the ninety minute intermissionless work includes excerpts from his groundbreaking What The Body Does Not Remember (1987) and six of his twenty subsequent creations. Performed by nine veteran company performers, recent members and the choreographer, himself, the work includes original music composed by some of Vandekeybus' collaborators: David Byrne, Pierre Mertens, Thierry De Mey, Marc Ribot and Peter Vermeersch.
Described in France's Le Soir as "a cross between Trisha Brown and John Woo," Vandekeybus is known for making hyper-physical and confrontational explorations of movement and theme. This new work begins with a dangerous game of hopscotch and continues as bricks and halved oranges become metaphors for gravity, weight and the human search for a soul mate. For those new to this artist's oeuvre, these performances offer a selective sampling of the explosive energy and emotions that are the foundations of his work; for longtime viewers, one can follow the evolution of his company, Ultima Vez, spiced with tasty bits of nostalgia.
A recipient of one of New York's Bessie Awards for choreography, Vandekeybus often includes film and video to deepen his investigations of what promotional materials describe as the "instinctive, . . . restless, unpredictable, powerful yet fragile body." These two dimensional works have also earned awards and special recognition on their own from international festivals for film and video. The company was last here in 2003. when it stunned audiences with Blush, which has since been re-worked into a video in 2005. The live performance included an awesome underwater dance film as well.
Check out this Youtube video for a sneak peek at the new work: