This is an archival story that predates current editorial management.
This archival content was written, edited, and published prior to LAist's acquisition by its current owner, Southern California Public Radio ("SCPR"). Content, such as language choice and subject matter, in archival articles therefore may not align with SCPR's current editorial standards. To learn more about those standards and why we make this distinction, please click here.
8 Well-Curated Jukeboxes In Los Angeles That Deserve Your Quarters
Before you read more...
Dear reader, we're asking you to help us keep local news available for all. Your tax-deductible financial support keeps our stories free to read, instead of hidden behind paywalls. We believe when reliable local reporting is widely available, the entire community benefits. Thank you for investing in your neighborhood.
Often it's the cheap drinks that lure you into a dive bar, but it's a great jukebox that convinces you to stick around. Whether it's consoling you with tales of heartbreak, getting you pumped up for a night out with friends or just setting the right mood for a first date, a well-curated jukebox can really make the night. And while tastes in music may be pretty subjective, you can tell when a bar has put serious thought into selecting a diverse collection of quality songs that make sense with the style of the bar and the crowd that likes to drink there. Sure, there are digital Internet jukeboxes flooded with top 40 hits that can be cued up with a text message but we're interested in spotlighting the few surviving, customized jukeboxes that play records or CDs.
So, for those willing to wait until last call to hear their requested songs played, here is where you can find the best jukeboxes in Los Angeles.

Tough decisions at The Virgil (via Facebook)
The Virgil
It's one thing to find a great jukebox, it's another, entirely awesome thing to find a great jukebox that is totally free. While the one side of this cool Silver Lake haunt features a stage for live bands, DJs and comedy, over on the 'B Side' bar, you'll find the well-stocked, eclectic and free Venus CD jukebox. From D'Angelo to The Smiths, and Otis Redding to Fleetwood Mac, you can be sure there are plenty of opportunities for some candlelit romance, no matter what genre you're feeling that night. Order up a couple seasonal craft cocktails, drop some dollars in the Venus, and find a cozy couch to pass the time with some soulful tunes.
The Virgil is located at 4519 Santa Monica Blvd, Silver Lake, (323) 660-4540


Bah, bah, bah, good times never seemed so good at The HMS Bounty (via Facebook)
The HMS Bounty
It may not come as a surprise that one of our favorite Old Man bars happens to have an excellent jukebox. After all, it's been well documented that old guys enjoy listening to even older guys croon while they sip their whiskey and sodas. The HMS Bounty not only has one of those new fangled CD-playing jukeboxes on the wall, but they also have hung on to a classic one from the 1960s that plays 45 rpm records. Assuming the machine is not being temperamental—as its fellow old-timers can be—you can drop a quarter (seriously, 25 cents!) and queue up your favorite old school hits. Sinatra, Miles Davis, and plenty of Big Band can usually be heard on steady rotation, played at a reasonable volume, of course.
The HMS Bounty is located at 3357 Wilshire Blvd, Koreatown,(213) 385-7275

Hmmm...Tiny Bubbles or Beautiful Kauai (via Facebook)
Tonga Hut
While you may expect the soundtrack to a tiki bar to be permanently rotating hits from Don Ho and Martin Denny, the jukebox at North Hollywood's Tonga Hut offers a bit more variety. Don't worry, there are still plenty of Polynesian classics to choose from at L.A.'s oldest tiki bar. But you'll also find an excellent mix on the CD-spinning jukebox of 80's stadium jams, rockabilly, 60's lounge, vintage jazz, exotica, surf rock, a bit of R&B, and even The Big Lebowski soundtrack. Order up a rum-soaked Zombie or a potent Tonga Tea, request a few of your favorite tunes from the jukebox, and settle into a booth for a boozy trip back in time.
Tonga Hut is located at 12808 Victory Blvd, North Hollywood, (818) 769-0708

Big country dreams stay with you in here (via Facebook)
The Cinema Bar
Maybe we've seen too many movies—which is both true and appropriate for The Cinema Bar—but there's something about an old jukebox playing country ballads that really plucks at our heart strings. If you fancy yourself some of that honky tonk charm, bring your laundry money down to this Culver City dive for all of the Patsy Cline and Merle Haggard you can handle. They even stock songs from local country singer Patty Booker and former L.A. resident Mike Stinson. If you're not feeling the country vibe, not to worry, you can still get plenty of golden oldies and jazz for the going rate of 3 songs for a dollar, so you can save your money for the cheap whiskey and Shiner Bock.
The Cinema Bar is located at 3967 Sepulveda Blvd, Culver City, (310) 390-1328

This is how good the jukebox sounds at Johnny's (via Facebook)
Johnny's Bar
The next time you're grabbing a bite to eat in Highland Park, you're definitely going to want to stop by for a nightcap (or three) at Johnny's Bar. If you can see your way to the huge CD jukebox in the dim red light of this York Ave. watering hole, you'll be pleased to find a solid selection of musical gems. The catalogue leans towards the left end of the dial with plenty of old punk, jazz, and classic hip hop, all curated by the owner and bartenders past and present. Anytime you can follow up a James Brown cut with a track from The Cramps and then close with A Tribe Called Quest, you can consider that a dollar well spent.
Johnny's Bar is located at 5006 York Blvd, Highland Park, (323) 982-0775
The Drawing Room
This dive bar has thankfully held onto its unmistakable grit over the decades, while also maintaining its excellently stocked CD jukebox. Unlike Ye Rustic Inn across the street—which ditched its once-great juke for the digital variety—The Drawing Room gives you the chance to curate your drinking soundtrack with a wide range of styles. You'll not only find plenty of well chosen albums, including soul, classic rock, punk and old school hip hop, but you'll also encounter CD mixtapes added by bartenders and loyal patrons. These personalized collections offer a choice of deep cuts and musical gems that you'd be more likely to find in a music-lover's glove box than your typical dive bar jukebox. Just be mindful that nobody is throwing darts at the board next to the jukebox as you make your five selections for one dollar.
The Drawing Room is located at 1800 Hillhurst Ave, Los Feliz, (323) 665-0135

Choose wisely at The Colorado Bar (via Facebook)
The Colorado Bar
With neon beer signs, pool tables and unfussy cocktails, Pasadena's Colorado Bar could easily play the stand-in for tons of small-town bars across the country. And the CD selection in the jukebox would fit right in wherever it was cast. From The Beatles to Van Morrison, ABBA to Guns N' Roses, there are plenty of classic, reliable tracks that appeal to the crowds. Quirky and indie jukebox selections can be fun, but sometimes you just want to put on "Billy Jean" or "Bad Moon Rising" and sing along with the whole bar.
The Colorado Bar is located at 2640 E Colorado Blvd, Pasadena, (626) 449-3485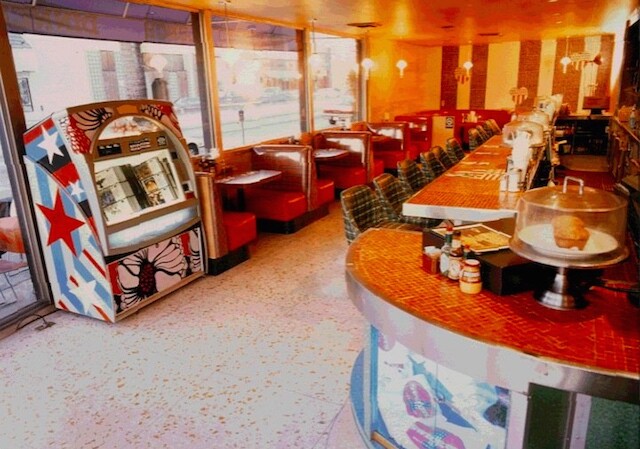 The hippest jukebox in at least that part of town (via Facebook)
Swingers
When last call has passed but the night is still young, where else is there but Swingers? This late, late night diner (open until 4 a.m. at the Los Angeles location) not only has a vegan-friendly menu, but also one of the coolest jukeboxes in the city. Don't let its un-hip address in Beverly Grove fool you—every hipster will appreciate the music selection, which skews a little punk and new wave. When it's 3 in the morning and you're slurping down a soy shake with peanut butter, you want to hear nothing else but some Jesus and Mary Chain chased with a little bit of The Cure and The Stooges. There's something for everyone, though. The steak & eggs crowd can bump some Motörhead, while those that get ahi tuna salad can enjoy the smooth stylings of Al Green. —Carman Tse
Swingers Diner is located at 8020 Beverly Blvd in Beverly Grove, (323) 653-5858, and 802 Broadway in Santa Monica, (310) 393-9793.