This is an archival story that predates current editorial management.
This archival content was written, edited, and published prior to LAist's acquisition by its current owner, Southern California Public Radio ("SCPR"). Content, such as language choice and subject matter, in archival articles therefore may not align with SCPR's current editorial standards. To learn more about those standards and why we make this distinction, please click here.
Lady Party IV @ The Bang Studio, 2/23
Support your source for local news!
The local news you read here every day is crafted for you, but right now, we need your help to keep it going. In these uncertain times, your support is even more important. Today, put a dollar value on the trustworthy reporting you rely on all year long. We can't hold those in power accountable and uplift voices from the community without your partnership. Thank you.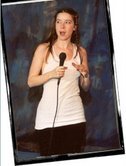 Welcome to the world of sex, strippers and women's studies students. If you were to say, hey, that sounds a little like the beginning of the feminist version of "a rabbi, a priest and a minister walk into a bar," you'd be right…but au contraire, mon amie. It is the fairly serious basis of Heather Woodbury's one-woman show, "The Last Days of Desmond 'Nani' Reese: A Stripper's History of the World," which was the first half of Lady Party IV at the Bang Studio last Saturday.
When I interviewed Jill Soloway, co-founder of OBJECT, the group that hosted Lady Party IV, she told me that in the play, Woodbury (right) essentially "has the conversation" about sex work, feminism and the ever-evolving venn diagram of the two.
Based on that, I was expecting "Desmond 'Nani' Reese" to be a one-woman debate, with Woodbury running back and forth from one side of the stage to the other making angry faces and saying things like, "Sex work perpetuates a degrading stereotype of women and objectifies them in order to fulfill the needs of men in an already male dominant society!"
"No it doesn't! Sex work lets women use their sexual power for their own financial gain, providing financial independence for women and in fact objectifying the very men who seek to objectify them, thereby subverting the patriarchal power structure!"
"No it doesn't!"
"Yes it does!"
(My abbreviated version of pro-sex worker feminism vs. anti-sex worker feminism, for your pondering pleasure). But oh, how wrong I was!
On a mission to finish her doctoral thesis, Amber, a young women's studies student, seeks out Desmond 'Nani' Reese, a 108-year-old former stripper who is holed up in a bungalow in Echo Park. Both have their shortcomings – Amber the academic is somewhat naïve about the ways of the world, a bit pale from all that time spent in the ivory tower. Desmond's 108 years of gritty, real-world experience apparently sent her a few paces over the deep end. Or maybe she's just senile.
Anyway, what could have been rife with clichés and/or sappy moral underpinnings plays out as a believable, funny, prolonged interaction between the two women. Neither Desmond nor Amber is a walking singular viewpoint, which could have been a trap for Woodbury, and she took a risk by not forcing either character to tow a party line in order to justify the things she had done – or hadn't done.
Happily, the student and the stripper don't become best friends in the end like some sex industry version of "Tuesdays with Morrie." Instead, they both do their best to get theirs then go their separate ways. And Woodbury deftly jumps back and forth between the two, her mannerisms so distinct that at one point all she has to do is glance up in a certain way for us to know that she's switched to a different character.
L.A. press has jizzed all over Woodbury's show so far, but then again we may be a little overly open to the idea of an academic learning something from a stripper, since L.A., if you'll follow me here, is kind of the stripper of the U.S. – casually dismissed by our chilly-weather friends as too sexy/shallow/vain to have any substance.
So maybe the naïvete with which Woodbury plays the overly-educated academic won't fly quite as well back east, where she's now headed and whence her Amber character hails. Who knows? Or maybe I've just lived here for too long…
The second half of Lady Party IV featured singer/songwriter Nellie McKay (left). A singer/songwriter at an event hosted by a feminist organization is potentially the grossest of clichés and could have been a mighty slippery, downhill slope, a slope paved with Ani, Tori, an Indigo Girl or two, and a quilted skirt.
Fortunately, Nellie avoids that slope. Her look is reminiscent of women who sang 1940's radio ads for soap and the like, as is her babydoll voice that drips sweet sarcasm over lyrics like "Feminists don't have a sense of humor…" and others which are actually too offensive to put in print (even on a blog).
So I say, way to change it up, OBJECT, and offer the unexpected. We'll be looking forward to more of the same.
Photo of Heather Woodbury courtesy of OBJECT; Photo of Nellie McKay by Amy T. Zielinski courtesy of Vanguard Records
Donald Trump was a fading TV presence when the WGA strike put a dent in network schedules.

Pickets are being held outside at movie and TV studios across the city

For some critics, this feels less like a momentous departure and more like a footnote.

Disneyland's famous "Fantasmic!" show came to a sudden end when its 45-foot animatronic dragon — Maleficent — burst into flames.

Leads Ali Wong and Steven Yeun issue a joint statement along with show creator Lee Sung Jin.

Every two years, Desert X presents site-specific outdoor installations throughout the Coachella Valley. Two Los Angeles artists have new work on display.