TV Junkie: Weekend Edition - Writer's Strike Cost 38,000 Jobs & $2.1 Billion
LAist relies on your reader support.
Your tax-deductible gift today powers our reporters and keeps us independent. We rely on you, our reader, not paywalls to stay funded because we believe important news and information should be freely accessible to all.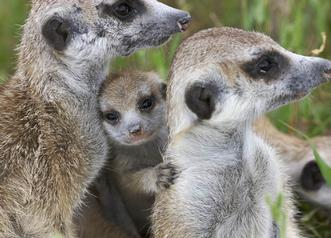 In contrast to the wildly cute meerkates to the right (yes, they're back), some seriously big numbers have been issued by the prestigious Milken Institute has put out an impressive study of the impact of the writer's strike. In summary:
- 37,700 jobs lost
- $2.1 billion in lost output through the end of 2008
The cascading effects of the strike are what reportedly tipped the state into a recession in early 2008, but by 2009 the effects will diminish considerably and be less noticeable, but another strike could prolong recovery for an additional year. A PDF of the full report is available here.
Listings are after the jump...