This is an archival story that predates current editorial management.
This archival content was written, edited, and published prior to LAist's acquisition by its current owner, Southern California Public Radio ("SCPR"). Content, such as language choice and subject matter, in archival articles therefore may not align with SCPR's current editorial standards. To learn more about those standards and why we make this distinction, please click here.
TV Junkie: Weekend Edition - Writer's Strike Cost 38,000 Jobs & $2.1 Billion
Support your source for local news!
The local news you read here every day is crafted for you, but right now, we need your help to keep it going. In these uncertain times, your support is even more important. Today, put a dollar value on the trustworthy reporting you rely on all year long. We can't hold those in power accountable and uplift voices from the community without your partnership. Thank you.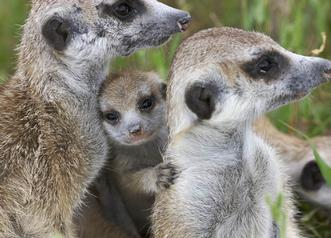 In contrast to the wildly cute meerkates to the right (yes, they're back), some seriously big numbers have been issued by the prestigious Milken Institute has put out an impressive study of the impact of the writer's strike. In summary:
- 37,700 jobs lost
- $2.1 billion in lost output through the end of 2008
The cascading effects of the strike are what reportedly tipped the state into a recession in early 2008, but by 2009 the effects will diminish considerably and be less noticeable, but another strike could prolong recovery for an additional year. A PDF of the full report is available here.
Listings are after the jump...
Tonight
9:00pm Man vs. Wild DISCOVERY - Season Finale. Bear Grylls visits Siberian yak herders descended from Genghis Khan.
10:00pm Battlestar Galactica SCIFI - Starbuck and the Galactica crew try to stay one step ahead of the Cylons.
8:00pm Charlie Jade SCIFI - Series Premiere
9:00pm Meerkat Manor ANIMAL PLANET - Season Premiere. Holy crap - the meerkats are back! Be prepared to be pummeled to death by cuteness.
9:00pm Hot Fuzz HBO - (2007) A British constable (Simon Pegg) feels certain foul play is afoot when a series of grisly accidents rocks his quiet village.
11:35pm The Late Show With David Letterman CBS - Actress Jenna Fischer; sports announcer Jim Nantz; Gavin Rossdale performs.
12:05am Jimmy Kimmel LIVE ABC - Actor Kevin Nealon; reality TV star DeAnna Pappas; the Ting Tings perform.
Sunday
6:00pm Lakers/Celtics NBA Finals ABC - Game Two.
8:00pm Your Place or Mine? TLC - Series Premiere
8:00pm My Left Foot IFC - (1989) The now-classic Daniel Day-Lewis film about Irish painter Christy Brown.
9:00pm Law & Order: Criminal Intent USA - Returns from hiatus
10:00pm This American Life SHOWTIME - Season Finale. Know anyone named John Smith?
10:0pm Army Wives LIFETIME - Season Premiere
Karim and Coop of the Commandos with pups from Discovery Channel's Animal Planet
Donald Trump was a fading TV presence when the WGA strike put a dent in network schedules.

Pickets are being held outside at movie and TV studios across the city

For some critics, this feels less like a momentous departure and more like a footnote.

Disneyland's famous "Fantasmic!" show came to a sudden end when its 45-foot animatronic dragon — Maleficent — burst into flames.

Leads Ali Wong and Steven Yeun issue a joint statement along with show creator Lee Sung Jin.

Every two years, Desert X presents site-specific outdoor installations throughout the Coachella Valley. Two Los Angeles artists have new work on display.