This is an archival story that predates current editorial management.
This archival content was written, edited, and published prior to LAist's acquisition by its current owner, Southern California Public Radio ("SCPR"). Content, such as language choice and subject matter, in archival articles therefore may not align with SCPR's current editorial standards. To learn more about those standards and why we make this distinction, please click here.
TV Junkie: Shaun White's $@*! Posse; 'Yo Gabba Gabba!' Returns! No Music Performance at Oscars
Our June member drive is live: protect this resource!
Right now, we need your help during our short June member drive to keep the local news you read here every day going. This has been a challenging year, but with your help, we can get one step closer to closing our budget gap. Today, put a dollar value on the trustworthy reporting you rely on all year long. We can't hold those in power accountable and uplift voices from the community without your partnership.

Did anyone watch the halfpipe last night? How was it that NBC didn't have the time or resources to edit out all the expletives from Shaun White's posse?
---
We can't believe how incredibly psyched we are for the upcoming season of "Yo Gabba Gabba!" which starts on March 8th (10:30am on Nickelodeon). Featured guests in the first week alone include: Sarah Silverman, Weird Al Yankovic, Black Kids, Jack McBrayer, Paul Scheer, Weezer, Anthony Bourdain, Of Montreal, Mos Def, Devo, The Aquabats, Mark Mothersbaugh, and of course, Biz Markie. See Anthony Bourdain as a "doctor" in the above video.
---
There will be life after "Better Off Ted" for Jay Harrington who has been tapped as the lead in NBC's "Nathan vs. Nurture". While we're happy to see that Harrington will be back on TV soon, we decry the impending cancellation of "Better Off Ted" as it has been a genuinely fun and interesting show in ABC's portfolio.
---
Composers and performers who created Oscar-nominated songs will not be performing them at the Academy Awards on March 7th. Unfortunately they will still have all that embarrassing dancing.
---
The TV Junkie Plan: Olympics, "Chelsea Lately", Letterman
2:00pm Olympic Winter Games CNBC - Curling, women's: USA vs. Denmark; hockey, men's: Canada vs. Switzerland, Slovakia vs. Russia; hockey, women's: Russia vs. China; curling, men's: France vs. Canada.
7:30pm Celtics at the Lakers TNT - Big hometown game. Thanks for keeping us on top of it Timmay.
8:00pm Olympic Winter Games 2010 NBC - Figure skating: men's free skate Gold Medal final; snowboarding: women's halfpipe semifinals and Gold Medal final; speed skating: women's 1000m Gold Medal final; skiing: women's super combined Gold Medal final.
8:00pm Big Les: Problem Child Showtime - Special Presentation. Comic Leslie Jones discusses basketball, orgasms and Oprah.
8:00pm Survivor: Heroes vs. Villains CBS - Backstabbing and dissension run rampant through a tribe
8:00pm SoCal Connected PBS/KCET - Accepting less. David Lazarus on the "under-employed"
8:00pm The Deep End ABC - Liam and Dylan realize they are the only ones who believe their client is innocent
9:00pm Past Life FOX - When two people share the same regression episodes, the team discovers that the couple are star-crossed lovers who rediscover each other in each life.
9:00pm Reporter HBO - Journalist Nicholas Kristof investigates the humanitarian crisis in the Congo.
9:00pm Grey's Anatomy ABC - Callie, Bailey and Richard present pivotal surgical cases from their pasts when Derek restores the hospital lecture series
10:00pm Burn Notice USA - Sam and Michael investigate a robbery at a chic fashion house; Michael and Fiona gain the trust of a Polish intelligence officer.
10:00pm Important Things With Demetri Martin Comedy Central - Strategy
10:00pm Archer FX - More Archer!
10:00pm Celebrity Rehab With Dr. Drew VH1 - Dr. Drew invites the patients and their families to a lake house for a group sessi
10:00pm The Sarah Silverman Program Comedy Central - Sarah sues the movie, Home Alone for influencing her to accidentally murder her new neighbor.
10:00pm The Real Housewives of Orange County Bravo - Everyone tells Vicki what they think of her; Raquel tells her friends about the eviction
10:00pm LA Ink TLC - Season Premiere
10:00pm America's Best Dance Crew MTV - The regional competitions are over and it's time for the top 9 crews to compete! This week's theme is "chart-toppin' songs."
10:30pm Model City Centric - Series Premiere
11:00pm Chelsea Lately E! - Round-table participants include Ross Mathews, Owen Benjamin and Guy Branum.
11:35pm Late Show With David Letterman CBS - Actress Scarlett Johansson; Daniel Merriweather performs.
12:00am Watch What Happens: Live Bravo - Talk show host Wendy Williams.
12:05am Jimmy Kimmel Live ABC - Actor Freddie Prinze Jr.; race-car driver Danica Patrick; Robin Thicke performs.
12:35am The Late Late Show With Craig Ferguson CBS - Actress Jennifer Tilly; race-car driver Jimmie Johnson.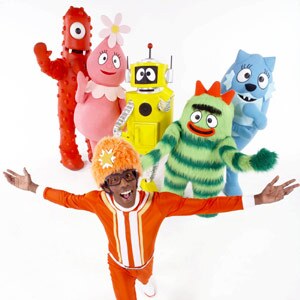 "Yo Gabba Gabba!" has a new season starting on March 8th (10:30am on Nickelodeon) with incredible guest stars

Donald Trump was a fading TV presence when the WGA strike put a dent in network schedules.

Pickets are being held outside at movie and TV studios across the city

For some critics, this feels less like a momentous departure and more like a footnote.

Disneyland's famous "Fantasmic!" show came to a sudden end when its 45-foot animatronic dragon — Maleficent — burst into flames.

Leads Ali Wong and Steven Yeun issue a joint statement along with show creator Lee Sung Jin.

Every two years, Desert X presents site-specific outdoor installations throughout the Coachella Valley. Two Los Angeles artists have new work on display.