This is an archival story that predates current editorial management.
This archival content was written, edited, and published prior to LAist's acquisition by its current owner, Southern California Public Radio ("SCPR"). Content, such as language choice and subject matter, in archival articles therefore may not align with SCPR's current editorial standards. To learn more about those standards and why we make this distinction, please click here.
The Museum Of Death In Hollywood Bought Dr. Kevorkian's Suicide Machine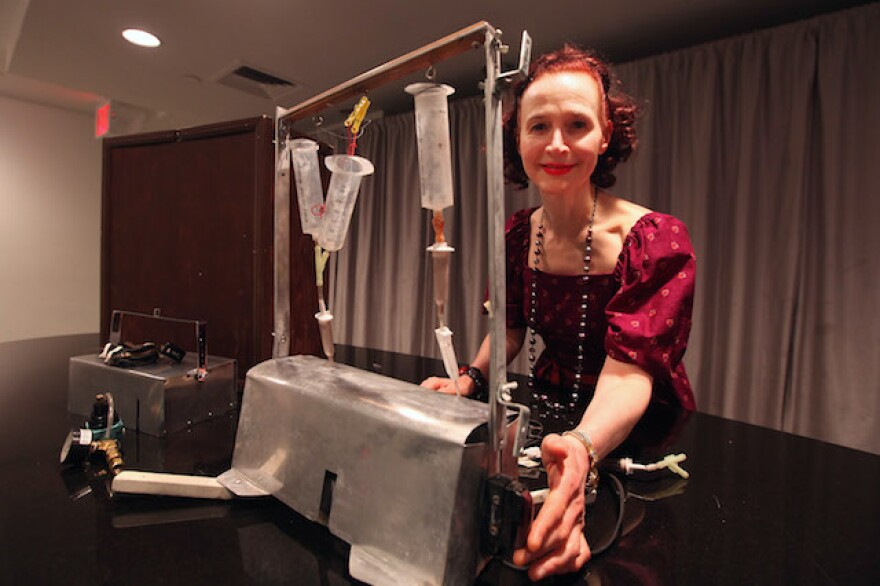 We need to hear from you.
Today during our spring member drive, put a dollar value on the trustworthy reporting you rely on all year long. The local news you read here every day is crafted for you, but right now, we need your help to keep it going. In these uncertain times, your support is even more important. We can't hold those in power accountable and uplift voices from the community without your partnership. Thank you.

The Thanatron is, essentially, a suicide machine that previously belonged to the infamous Jack Kevorkian. It now belongs to J.D. Healy and Cathee Schultz over at Hollywood's Museum of Death, and they're preparing a Jack Kevorkian exhibit. One of L.A.'s most interesting attractions, the Museum of Death contains many macabre items, and the Thanatron is just the latest. They already have a serial killer room with authentic Gacy paintings and Nightstalker letters, an entire room devoted to the Manson Family and a collection of crime scene photos and other morbid artifacts.
The Thanatron went up for sale at WeHo's Gallerie Sparta last spring with a number of Kevorkian's oil paintings, L.A. Times reports. Schultz and Healy bought the machine and one of the paintings titled "Fever."
The Museum of Death will feature a Kevorkian-themed exhibit in September, and then the Thanatron will be sent permanently to the couple's new museum branch in New Orleans, Musee de Mort Orleans.
The Thanatron was one of two suicide machines Kevorkian used. The Thanatron delivered a painkiller, then euthanized the patient; the Mercitron used carbon monoxide gas. Both devices would ultimately be activated by the patient themselves, not Kevorkian.
Jack Kevorkian, "Dr. Death," said he helped 130 people achieve death in the '90s before being convicted of murder in 1999. In this particular instance, he gave a patient a lethal injection himself and did not use the machine. He served eight years in prison before being released early on the condition that he would no longer participate in or advocate assisted suicide. He died in 2011 at the age of 83 in a Detroit area hospital after suffering from liver cancer and kidney issues.
Kevorkian's legacy is one of much debate over whether or not an ailing patient can choose to end their own suffering. The museum's exhibit will not seek to answer the question, but will explore it.
But Yeoh is the first to publicly identify as Asian. We take a look at Oberon's complicated path in Hollywood.

His latest solo exhibition is titled "Flutterluster," showing at Los Angeles gallery Matter Studio. It features large works that incorporate what Huss describes as a "fluttering line" that he's been playing with ever since he was a child — going on 50 years.

It's set to open by mid-to-late February.

The new Orange County Museum of Art opens its doors to the public on Oct. 8.

Cosplayers will be holding court once again and taking photos with onlookers at the con.

Littlefeather recalls an "incensed" John Wayne having to be restrained from assaulting her and being threatened with arrest if she read the long speech Brando sent with her.