The Port Of Los Angeles Lobster Festival w/ The Henry Clay People, Rocket, Robert Francis & The Monolators, 9/20 & 9/21/08
LAist relies on your reader support.
Your tax-deductible gift today powers our reporters and keeps us independent. We rely on you, our reader, not paywalls to stay funded because we believe important news and information should be freely accessible to all.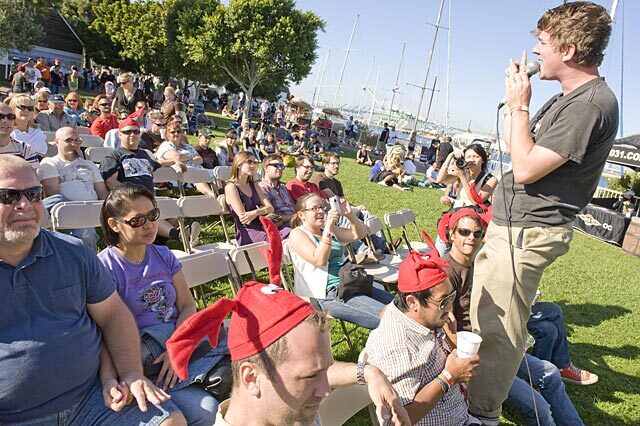 Last weekend, the 10th Annual Port of Los Angeles Lobster Festival took place in San Pedro. Last year's festival featured performances by notable local indie artists Eagle and Talon (MySpace), Great Northern (MySpace), and Bodies of Water (MySpace), and this year's lineup was no different with The Henry Clay People (MySpace), Craft Club (MySpace), Oliver Future (MySpace), Rocket (MySpace), Robert Francis (MySpace), The Weather Underground (MySpace), and The Monolators (MySpace) filling out the majority of the three-day roster.
As for upcoming local shows, The Henry Clay People's are this Friday at Spaceland (MySpace) in Silver Lake with the release of their debut album For Cheap or For Free, this Saturday at Pappy and Harriet's (MySpace) in Pioneertown, October 26th at Halloween I in Hermosa Beach, October 31st at Halloween II in LA, and November 10th at Detroit Bar (MySpace) in Costa Mesa. Meanwhile, Rocket's are October 16th at Detroit Bar and October 27th at Les Deux (MySpace) in Hollywood, Robert Francis' are October 7th at the Lagoon Lawn in UC Santa Barbara, October 8th at The Echo (MySpace), and October 30th at the Silverlake Lounge, and The Monolators' are this Saturday at the LA Weekly Detour Festival (MySpace) -- an extremely-coveted spot that was won in a Virtual Battle of the Bands Contest, and October 25th at Spaceland in Silver Lake.