The Best Weekend Getaways For Angelenos
LAist relies on your reader support, not paywalls.
Freely accessible local news is vital. Please power our reporters and help keep us independent with a donation today.
When you're itching to get out of L.A., but you don't have the time or funds to commit to something major, a quick weekend getaway is the way to go. Luckily, just outside of our city of angels, we have plenty of options for the outdoorsy types, city folk and wine-lovers. Here's a list of our favorite local trips, including some under-the-radar ones and others that take less than a two-hour drive out of L.A. As always, leave your own favorites in the comments.

Jalama Beach (Photo by John Murphy via the Creative Commons on Flickr)
Santa Barbara
If you're craving a little beach town vibe with wine country perks, Santa Barbara is less than a two-hour drive north from L.A. For the city slickers, there's plenty of shopping in downtown Santa Barbara, and you can get a pick-me-up with a cup of joe at Santa Barbara Roasting Company while you're at it. For the wine-lovers, you can go to Los Olivos or San Ynez nearby for some tastings—and make sure to stop by Gainey Vineyard. Butterfly Beach in Montecito is also a nice stop for secluded beach life and you might just spot a celebrity or two (hello, Oprah has a mansion out there.) If you're feeling hungry, it's worth a little 20-minute trip north of Santa Barbara to Cold Spring Tavern, a restaurant that once was a stagecoach stop in the 1860s. It now serves dishes with meats like venison and lamb. Or you can always try La Super-Rica Taqueria, a taco stand that Julia Child has vouched for as one of her faves (but be prepared for a line out the door at this popular joint). Just northwest of Santa Barbara is Jalama Beach, a largely secluded gem of a beach-camping spot with a first-come-first-serve site reservation (meaning, the slackers who didn't reserve a camp spot early on in the year are lucky here). It's easy camping with even a restaurant/supply store tucked in the corner of the campgrounds; the owners whip up surprisingly delicious burgers and fish-and-chips and sell all the camping equipment you'd need if you showed up empty-handed.—Jean Trinh

Ace Hotel in Palm Springs (Photo by Kevin Flynn via the LAist Featured Photos pool on Flickr)
Palm Springs
When it's not crowded to death for Coachella, Palm Springs is pretty much the perfect getaway for sitting by the pool and sipping some sugary alcoholic concoction. We're often wont to staying at Ace Hotel & Swim Club for its convenience (in-house restaurant, bar and spa, plus free bike rentals) as well as its cool aesthetic, but there are a number of great boutique hotels that offer a more relaxing alternative, from the Mad-Men-does-Palm Springs-style Orbit In to the South of France-inspired La Maison. If you're a golfer, there's a hell of a lot of that; if not, there's still tons to do. You can get great Mexican food and margaritas that will knock you on your ass on the misted patio at Las Casuelas Terraza or at the quieter La Perlita or El Marisol. Bars are plentiful, but Palm Springs is definitely a gay haven, and its strip of bars on Arenas Road are welcoming to everyone. To soak up local culture, on Thursdays—Villagefest takes over the main strip of Palm Canyon Drive with booths featuring local art, food and more. There are a ton of amazing modernist homes you can tour, especially during Modernism Week in February. And the Palm Springs Art Museum is an underrated gem, with works by greats like Warhol, Picasso and Chagall. Head out to Palm Springs in the spring and early winter for perfect weather. In cooler temperatures, there's plenty of hiking to do, from ranger-led hikes with vibrant wildlife at Indian Canyons to Tahquitz Canyon, which ends at a 60-foot waterfall that carves out of natural granite. If you go in late winter, you can even take the tram up to the Santa Rosa and San Jacinto Mountains National Monument, where you can play in the snow (!) and see stunning views of the Coachella Valley. —Billy Gil

Zabriskie Point, Death Valley (Photo by Pedro Szekely via the Creative Commons on Flickr)
Death Valley
Why not escape the developed desert wasteland of Los Angeles to the undeveloped desert wasteland of Death Valley? Sure, its peak summer temperatures of 110+ degrees can leave you wondering why you drove for hours from home just to sit in the car and crank the A/C, but its mysterious beauty lies in its extremes. The arid climate has done so much to form what we see of Death Valley today, carving up the earth to create landscapes as enigmatic as the hills of Zabriskie Point and the vast salt flats of Badwater Basin. Many of the sights of Death Valley are easily accessible by car for the weekend warriors, including the breathtaking Dante's View, which, on a clear day, will provide you with a view of both the lowest point in North America (Badwater Basin, at 282 feet below sea level) and the highest point in the Lower 48 (Mount Whitney, 14,505 feet). As with any National Park, there are plenty of campgrounds within park boundaries for those who enjoy the great outdoors; the clear desert sky is spectacular at night. For the less adventurous, inside the park boundaries are lodging options, including the historic Furnace Creek Inn and Ranch, founded in 1927. Or you can always stay in Vegas, just two hours away. Pack water, sunscreen, and make sure you check the conditions with the National Park Service before you visit. —Carman Tse

Las Vegas (Photo by Michael Zampelli via the LAist Featured Photos pool on Flickr)
Las Vegas
Sin City never gets old, and this year there are heaps of new hospitality offerings to prove it. This Memorial Day weekend marks the official opening of The Cromwell, a sleek boutique hotel that boasts Giada DeLaurentiis' first restaurant and the much-anticipated Drai's day and nightclub, which has some of the best views of the Bellagio fountains and Paris. The rooms at The Cromwell are super rich and sultry, and include modern vanities for the ladies, and mirrors in the shower. (Hey, what happens in Vegas...) The past year has also brought new nightlife experiences like Light at MGM Rose. Rabbit. Lie. at the Cosmopolitan Hotel, and the opening of Nobu Hotel within Caesars Palace, which boasts one of the best in-room dining programs we've ever seen (tonkotsu ramen or congee for breakfast, anyone?). Don't forget to hit up some of our favorite off-strip destinations, including Lotus of Siam for authentic Northern Thai cooking, Amber Unicorn for antique cookbooks, and the Downtown Liquor Room for craft cocktails and the infamous "ass juice," which isn't nearly as gross as it sounds. —Krista Simmons

Joshua Tree (Photo by Magda Diaz via the Creative Commons on Flickr)
Joshua Tree
The Joshua Tree National Park has long been a refuge for Angelenos looking to take in the desert landscape, with its stunning rock formations and prevalent yucca brevifolia. But the quaint surrounding communities up Highway 62 have also long been a well-kept secret. The town of Joshua Tree has an artist community feel, offering a quiet alternative to the bustling Palm Springs. The Joshua Tree Inn & Motel is a lovely one-story place with a bohemian feel and spacious rooms with kitchens; it's it's also well-known for being the place where singer Gram Parsons overdosed (there's still a shrine to him outside Room 8, where it happened). Just down the street you can have an amazing brunch of bacon pancakes or soyrizo hash at Crossroads Cafe, get drinks and sing karaoke at Joshua Tree Saloon and shop at thrift stores all over town. Nearby, there's also Hicksville, a kitschy trailer motel of trailers with archery, ping pong and a recording studio; and Pioneertown, where you can catch a cool show or have a great meal and drinks at Pappy & Harriet's (which doubles as a motel) and walk through a Western ghost town of store fronts used in various films and TV shows. Day trips to hike into the park are a must, and you can also camp in the park amongst giant, alien rock formations—we recommend Indian Cove. Speaking of aliens, we should also mention that Joshua Tree has a serious "Twilight Zone" vibe. You can get your chakras realigned at the Integratron, an acoustically perfect dome where you can engage in a "sound bath," a relaxing group experience in which you lie down while a performer creates soothing drones on giant crystal bowls (it only sounds crazy until you try it). The Integratron is also supposedly a time-travel vessel based on directions sent from extraterrestrials, who are said to have visited the area near the aptly-titled Giant Rock, a seven-story freestanding boulder that is also a Native American spiritual site. And we haven't even mentioned artist Noah Purifoy's 10-acre Desert Art Museum of Assemblage Sculpture, a post-apocalyptic village of sorts made up of old computers, tattered clothing and thrown-away scraps that is both inspiring and terrifying. All in all, it's a great place to get away and get weird. —Billy Gil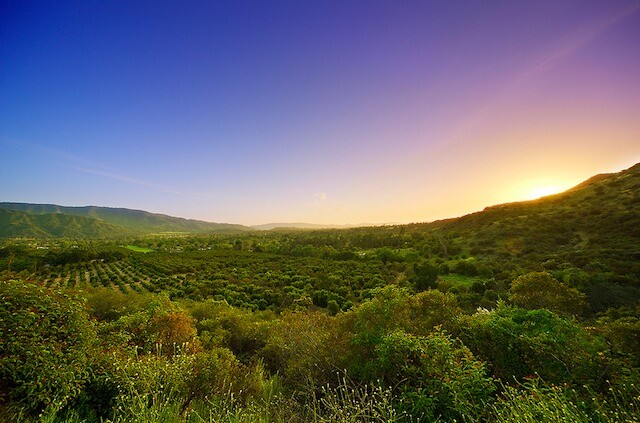 Ojai Valley (Photo by Shawn Park via the LAist Featured Photos pool on Flickr)
Ojai
The small artists' community of Ojai is just one-and-a-half hours away from Los Angeles, but it feels like it's a world apart. Things slow down in this little town, which is just 13 miles inland from Ventura, but that's not to say that it's sleepy. During the summer, days are long and the weather is significantly sunnier than by the beach. There are plenty of festivals throughout the year to keep you entertained, like the Ojai Valley Music Festival, or the upcoming Lavender Festival at the end of June. But even when things aren't buzzing for a major fest, it's a great place to visit. Stay at the historic Ojai Valley Inn & Spa, which was built in 1924, and be mesmerized by the stunning Spanish architecture and oak-tree lined property. You can detox there with a morning yoga session, or get crafty at one of their in-house classes like custom perfume making or silk scarf painting. Again, you could easily spend your days at the resort, but make sure to get into downtown Ojai, where you'll find plenty to do. Go wine tasting at Casa Barranca, a local winery and wine bar where locals commiserate at the end of the day to discuss art and other goings-on. If margaritas are more your speed, sip on a margarita Agave Maria's made with Pixie oranges, a species of citrus only grown in Ojai. On a similar note, you can find sangria made with local citrus and small plates at Azu, a town favorite. Be sure to block out time to get a massage at The Oaks at Ojai, a healthy living retreat center and spa. Head out for a day of horseback riding with Bodee's Rancho Grande to get a view of the Valley, or head up to Meditation Mount, a sprawling spiritual center and gorgeous garden property where you can take in the views of what Ojai-ans call "The Pink Moment." The sky in Ojai turns a dizzying array of colors at sunset, and it's easy to see why so many end up staying in this special pocket of SoCal. —Krista Simmons

Carlsbad (Photo by Les Abeyta via the Creative Commons on Flickr)
Carlsbad
Craft beer lovers might daydream of jet setting to places like Denver and Portland—which have great scenes for sure—but just a few hours drive south there's SoCal's own brewtown, Carlsbad. Just 25 minutes outside San Diego you can take tours with home brewers at the Scavengers Beer Adventures, who have a nose for the best breweries in the area. No doubt that all of the drinking will stir up an appetite, and thankfully there are countless brewpubs in town. One of our favorites is Pizza Port, which serves their proprietary beer as well as other local selections alongside pizzas (there are gluten-free options) as well as porter and stout floats. Walk it all off with a hike on some of the stunning trails Aviara at or kayaking at Agua Hedionda Lagoon. Or just laze on one of the many stunning beaches, which are much less populous than their southerly counterparts. There's also Legoland for the kids—and the adults—if you're into that kind of thing. —Krista Simmons

Solvang (Photo by Sigurd Gartmann via the Creative Commons on Flickr)
Solvang and Paso Robles
You might know the little Danish town of Solvang for its kitschy architecture and aebleskivers, but there's so much more to this gem of an area on California's Central Coast. If you're going up to Solvang—which is just over 120 miles outside of L.A.—you should definitely make it a twofer and book some time in Paso Robles as well. The region, most recently made popular by the cult movie Sideways, makes some of the best wines around. The Hitching Post restaurant, which also made a cameo in the movie, serves steaks prepared to perfection Santa Maria-style, BBQed over an open flame, with a side of their proprietary vineyard's phenomenal pinot noir. Literature buffs will enjoy the Hans Christian Andersen Museum in Solvang, and lovers of California history will get a kick out of the Old Mission Santa Ines, one of 21 Spanish Franciscan missions established in California in the 18th and 19th centuries. —Krista Simmons

Two Harbors (Photo by Juan Velasquez)
Catalina
Catalina really is a terrific weekend getaway for a number of reasons. For about $70, you can get a round-trip ticket on Catalina Express from Long Beach or Newport that takes you to and from the island (with drinks for sale on board to get you started, if you're into that sort of thing). Avalon is a quaint, miniature sort of town where people drive golf carts and everyone knows each other's name. You can get great seafood and views of Avalon Bay at Bluewater Grill, hang at local dives like the Marlin Club, catch a movie at the iconic Catalina Casino and stay at a modern, affordable hotel and spa with an ocean view at the Aurora. Our preference, though, when it comes to Catalina is camping, either in the middle of the island, near Avalon at Hermit Gulch, roughing it at secluded beach Parsons Landing or, our personal favorite, camping near Catalina's other town, the tiny Two Harbors, where you can stay in wooden tent-cabins by a quiet beach and walk to town for supplies, a meal and a drink when needed. Hiking can range from short and sweet to the seriously challenging, 37-mile Trans-Catalina Trail. And there are a number of other outdoors activities you can take part in at both Avalon and Two Harbors, from zip lining to scuba diving (or seeing wildlife safely from a glass-bottom boat, if you're anything like us). —Billy Gil