The Best Music Venues In Los Angeles
Stories like these are only possible with your help!
Your donation today keeps LAist independent, ready to meet the needs of our city, and paywall free. Thank you for your partnership, we can't do this without you.
Los Angeles has no shortage of places to catch live music. Here are a few of our favorite places with great acoustics, killer line-ups and atmosphere—leave your favorites in the comments.

Arcade Fire At The Greek (Photo by Ann Larie Valentine via the Creative Commons on Flickr)
Greek Theatre
The Greek Theatre, nestled in the heart of Los Feliz and surrounded by trees and mountains, is easily one of the most beloved outdoor venues in L.A. Hey, the venue even inspired that Russell Brand and Jonah Hill flick, Get Him To the Greek! It's smaller than the Hollywood Bowl with its 6,000 seats, which lends itself to some more intimate concerts with some big-name acts. Unfortunately, you can't bring your own food or drinks to the venue, but they sell goodies there, so you're covered.
Greek Theatre is located at 2700 N Vermont Ave. in Los Feliz, (323) 665-5857

The Troubadour in West Hollywood (Photo by therealquarrygirl via the LAist Featured Photos pool on Flickr)
Troubadour
Troubadour has had some serious history in being one of L.A.'s top music venues. Since it opened in 1957, it has had acts like Elton John, Guns N' Roses, and Radiohead play on its stage. However, the Troubadour is also known to host lesser-known bands before they make it big, so it's a great spot to discover some new bands. The music hub, with a small capacity of 400, brings you up close with your favorite musicians. If you decide to take a breather at its bar up front, don't worry about missing the show because you can watch it from the TVs on the wall there.
Troubadour is located at 9081 Santa Monica Blvd. in West Hollywood, (310) 276-1158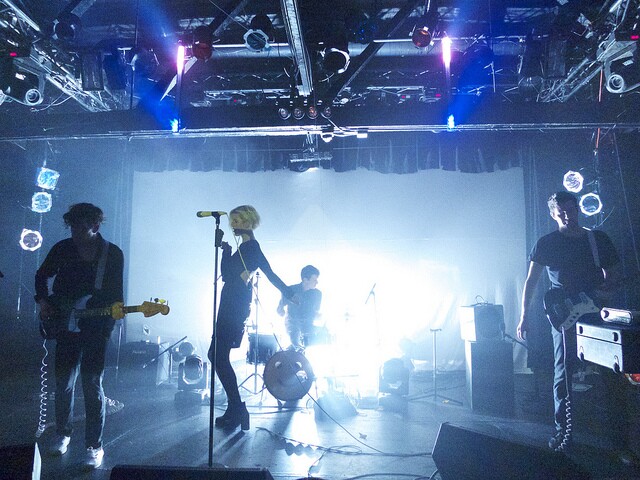 YACHT at the Echo (Photo by via the LAist Featured Photos pool on Flickr)
The Echo & The Echoplex
These two venues attached by the hip represent a good chunk of L.A.'s top indie music scene and bring out an electric mix of concertgoers. The joints are dark, there are places to sit, and the vibe there lends itself to lots of dancing. The Echoplex is the smaller larger of the two and located below the Echo, and the best part is that their kitchen serves up delicious slices of pizza from Two Boots Pizza. Discover new bands with their Monday night residencies. Also, if you want to get your dance on, the Echo has Funky Sole on Saturday nights so you can shimmy to some '60s soul.
The Echo is located at 1822 Sunset Blvd. in Echo Park; The Echoplex is located through the alley at 1154 Glendale Blvd. in Echo Park, (213) 413-8200

(Photo by Michael Locke via the LAist Featured Photos pool on Flickr)
Hollywood Palladium
The neon lights and marquee at the Hollywood Palladium are a mainstay of some of the town's best music. From Jay Z to Arcade Fire, this art deco venue has hosted some heavy hitters. It's hard to believe when it opened back in 1940, Frank Sinatra was once crooning on the stage.
Hollywood Palladium is located at 6215 Sunset Blvd. in Hollywood, (323) 962-7600

Sky Ferreira at the Bootleg (Photo courtesy of The Fold)
Bootleg Theater
The Bootleg is a venue that sticks with you. It's one of those places that has its finger placed firmly on the pulse of the underground music scene. The people at Fold Silverlake, who put on the shows there, have excellent tastes in music; some of the most interesting and talked-about bands come thorough here, both local and otherwise. The stage is small and intimate, but the sound rivals any top-tier venue in the city. The venue's residencies features some great up-and-coming bands. My favorite part of the venue is its photo booth, where many a picture has been drunkenly taken by my friends and me. —Matthew Bramlett
The Bootleg is located at 2220 Beverly Blvd. in Silver Lake, (213) 389-3856

Hollywood Bowl (Photo by martysalgs via the LAist Featured Photos pool on Flickr)
Hollywood Bowl
This outdoor amphitheater is a gem in our city. What other venue can you sit outside and bring your own picnic basket and bottle(s) of wine? Plus, it sits right underneath the Hollywood sign, and you can hear your favorite acts—from Radiohead to the L.A. Philharmonic—under the stars. It's the quintessential venue that complements our warm, sunny weather.
Hollywood Bowl is located at 2301 N Highland Ave. in Hollywood, (323) 850-2000

(Photo by John Hardin via the LAist Featured Photos pool on Flickr)
El Rey Theatre
El Rey Theatre has had its fair share of top-tier and soon-to-be-huge artists grace its stage, from Bob Dylan and the Pixies to Lana Del Rey (it only seems fitting she's play at a play that rhymes with her name). It's been named a historic-cultural monument of L.A., glowing vibrantly with its rainbow signage in the Miracle Mile; and rightfully so as the intimate venue opened its grand ballroom doors in 1936 and became a live music venue in the mid '90s. The ornate decorations and VIP lounge add a touch of class to its shows.
El Rey Theatre is located at 5515 Wilshire Blvd. in Miracle Mile, (323) 936-6400

Pehrspace (Photo by Mikey Wally via the Creative Commons on Flickr)
Pehrspace
This intimate arty venue hidden away in Filipinotown is where you can find under-the-radar bands as well as more established acts like HEALTH and No Age. It's all-ages, volunteer-run and has a very DIY vibe. A night here won't set you back much: shows will usually only set you back about $5. —Emma Gallegos
Pehrspace is located at 325 Glendale Blvd. in Filipinotown
Honorable Mention:

Zorthian Ranch (Photo by Michael R Perry via the Creative Commons on Flickr)
Zorthian Ranch
So this ranch in the foothills of Altadena isn't strictly a music venue but if you have the chance, it really is a magical place to catch a show and feel like you're a million miles away. The land has been owned by the Zorthian family since World War II, and over the years it's been host to a children's camp, movie shoots, music festivals and general bacchanalia. It's not like any other venue in town: musicians can perform in a deep, shady gulch, next to a dusty horse corral littered with rusty old art sculptures or next to a pool with breathtaking views of the San Gabriel Valley. Roosters occasionally interrupt the performances, and for the country and folk acts of the New LA Folk Festival it kind of just makes sense. —Emma Gallegos
Zorthian Ranch is located at 3990 Fair Oaks Avenue in Altadena