This is an archival story that predates current editorial management.
This archival content was written, edited, and published prior to LAist's acquisition by its current owner, Southern California Public Radio ("SCPR"). Content, such as language choice and subject matter, in archival articles therefore may not align with SCPR's current editorial standards. To learn more about those standards and why we make this distinction, please click here.
Tattoo This Hip Hotel's Logo On Your Body For A Free Night's Stay Because The Center Can't Hold
Our June member drive is live: protect this resource!
Right now, we need your help during our short June member drive to keep the local news you read here every day going. This has been a challenging year, but with your help, we can get one step closer to closing our budget gap. Today, put a dollar value on the trustworthy reporting you rely on all year long. We can't hold those in power accountable and uplift voices from the community without your partnership.
A boutique hotel in Venice Beach has just launched a promotion that surely doubles as some sort of metaphor for The Way We Live Now.
Hotel Erwin will be offering a free single night's stay and $200 in food and beverage credits to anyone who gets the hotel's logo, EЯWIN, permanently tattooed on their physical body. This is a real thing that I am not making up.
Here is an excerpt from the email we were sent:
Tim, serious question - how hard would you crush summer if your beach bod had a giant EЯWIN tatted sur la lower back??
Hotel Erwin is doling out $200 of Barlo Kitchen + Cocktails / High Rooftop Lounge F+B cred for permanent tattoos of the hotel's namesake EЯWIN, plus a free night stay. Homies who present the tattoo anytime from Saturday, 7/15 through Monday 7/17 to the manager on duty will receive the reward. Name must have a backwards 'Я' (as seen in the official hotel logo) to be eligible for the reward! Limit first 25. Must be 18 years or older.
The hip hotel is located a block from the beach on Pacific Avenue, and its 119 rooms were recently revamped by "young Hollywood's decorator of choice" Sally Breer. Rooms start at $279 a night this summer, according to our friends at Curbed LA.
We reached out Hotel Erwin (EЯWIN?) press rep Ryan Porter with some followup questions, in order to better understand the promotion and also what it means to be a human being living in America in 2017.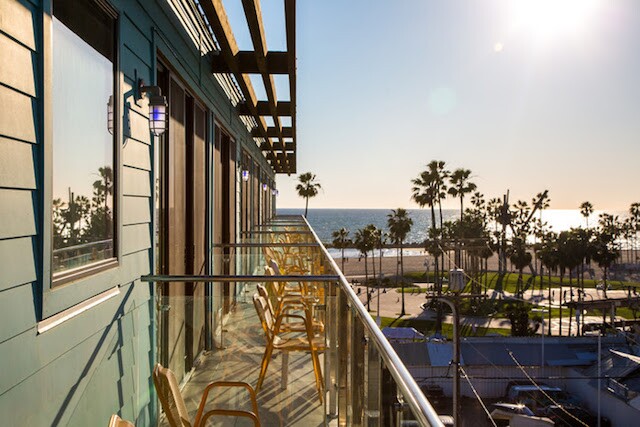 Hotel Erwin (Photo courtesy of Hotel Erwin)
LAist: Do you know if anyone has gotten a tattoo for the promotion yet? No, we don't know if anyone has gotten it yet. We put the window to show the tattoo starting Saturday and going through Monday.
Got it. And why is the "r" backwards in Erwin? That is a good question. While I don't know the actual, genuine answer to that, I want to say it's because Venice itself and the Hotel Erwin, it's just like the right amount of weird. They're always a little offbeat in everything they do. So it makes sense for just one element of the word to be askew, if you will. It kind of stands for the community itself.
This promotion only applies to permanent tattoos. Is the desk staff trained to identify whether or not a tattoo is permanent? How will that be determined? I was thinking about that and, you know, I think it's in the eye of the staff member. Maybe you'll get the staff member who doesn't quite know what they're looking for.
And I know from the hotel's press materials that there are "snacks and goods curated by Whole Foods Venice Beach" available in the rooms. Would the people getting a free night also have that curated Whole Foods selection in their rooms? Yes, they would. Each room has the honor bar curated by Whole Foods Venice Beach. It's one of the new collaborations that we're really excited about.
What does it mean exactly for a snack selection to be "curated"? It means—and I don't think Whole Foods has done this for any other hotel—but what they did is they picked out the selection. So everything that is found within the honor bar at Hotel Erwin is from either a Whole Foods brands or one of their partners. It's all been carefully chosen by the rep at Whole Foods Venice to be a delicious assortment that's appropriate for both brands.

Hotel Erwin (Photo courtesy of Hotel Erwin)
Very cool! Whole Foods, as you probably know, was recently purchased by Amazon. Tattoos have long been associated with cool, although they've maybe lost it a bit in recent years, but it's certainly a lengthy cultural association. Do you think getting a tattoo in exchange for a free room in a boutique hotel that has a snack selection curated by Whole Foods marks any kind of death knell for cool? Do I think it's cool?
No, no, I'm asking if you think it marks any kind of death knell for the concept of cool. Are you saying death or deaf?
Death, like dead. Like really taking cool to such another level. [Editor's note: I think my question was misinterpreted. In retrospect, I could have phrased it better.] Oh yeah, definitely. It's such a Venice thing. Venice has such a tattoo culture. I'm actually driving in Venice right now—I'm driving down Nielsen—and everywhere I look, people have tattoos, but the buildings have tattoos, too. This has to be one of the street art capitals of the world here. There's a mentality down here that everything is a canvas.
And what do you think it says about late capitalism that someone would get a hotel's logo permanently tattooed on their body in exchange for a $200 food and beverage credit and a free night's stay? I mean they would definitely have to be—I don't know what the expectations are for people to actually do this, but they would likely be a fan of the hotel, or maybe their name is Erwin, themselves. It's a fun play and so, what'd you say, capitalism?—
Late capitalism Right. I think they're just having fun with it, and if they got the right person out there or the right fan, they'd be super excited to see that happen.
In terms of the $200 food and beverage credit, what's the price point at the restaurant? Is that one dinner for two people, or a couple of meals? That's definitely a couple of meals for two people.

Hotel Erwin (Photo courtesy of Hotel Erwin)
When you closed your email to us with "No regrets," were you aware that tattoo removal accounts for the largest growth sector among cosmetic procedures? Is that what you were referencing, or was it just kidding? No, that was just fun for you.
I had fun with it, thank you. So many people get tattoos and then people are like You know you're going to have that forever, you know. But that's not really the case these days. And if you get a tattoo hopefully it's something you love, or that it means something.
Well you know what they say, a good marketing campaign is the opiate of the masses. That's right. And whenever you throw food in the mix, it's always a win. I'll do many things for $200 F&B credit; I don't know if I'll get a tattoo.
That brings me to my last question: will you or anyone else on the press team be getting Erwin tattoos? We'll have to see how the promotion goes. I'm not opposed to it.
***
We also reached out to the Democratic Socialists of America, Los Angeles chapter Agitprop Co-Chair Josh Androsky to see if he had any thoughts on the promotion, and what it says about the potential shortcomings of capitalism.
"Serious question - how hard would capitalism have to crush you if for one night of shelter and a couple orders of $14 guacamole, your beach bod had a giant EЯWIN tatted 'sur la lower back'??" Androsky said in an emailed statement.
Hotel Erwin is located at 1697 Pacific Avenue in Venice, at the intersection of Pacific Avenue and the widening gyre. (310) 452-1111. The tattoo promotion will be running from from Saturday, 7/15 through Monday, 7/17.
Donald Trump was a fading TV presence when the WGA strike put a dent in network schedules.

Pickets are being held outside at movie and TV studios across the city

For some critics, this feels less like a momentous departure and more like a footnote.

Disneyland's famous "Fantasmic!" show came to a sudden end when its 45-foot animatronic dragon — Maleficent — burst into flames.

Leads Ali Wong and Steven Yeun issue a joint statement along with show creator Lee Sung Jin.

Every two years, Desert X presents site-specific outdoor installations throughout the Coachella Valley. Two Los Angeles artists have new work on display.