The Neighborhood Project: Sherman Oaks
Stories like these are only possible with your help!
You have the power to keep local news strong for the coming months. Your financial support today keeps our reporters ready to meet the needs of our city. Thank you for investing in your community.
Sherman Oaks has a lot going for it. From movie and TV stars to community activism, from dingy Valley corner strip malls to high-end boutiques, this neighborhood of nearly 52,000 residents is never a bore (come on, Desperate Housewives films a bunch here).
It is named after General Moses Hazeltine Sherman, a well known real estate developer who bought a good amount of land in the area and sold it off. The community was the first area to host aggressive real estate development in the Valley in anticipation of Los Angeles Aqueduct in 1913. After the jump, let's go explore!
Boundaries: Mulholland Drive on the South, Burbank Blvd. on the North, 405 FWY and Sepulveda Blvd. on the West, Coldwater Canyon Blvd. to the 101, then zip code boundary between Studio City and Sherman Oaks on the East.
For the most part, Sherman Oaks' boundary is fairly straight forward. Then there is the weird stuff. The big outline above is the official Neighborhood Council boundary. Add the little piece to the west of the 405 and you've got all of Sherman Oaks right there. The "Lost Tribe" as they call themselves there across the freeway is officially part of the Encino Neighborhood Council, but there has been some movement to annex to where they belong. The little divet on Van Nuys Blvd. was purely a business move for the Van Nuys Auto Row. That was all about branding. Personally, I think Sherman Oaks Auto Row has a much better ring to it.
Major Public Transit: Orange Line at Fulton/Burbank (Valley College Station), 750 Rapid (Ventura Blvd.), 761 Rapid (Sylmar to Westwood/UCLA via Van Nuys Blvd.) and 734 (Sepulveda Blvd.), Van Nuys/Studio City DASH
Parks: Van Nuys/Sherman Oaks War Memorial Park & Sherman Oaks Castle Park
City Council: Wendy Greuel & Jack Weiss
Neighborhood Council: Sherman Oaks Neighborhood Council
County Supervisor: Zev Yaroslavsky
State Senate: Sheila J. Kuehl & Jack Scott
State Assembly: Mike Feuer & Lloyd Levine
US Congress: Howard L. Berman & Brad Sherman
Freeway access: 101 & 405
The Iconic Sherman Oaks
When you say Sherman Oaks, people think Sherman Oaks Galleria. Before 1999 when it was renovated by the wrecking balls, the Galleria was not that special of a place except for film pop culture. "Fast Times at Ridgemont High" (1982) was filmed here as well as "Commando" (1985) with our current Governor. Despite what would be a good guess, "Valley Girl" starring Nicholas Cage was not shot at the Galleria, but at Del Amo Fashion Center mall in Torrance. However, the Frank Zappa 1982 "Valley Girl" song references the mall.
Today, the Galleria is popularly and jokingly referred to as "the mall that isn't a mall." Before it was an enclosed mall, now it is an open air mall that has a mix of restuarants (Cheesecake Factory, PF Chang's, El Torito Grille and more), shops, lifestyle (24 Hour Fitness, Burke Williams) and the new ArcLight Movie Theater. The office towers used to be mainly filled by Warner Bros. Animation who recently moved out.
During the summers, there are free music concerts. Lots of old people dance.
This was probably a good move on ArcLight's part. The Sherman Oaks Galleria is accessible at the 405/101 junction, making it easy for Westsiders and Valley residents to visit and spend money. Especially for those on the Westside, a weekend night to the Valley is much faster than going to Hollywood.
The Galleria is located at the busiest intersection in the Valley - Ventura and Sepulveda.
The Basics
From top to bottom, Sherman Oaks is extremely diverse economically. To the north and past Burbank Blvd. is Van Nuys and Valley Glen and to the south at the top of the hill is Bel Air. In the "flatlands," it's common that you'll find apartment/condo lined along major streets with single family homes along the sidestreets.
One of the nicer looking condos. Many look like crap.
Old angled apartment garages in an alley off of Moorpark St.
Yes, even the alleys have their charm...
but not all of Sherman Oaks is pretty. For example, take this odd walkway near between the 101 Freeway and an apartment near Van Nuys Blvd. Like much of Los Angeles, tagging is a consistent element in Sherman Oaks. For the most part, it does get abated quickly.
"The Hills" or "South of the Boulevard"
Anything south of Ventura Blvd. is at the very least one million to buy. As to renting, you can still find good deals on streets close to Ventura, but the further south you go, the more expensive it gets unless you find a sweet deal where the owners give you cheap rent in trade for taking care of their dog while on vacations (we've heard of this situation quite a few times).
Lots of curvaceous narrow roads cover the hills in Sherman Oaks leading to secluded homes and even dingbat like condos that probably shouldn't be there.
At a home off of Mulholland.
A resident looks over her view of Sherman Oaks and the rest of the Valley near dusk.
It goes without saying that there are gated communities. This one off of Mulholland where Charlie Sheen lives is full of liars. Yes, a part Sherman Oaks does share the famous 90201 Beverly Hills zip code, but it does not mean they live in Beverly Hills, they just say they do.
If you don't have the dough to live in the hills, but want to take in the views, there are a few look out points on Mulholland. Here, a business man after work takes in the sunset view before heading home.
The LA River
While it stops Sherman Oaks from being an easy to navigate grid neighborhood, the LA River is a wonderful asset to the community, especially with the hopefully upcoming LA River Plan that should take about 50 years to complete (tee. hee.).
It's illegal, but why not? Enter at the parking lot of the Sherman Oaks Castle Park (see the complete photo essay)
Potential bike or recreation path. Currently closed to the public
Two parts of the LA River in Sherman Oaks are open officially open to the public, this being one of them. Find it between Fulton and Coldwater Cyn at Valleyheart St.
Below are some volunteers abating graffiti at Ernie's Walk, the other recreational path open to the public along the LA River. You can find it between Kester and Cedros at Valleyheart. Ernie lived in the neighborhood and landscaped the hell out of it on his own time. Ernie passed away and the city dedicated it in his name. Unfortunately, it's a hotspot for graffiti taggers and shady night business.
More Recreation
Van Nuys/Sherman Oaks War Memorial Park is the main hub for open space in Sherman Oaks. The large park is between Hazeltine and Van Nuys and one lap around the running trail is about 1.2 miles (there are now mile markers on the ground). The park has a very sought after outdoor pool, tennis courts, a senior center, shuffle board (!!!!!), basketball courts (indoor and outdoor), soccer fields, baseball diamonds, and large fields used for martial arts, bocce ball and sleeping for the homeless. It is not officially a dog park so you cannot legally take your dog off the leash, but people do it anyway (warning: if the police are ever there, which is hardly, they generally do ticket you).
Above is Sherman Oaks Castle Park, which is owned and operated by the city. It's quite the revenue generator and a popular date place for all ages. Here, there is a mini golf course (with 3 routes to choose from), an arcade and batting cages.
The Orange Line hits Sherman Oaks ever so slightly at the northeast corner of the neighborhood. At Ethel St., the Class II bike lane turns into a Class I bike and recreational path that can take people from Sherman Oaks to the west end of the Valley, 13 or so miles away.
Community & City Services
Sherman Oaks, like most of the Valley, is big on community activism. Some say that the Sherman Oaks Homeowners Association (SOHA) is the most powerful HOA in the state. Just look at these pictures of how many people turn out to a meeting!
SOHA seems to get a heavy hitter at every meeting. From the Mayor to Chief Planner for the city, Gail Goldberg (pictured above).
Unlike SOHA, The Sherman Oaks Neighborhood Council (SONC) is an official wing of city government (disclosure: the author of this is an elected member). All members are elected volunteers who work on issues surrounding the neighborhood and city (traffic, crime, beautification, micro neighborhood issues, parks, etc). Both SOHA and SONC compliment each other well on what each can do legally. And sometimes, it's all about agreeing to disagree.
Neighborhood Watch meetings with the LAPD take place at the Sunkist Building every last Thursday of the month. The Sunkist fruit headquarters is an excellent community partner, letting many community groups, including SOHA, to use their lunch room in the evenings.
In Sherman Oaks, the Senior Lead Officers (SLOs) are easy going and approachable. Shown here is Officer Justin Bergmann who is the liason for North Sherman Oaks (anything north of the 101). Officer George Aguilar is West Sherman Oaks (Van Nuys Blvd. to 405, Mulholland to 101) and Nate Banry is East Sherman Oaks (represent!). Banry has been promoted, his replacement has not been announced yet.
The Van Nuys Division of the LAPD, which covers Sherman Oaks, is very aggressive with their 12-member bicycle unit. If you ride at night without a headlight on your bike and they catch you, you're getting a ticket. But that's not why they patrol at night. Sherman Oaks' most consistent and ongoing crime problems are burglaries from motor vehicles (BFMVs). And the best way to catch a criminal in the late hours of night is on a bike that can sneak up behind. If you are not a night owl, then you will mostly see the bike unit in Ventura Blvd. gridlocked traffic handing out tickets to drivers not wearing seat belts.
Community cleanups are an ongoing, sometimes monthly, event
Los Angeles Fire Department station 88 is the hub of Emergency Preparedness for the city. Urban, Search & Rescue, CERT, large scale training and the large vehicle unit are all located at this massive fire station that has a piece from the World Trade Center in front of it. Station 78 in Studio City and one station on Mulholland also serve parts of Sherman Oaks.
The Sherman Oaks Library is small and quaint, but nothing hard hitting. Come here for wireless internet, basic books and research and community meetings. Don't expect to find any "finds." For that, go Downtown or have them get the book delivered to this branch for your use.
The famous Notre Dame High School at Riverside and Woodman.
The Buckley School is located at the base of the hills on a dead end cul de sac on Stansbury St. Neighbors are constantly dealing with school day traffic. Before it was a school, it was a country club.
If you recognize this school, then you have watched A LOT of Brady Bunch on TV.
Every year, the "Walk a Mile in Her Shoes" rally marches down Ventura Blvd. in the name of stopping violence and rape against women. High heels hurt and are not fun, we now know for a fact. See the full photo essay of this event here.
According to Rudy (think that is his name), a transient who shops trash dumpsters for recyclables, there are 153 homeless and transients in Sherman Oaks. We didn't know that the homeless do their own census. He's quite a talker and can tell you a lot of stories!
Food! Drink! Life!
There is a lot of eating, drinking, doing and shopping in Sherman Oaks. There is no way we could do it all. What follows are some select spots. Anything missing that you think is awesome, share it in the comments section.
This vegetarian is putting up this institution of meat for you. The Dip is a Sherman Oaks classic.
Love Sushi, or Sushi Fukyo, on Sepulveda Blvd. across from Whole Foods is not talked about much, but is one of the best. You're treated like family when you go there and here's the Fukyo family themselves.
This is Simon of Simon's Cafe, which is next to Fukyo. When he had a restaurant in Kobe, Japan, he used to serve the Emperor's brother. Before that, he worked in Isreal and Morocco, his home country. After the 1995 Kobe earthquake, Simon moved to Sherman Oaks where his food is raved about.
The Village at Sherman Oaks (Ventura and Van Nuys Blvd. area) is the Business Improvement District's branding. We have never seen any jazz musician playing on the sidewalk, nor are there any jazz clubs in the BID.
Need a magazine at 3 a.m.? Head on over to Ventura and Van Nuys. Next door to the 24-hour newsstand is Pita Kitchen which serves up some of the best Falafel in the city. Serious. Try it.
Aahs! is a crazy store. There is always someone on the sidewalk marching around with a sign telling people about their sales and what not ("We have Wii!")
The La Reina used to be a movie theatre. Now it's a salon and a Coldstones Creamery:
Designed by S. Charles Lee in 1937 for the Fox theater chain, the Le Reina was one of the nicer medium-sized movie houses in Los Angeles. Later, it was purchased by the Mann Theaters chain, who continued to show first run movies at theater until the mid-1980's. At that time, Mann Theaters sold the theater to developers who wanted to use the theater's lot for a new shopping mall. Such stories usually end sadly, but as a slight concession to preservationists, the developers were forced to save the theater's facade. [Cinema Treasures]


How to cause traffic in Sherman Oaks: open an In-n-Out at Moorpark/Van Nuys. The lines are so long, there are employees taking orders on the sidewalk from cars.
In North Sherman Oaks, where the ubiquitous Valley strip malls come in play with local amenities and food.
He makes a mean and tasty pizza. Marcellino's Italian Kitchen is on Burbank at Woodman
Next door is the Robin Hood British Pub (the website says they are in Van Nuys but they are very wrong). Where else can you get a Snake Bite & Black? The owners also own a small English convenience store next door. If you need English candy, go here.
The Green Frog (above) at Moorpark/Woodman is a popular and dirty bar. A few hundred feet away in a small strip mall on Woodman is an even more popular dive bar -- The Chimney Sweep Lounge (below).
At The Barrel (below) on Van Nuys Blvd., you can play a version of shuffleboard.
I would consider Cafe Cordiale (above) on Ventura Blvd. a hidden treasure of Sherman Oaks entertainment. About four days a week there is live music, from jazz to R&B so pumpin', the whole restaurant is dancing by the time the clocks strikes midnight.
Other great establishments to grab a drink that are not pictured here include the classic Casa Vega (huge margaritas for very long waits), Senor Fred and Cozy's Bar & Grill (Southern Food and Blues Music).
Santino's has NYC Pizza with the occasional NYC attitude (first time we came in, we were yelled at). If you're sick of fast food pizza or just regular types, Santino's has a great selection of specialty pizzas.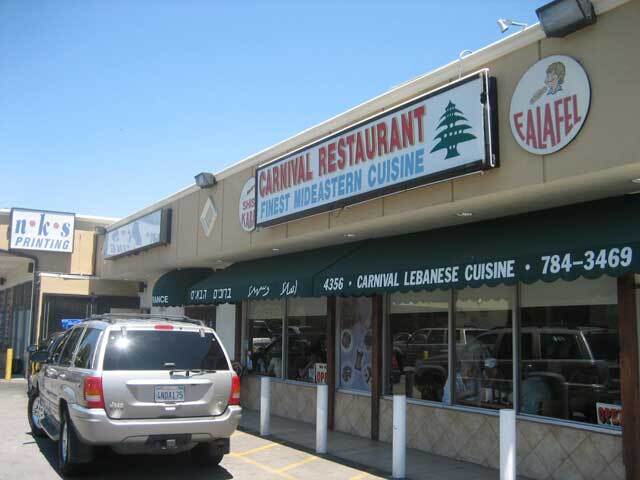 Hands down, Carnival has the best Lebanese food in the Valley. Get a small tub of their homemade hummus to go ($5); great for Hollywood Bowl, picnics, or just at home.
Need some Honduran food? Head up to the Sherman Oaks side of Burbank Blvd. Read our review of El Katracho here.
There would be riots if we didn't put Jinky's in this guide.
Sherman Oaks Kosher Meats at 14054 Ventura Blvd.
The Dressing Room established their first restaurant here in Sherman Oaks before expanding to other parts of the LA area. Here, you pick your own ingredients from a fairly large list and they make the salad. It's a very popular lunch time spot at on Ventura Blvd.
You either love Bizen Sushi or not. We love this tiny and narrow restaurant. Tip: It's one of those places that you have to ask what fish is the freshest.
What's this neighborhood without the metaphysical? The two Pyschic Eye shops (Bizen is between) tend to stay open late and provide great entertainment for drunks walking out of Casa Vega.
La Fogota can do a mean veggie fajita.
Speaking of vegetables, Leaf Cuisine is the Valley's only raw restaurant.
There are a good number of small breakfast/lunch places and bakeries along Ventura Blvd. including Pane Dolce (pictured above), Leda's Bake Shop (vegan cupcakes!), Natas (Portuguese bakery) and Watercress.
As made famous by Britney Spears and her tattoo.
In Closing...
I love Sherman Oaks!
Photos by Zach Behrens/LAist