Photo Essay: To walk a mile in her shoes...
Stories like these are only possible with your help!
Your donation today keeps LAist independent, ready to meet the needs of our city, and paywall free. Thank you for your partnership, we can't do this without you.
One mile of walking in plastic high heels and here come the blisters (however, the height advantages are quite nice). To our female friends, we will walk as slow as you need when you are wearing high heels. In fact, high heels are not comfortable one bit, we do not recommend it anymore. Sandals are sexy (no uggs please).
Today was the 6th annual Walk a Mile in Her Shoes Men's March in Sherman Oaks. From Sepulveda to Vesper and back (one mile total), men marched Ventura Blvd. chanting "stop rape now" and getting onlookers caught in the traffic to honk their horns.
The event raised money for the Valley Trauma Center, a program of the College of Education at California State University. The center is dedicated to the elimination of sexual and interpersonal violence through healing, empowerment and increased public awareness of prevention strategies.
What used to be a single event back in 2007 has now spread into 35 marches total around the country this year. "Violence against women does not just affect women," Founder Frank Baird said. "Men are hurt and angered when women they care about are raped." We can attest to that with three close friends that are victims. But also on one scary morning last year, we woke up in a crime scene -- our 50-year old neighbor woke up with a man in her bed.
This is for all of you! Enjoy the pictures and men, we'll see you out there next year!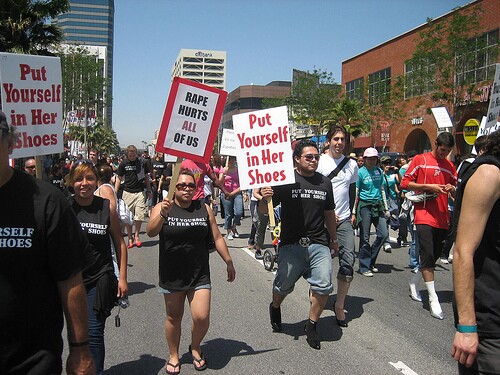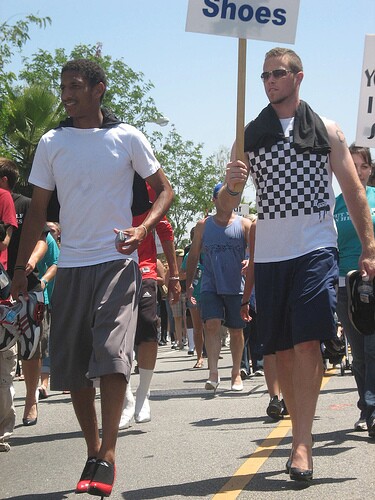 Founder Frank Baird sports the most hardcore shoes of them all
Okay, this guy is pretty hardcore -- high heels and extremely hot costume.