This is an archival story that predates current editorial management.
This archival content was written, edited, and published prior to LAist's acquisition by its current owner, Southern California Public Radio ("SCPR"). Content, such as language choice and subject matter, in archival articles therefore may not align with SCPR's current editorial standards. To learn more about those standards and why we make this distinction, please click here.
'Scandal' Actor Accused Of Knocking Out A Dude At Westside Dive Bar
Stories like these are only possible with your help!
You have the power to keep local news strong for the coming months. Your financial support today keeps our reporters ready to meet the needs of our city. Thank you for investing in your community.
An actor from Scandal got into a nasty fight at a Los Angeles bar, leaving another dude hospitalized, according to TMZ.
Columbus Short, 31, who portrays Harrison Wright on the ABC drama, is at the center of a criminal investigation stemming from a March 15 scuffle, sources told TMZ. He was attending his friends' engagement party at Gabe's Bar and Grill in Rancho Park at around 10:45 p.m. when another guest at the party started throwing shade, essentially saying, "You might be richer than me but I get my girls to buy me everything I want including your wife."
That led Short to sucker punch the 37-year-old man, pummeling him until the victim was unconscious and "looked dead," a witness told TMZ. The victim's nose was broken and he was rushed to a hospital.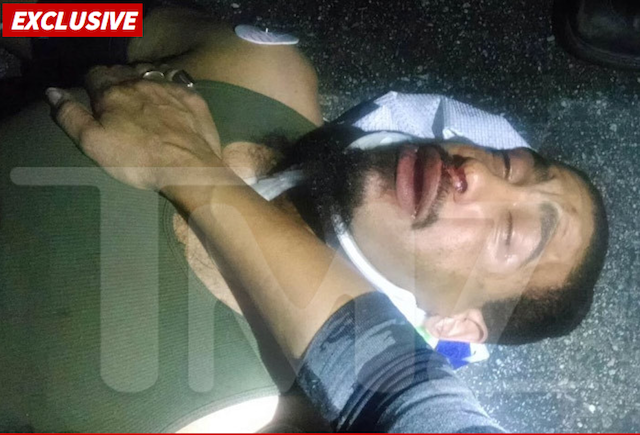 The victim unconscious and in a neck brace after the fight (Photo via TMZ)
Police are investigating the case. However, TMZ and DDOTOMEN reported that Columbus isn't a stranger to fights and punched Jason Hill of CSUN while playing basketball at an L.A. Fitness gym back in March 2010.
UPDATE 3/26, 5:20 p.m.: Short was arrested today for allegedly knocking a man out at the bar and booked at the Claremont Police Department, according to a press release from the L.A. County District Attorney's Office. He was charged with one count of felony battery with serious bodily injury. However, he was released on a $50,000 bail. City News Service reported that the actor can face up to four years in prison if convicted.