This is an archival story that predates current editorial management.
This archival content was written, edited, and published prior to LAist's acquisition by its current owner, Southern California Public Radio ("SCPR"). Content, such as language choice and subject matter, in archival articles therefore may not align with SCPR's current editorial standards. To learn more about those standards and why we make this distinction, please click here.
The New York Times Rode The Expo Line And Wrote A Pointless Article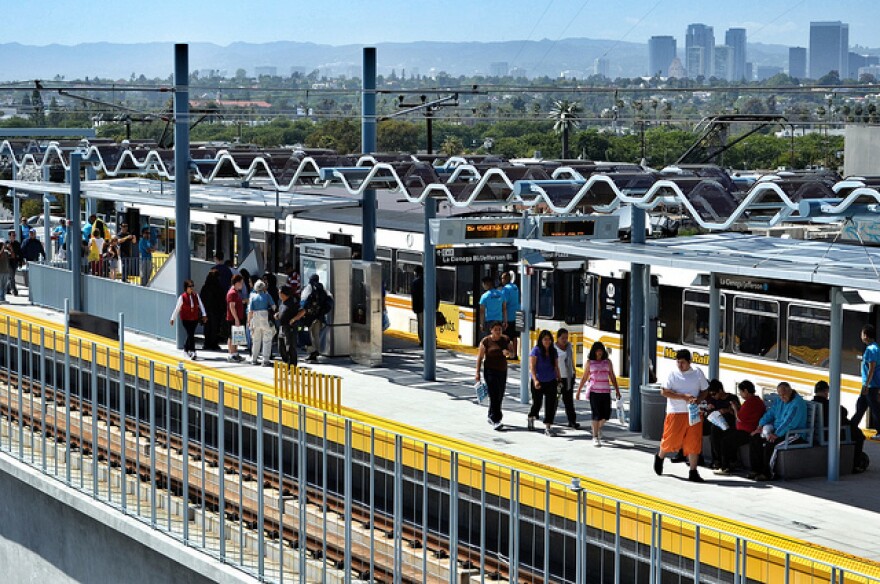 Before you read more...
Dear reader, we're asking you to help us keep local news available for all. Your financial support keeps our stories free to read, instead of hidden behind paywalls. We believe when reliable local reporting is widely available, the entire community benefits. Thank you for investing in your neighborhood.

When the brave journalists at the New York Times discovered Los Angeles way back in 2015, it ushered in a dreaded new era. Every couple of months sees an eye-rollingly bad trend piece on normal things people do in the city, like eating breakfast, walking, and other stuff we Angelenos are honestly way too chill to care about.And they've done it again! In its latest exploration of the southland's urban jungle, the New York Times sent Jennifer Medina, a Southern California native herself, aboard the new Expo Line extension who discovered some truly groundbreaking things about the journey from downtown to Santa Monica such as: you can see bougainvillea from the train! And: people use it for a variety of reasons!
At least in the article from a couple of months ago in which a New York Times writer wrote about Going Metro himself, we were able to mock the yurt he stayed in.
But after reading this latest piece several times, we're still not sure what the point of it is. Nowhere in the article are there any ridership statistics, comments from public transit officials or experts, or suggestions on how the route, now two months old, can be improved. There are only a few choice anecdotes from a few riders sprinkled amidst cliched platitudes about Los Angeles that manage to hit several squares of Curbed's "How the New York Times Gets Los Angeles Hilariously Wrong" Bingo Game.
Even Metro responded to the piece, calling out a few of the stereotypes employed, which is surprising, coming from a SoCal native.
Anyway, let's begin:
When the so-called subway to the sea began running between downtown Los Angeles and Santa Monica this year, it was greeted with a kind of revelry and attention usually reserved for only the hottest celebrity-studded film screenings. The sheen has mostly worn off, replaced by workaday concerns of daily commuters, who most often have their heads deeply bowed to their phones as the train lurches along Exposition Boulevard.


Ok, for one thing: the Expo Line extension is
not
the "so-called subway to the sea." That phrase was coined by former Mayor Antonio Villaraigosa and refers to the
Purple Line extension
, which is slated to extend from downtown to Westwood via Wilshire Boulevard.
And two: the Expo Line is not the Disneyland Monorail! The intention of public transportation, as we understand it, is to move people from one place to another as cheaply and conveniently as possible. This isn't to say that it can't be enjoyable; but that the "workaday concerns of daily commuters" is kind of the point!
Medina goes on to describe the "sprawling city" seen from the windows of the Expo Line:
The crows give way to sea gulls, and the endless array of auto body shops are replaced with an endless array of yoga studios. (Pressed juices for $12 can easily be found within walking distance of either terminal.)
And later:
On its path to the ocean, the train first rises up from underground alongside the Staples Center, downtown's entertainment and sports hub. It hums past the University of Southern California and the nearby rose garden, past a mosque and stained-glass churches, and past turquoise graffiti shouting, "It's all love," in letters taller than many men. On the way, the small bungalows in the east turn to boxy modern renovations in the west, where it is possible to smell the ocean even if it cannot quite be seen. There is refined art, too. A stop into Santa Monica reveals galleries just steps from the train. Even if you do not get off to stop in, it brings some degree of comforting joy, just knowing they are there.


Wow. L.A. truly has it all. Auto body shops next to yoga studios next to art galleries next to juiceries... all speeding by past the windows on the
ride
train.
Though hailed as a potential traffic reliever for the millions of people who commute from the city's wealthy neighborhoods on the Westside to downtown, the train is much more crowded coming from the east, home to the city's poorer residents, many of whom lack cars. They commute to jobs on the Westside as restaurant workers and babysitters, sitting next to hipsters and retirees who have chosen to move downtown and take the train to the water.
But this point, which could have been interesting gets brushed over in favor for an interview with a couple who said they take the train from their new home downtown to the Santa Monica Farmer's Market every week, and "to find new places [to] shop or to get [a] hair cut."
So what about people who actually need the Expo Line to get to work, school, et cetera? Not much about that gets discussed, really. Honestly, this bit below might be the only mildly interesting bit from the article, if only for providing a possible new tagline for the train. As nanny Magdalena Placencia said:
"It's much faster and much cleaner than the bus. Now I can leave 30 minutes later and get to work 30 minutes earlier," she added. "I watch the city pass by without feeling like I will throw up, like I used to on the bus."
We can see it now: "Go Expo. Barf Less."
In May, we spoke to many Expo Line riders who cited the swiftness of the train as far preferable to a plodding bus. But despite the speed-related benefits of the Expo Line, it's not necessarily conveniently located to everyone, as the New York Times, again, too briefly notes:
For a security guard who works the graveyard shift in Burbank, the train is merely the final leg of a three-vehicle, two-hour commute to her home in Mid-City near La Brea Avenue.
As we reported, there are many reasons why Angelenos don't take public transportation; the fact that many commutes are multi-leg is just one of them.
Public transportation in Los Angeles has a complicated history, a messy present, and a daunting future—it's far too dynamic and important to be reduced to an 850-word trend piece ultimately about nothing.