This is an archival story that predates current editorial management.
This archival content was written, edited, and published prior to LAist's acquisition by its current owner, Southern California Public Radio ("SCPR"). Content, such as language choice and subject matter, in archival articles therefore may not align with SCPR's current editorial standards. To learn more about those standards and why we make this distinction, please click here.
20 New Year's Eve Parties In Los Angeles
Support your source for local news!
Today, put a dollar value on the trustworthy reporting you rely on all year long. The local news you read here every day is crafted for you, but right now, we need your help to keep it going. In these uncertain times, your support is even more important. We can't hold those in power accountable and uplift voices from the community without your partnership. Thank you.
Want to ring in the New Year with style? Los Angeles has no shortage of events with a specific flavor you're looking for. Whether you want to dance, go goth, or be at a Spanish-style masquerade, we have got what you're looking for.
If you want to indulge on some extra champagne when the clock strikes 12, make sure you won't be drinking and driving. Metro buses and trains will be free from 9 p.m. to 2 a.m. All Metro trains, including the Orange and Silver Lines, will be running all night into the wee hours of the morning; however, for those traveling after 2 a.m., you'll have to pay a fare. Metro Day Passes are valid until 3 a.m. Here's some info on DUI checkpoints in the area. AAA also offers free Tipsy Tow, offering a free ride and vehicle tow up to seven miles from the point of pickup. Members and non-members can call 1-800-400-4222 to arrange a pickup.

Grand Park (Photo by Brent Goldman via the LAist Featured Photos pool on Flickr)
Grand Park + The Music Center's N.Y.E.L.A.
Every year, Grand Park's free N.Y.E.L.A. shindig gets bigger and bigger. This time around, their third annual block party will cover 90 acres of Grand Park, the Music Center and surrounding streets in downtown L.A. Expect three music stages with different types of music, from rock to Latin alternative, indie pop and electronic music. Some musical acts include Hunter Hunted, Gavin Turek and KCRW's Chris Douridas on the ones and twos. There will be food trucks, art installations and free photobooths, as well as 3-D digital video mapping on two sides of City Hall, and animated light projections on the Hall of Records and the Dorothy Chandler Pavilion. This is a booze-free, family-friendly event, so you'll have to leave your alcohol at home. Grand Park is expecting more than 50,000 to attend.
Grand Park is located at 200 N Grand Ave. in downtown L.A. The N.Y.E.L.A. event runs from Dec. 31 at 8 p.m. to Jan. 1 at 1 a.m. Free admittance. More info here.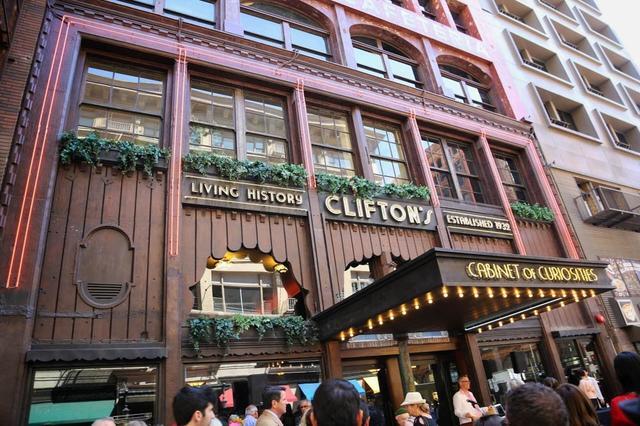 Outside Clifton's Cafeteria (Photo by Eugene Lee/LAist)
Clifton's New Year's Eve Extravaganza
In October, the historic Clifton's Cafeteria reopened after a years-long renovation to much fanfare, and rightfully so, as new owner Andrew Meieran (The Edison) has made the restaurant and bar a magical place where you feel childlike wonderment exploring the joint while sipping on craft cocktails. We imagine they'll have some special surprises for their first NYE party, too, as they'll be throwing an all night party (that lasts until 4 a.m.!) hosted by the folks who helm the biannual Dapper Day at Disneyland. Clifton's will have DJs and dancing, magic shows, burlesque performances and puppeteering, and of course, some signature craft cocktails in the mix.
Clifton's Cafeteria is located at 648 S. Broadway in downtown L.A., (213) 627-1673. The event runs from Dec. 31 at 8 p.m. to Jan. 1 at 4 a.m. Tickets range from $106.49 to $211.99, depending on how when you purchase them. More info here.
Big Bar's NYE x10
Big Bar's expertly crafted cocktails and basically all-around good vibes makes this a great place to spend your NYE. Just like last year, they'll be hosting a full-out party where you'll get to celebrate the new year 10 times in a day. They'll be hitting up 10 different time zones throughout the world, with their party starting at 3 p.m. in the Eurozone and ending at midnight in L.A. For each timezone they celebrate they'll have a countdown, and a cocktail and music playlist representing each region. This year starting at 5 p.m., they'll have an "Aviator's Sky Lounge" in the adjoining Alcove living room with its own bar. You'll touch down there with their special signature cocktail, champagne, Woodford Reserve minis and plane peanuts. Guests who get to all the festivities early enough will also get a copy of local artist Dave Stolte's "world map" he created just for Big Bar patrons to keep track of their cocktails.
Here's the schedule:
3 pm - Stockholm | Rome | Paris
4 pm - Dublin | London | Glasgow
5 pm - Scoresbysund (Greenland)
6 pm - Rio de Janeiro | Sao Paolo | Brasillia
7 pm - Buenos Aires | Santiago | La Paz
8 pm - San Juan | Trinidad | Barbados
9 pm - Louisville | New York | Boston
10 pm - Mexico City | Chicago | New Orleans
11 pm - Park City | Denver | Edmonton
12 pm - Portland | San Francisco | Los Angeles
Big Bar is located at 1927 Hillhurst Ave. in Los Feliz, (323) 644-0100. Free admittance.

Union Station (Photo by Herr Hans Gruber via the LAist Flickr pool)
Prohibition NYE Union Station
There's going to be a big NYE celebration inside the gorgeous Union Station on NYE. The theme is "Roaring Twenties," and it gives you a good excuse to get all gussied up in 1920s flair. There will be DJs—like headliner producer/DJ Le Youth, and local openers DJ Gadachy and Bee's Knees—and a live jazz performance from Jessie Payo and the DH Jazz Band. Expect burlesque dancing, passed tray oysters, craft cocktails and champagne. You can always take the train right to Union Station, but valet and overnight parking options will also be available that night.
Union Station is located at 800 N. Alameda St. in downtown L.A. Doors open for Prohibition NYE on Dec. 31 at 9 p.m. Tickets are $150. More info here.
Bootie LA NYE 2016 Sh!t Show
We always love a good dance party, and boy, does Bootie LA deliver. The city's best mash-up tunes dance party, where anything goes—including lots of spandex and wacky outfits—will be throwing this year's fete at the Echoplex. There will be two floors of dancing, a balloon drop and champagne toast at midnight. The best part about Bootie LA's parties is that you can dance like no one's watching, so feel free to bust out your best sprinkler and cabbage patch moves.
The Echoplex is located at 1154 Glendale Blvd. in Echo Park, (213) 413-8200. Bootie LA runs from Dec. 31 at 9 p.m. to late. Tickets cost $20 to $40, depending on when you purchase them. More info here.

Fireworks over Queen Mary (Photo by William Opdyke via the LAist Featured Photos pool on Flickr)
Queen Mary's New Year's Eve Party
If you're going to do NYE, you might as well go big or go home. Over at the Queen Mary, you get to ring in the new year in the styles of fives different major cities: New Orleans, Moscow, Beijing, Tokyo and Hollywood. (VIP ticket holders get access to two other themes: Lahaina, Hawaii and Havana, Cuba). There will be cuisine and entertainment inspired by each of these cities, like the New Orleans deck will have jazz and Cajun cuisine; the Beijing room with dragon and lion dancers; and the Tokyo deck with sushi, sakitinis and karaoke. And there will be a midnight fireworks show that will glitter over the harbor.
Queen Mary is located at 1126 Queens Highway in Long Beach, (877) 404-3753. The event runs from Dec. 31 at 8 p.m. to Jan. 1 at 1 a.m. General admission is $99 and VIP $199. More info here.
A Very Bazaar New Year's Eve At The Bazaar by José Andrés
Spanish tradition has revelers eating 12 lucky grapes at he stroke of midnight, each one representing the coming months, and they'll be doing just that at the Spanish masquerade-style party at The Bazaar by José Andrés. Tapas by Andrés himself will be passed around along with enough wine and cava to get you going, whether it be to the DJs or on the flamenco dance floor. Speaking of grapes, a VIP upgrade will allow you to try four new bubblies from the finest Grand crus in Champagne along with Bazaar bites like caviar cones and chocolate bon bons.
The Bazaar by José Andrés is located at 465 South La Cienega Boulevard in Beverly Hills, (310) 246-5555. The event runs from Dec. 31 at 8 p.m. to Jan. 1 at 2 a.m. General admission is $225 and the VIP upgrade is $150. More info here.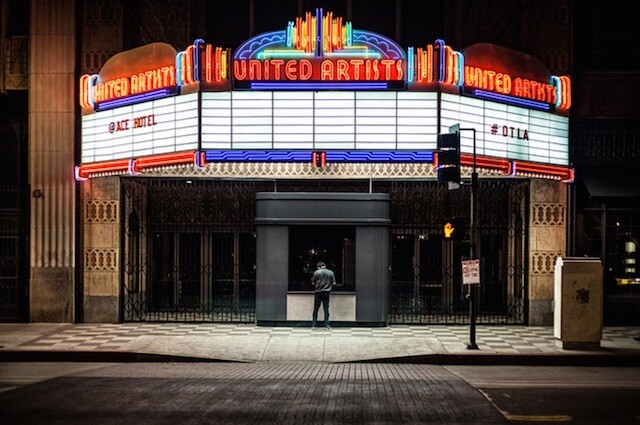 Ace Hotel (Photo by Jason via the LAist Featured Photos pool on Flickr)
Pluto's First Party At The Ace Hotel
We kind of like the air of mystery surrounding "Pluto's First Party" that will be taking place upstairs at the Ace Hotel. This free event will have DJ sets from the likes of Devendra Banhart and Awesome Tapes From Africa, and be very outer space-themed. Some of the attractions the event heads are promising include alien sightseeing, interstellar light and future lifeform caricatures. We enjoyed their hippie dippie description of their party as well:
Inspired by aspirations of western expansion, freedom from social norms of love and religion, and the phantasy of colors/feelings/lifeforms/versions of ourselves we can only hope exist out there, somewhere. So here we are. The Moon Wrestling Matrons of Mars. Pluto's Lone Pioneers. In this new land. Everything beyond the realm of our imagination. Here, finally, after traveling light years. And it's New Years Eve. And we want to fucking party.
Ace Hotel is located at 929 S Broadway in downtown L.A., (213) 623-3233. Event starts on Dec. 31 at 8 p.m. Free admittance. More info here.
Noire's Eve at The Complex
For those of you looking to shy away from top 40 dance parties, Glendale's The Complex is throwing Noire's Eve instead. DJs Black Eyed, Doomie, Gabe Reanimator and Franck H-Bomb will be playing darkwave, new wave, shoe gaze, industrial and goth music. Plus, there will be vegan pastries courtesy of Das Baker of Doomie's Home Cookin', and a complimentary champagne toast at midnight. — Juliet Bennett Rylah
The Complex is located at 806 E. Colorado St. in Glendale, 323-642-7519. $10.

Dance Yourself Clean (Instagram)
Dance Yourself Clean—NYE Edition
Dance Yourself Clean is one of our favorite ongoing dance nights in L.A.. Their casual and unpretentious events feature indie-electronic hits from the likes of LCD Soundsystem to Empire of the Sun and Chromeo. So, we expect them to deliver the same kind of frenetic energy for their NYE event. So far, they've promised special guests, but have not announced them yet.
The Regent Theater is located at 448 S. Main St. in downtown L.A., (323) 284-5727. General admission is $20.50 to $22.50, depending on when you purchase your tickets. More info here.
NYE Rapture at the Satellite
There's nothing like a good ol' throwback dance party to ring in the new year. NYE Rapture at the Satellite will have DJs spin an eclectic mix of '80s and '90s pop music, disco, R&B and alternative dance. Expect everything from Prince to Spice Girls and Pet Shop Boys. If you want to bring out your old new wave outfit for this event, we won't judge.
The Satellite is located at 1717 Silver Lake Blvd., Silver Lake, (323) 661-4380. NYE Rapture starts at 9 p.m. on Dec. 31 and ends at 2 a.m. on Jan. 1. $15 at the door. More info here.

Angel City Brewery (Photo via Facebook)
Angel City Brewery's No Cover New Year's
Angel City Brewery is doing their "No Cover New Year's" extravaganza again for the third year in a row. Expect live music, food from Kai Kai Dumplings, Market Burgers and Peaches' Smokehouse & Southern Kitchen, and of course, beer. The first 150 guests will get free party favors, and there will be a toast at midnight.
Angel City Brewery is located at 216 S. Alameda St., downtown L.A., (213) 622-1261. The event runs from 4 p.m. on Dec. 31 to 1 a.m. on Jan. 1. Free admittance. More info here.
New Year's Eve At The Hollywood Roosevelt
If you want to celebrate NYE in style at a swanky, old Hollywood hotel, mosey on over to The Roosevelt, where rapper and singer Theophilus London will be performing at midnight. A $125-$200 general admission ticket also gets you access to the show and a two-hour open bar. If you're feeling extra spendy this year, The Roosevelt will also be hosting another show in the Blossom Ballroom for a live and intimate performance by Boy George. Only VIP tickets ranging from $500 to $1,500 (prices vary depending on when you purchase them) are available for that one though, but that also comes with open bar and passed hors d'oeuvres all night.
The Hollywood Roosevelt is located at 7000 Hollywood Blvd. in Hollywood, (323) 856-1970. The Theophilus London event runs from 8 p.m. on Dec. 31 to 2 a.m. on Jan. 1. General admission tickets run from $125 to $200, depending on when you purchase them. The Boy George event runs from 10 p.m. on Dec. 31 to 2 a.m. Jan. 1. VIP tickets cost from $500 to $1,500, depending on when you purchase them.
The Federal Bar's Snapback NYE
The Federal Bar in North Hollywood is throwing a shindig that promises lots of dancing to hip hop and R&B via Snapback DJs Stubbs & Remark. This portion of the evening is $20 in advance or $25 at the door, but you can also splurge on a meal, too. A four-course pre fixe menu, plus a beer flight or wine and a champagne toast, will cost you $75 per person, with a choice of seatings between 6 p.m. to 8 p.m. or 9:30 p.m. to midnight. For $100, you'll get all that, plus entrance to the upstairs club and hors d'oeuvres after 9:30 p.m. — Juliet Bennett Rylah
The Federal Bar is located at 5303 Lankershim Blvd. in North Hollywood, 818-980-2555 ex. 2. Tickets are $75 for dinner, $20-25 for the party, $100 for both.

The outside of The Commissary greenhouse that faces the pool at the Line (Photo by Krista Simmons/LAist)
The Line Hotel
There will be an all-out party through the different floors of The Line hotel on NYE. In the POT lobby bar, there will be DJs spinning on the ones and twos throughout the night. While the party in the lobby will be going on until 2 a.m., if you stop by the POT lobby bar from 8 p.m. to 10:30 p.m., you can get drink specials, like a $9 shorty of Jameson and Tiger beer combo, or $9 cocktails of the year. They'll also be having $5 sparkling wine all day and all night. If you dine at POT restaurant that night, they'll have a full dinner menu plus $25 all-you-can-drink punchbowls, and you will get a wristband to be able to enjoy the drink specials at the lobby bar all night long. They'll also have a DJ spinning at the restaurant. If you head upstairs to the gorgeous Commissary greenhouse restaurant, you can enjoy three pairings of oysters, caviar, and champagne for $25 from 5 p.m. to midnight. A DJ will also be performing poolside by Commissary from 8 p.m. to 1 a.m. for you to get your dance on, and there will be a complimentary toast at midnight. At the pool deck, you can also purchase a $25 all-you-can-drink champagne cocktails deal for two hours from 11 p.m. to 1 a.m.
POT restaurant and lobby bar, and Commissary are located inside The Line hotel at 3515 Wilshire Blvd. in Koreatown, (213) 368-3030. You can make reservations for some of their NYE events and find out more info here.
Downtown Long Beach New Year's Eve
Downtown Long Beach is doing it again with a huge, three-stage, three-block music festival. This year, Saint Motel will be headlining in the block party that will take over Pine Avenue between 1st and 4th streets. Expect other performances from the likes of ZZ Ward and Houndmouth, as well as a DJ set from OK Go's Dan Konopka. There will be a midnight countdown followed by dancing until 2 a.m. This event brings out a huge crowd; 13,500 people showed up last year, so you might want to get your ticket early online since they won't be selling any at the event.
Downtown Long Beach New Year's Eve will take plane on Pine Avenue between 1st and 4th streets, and will run from 8 p.m. on Dec. 31 to 2 a.m. on Jan. 1. Tickets are $40. More info here.

Rancid performing at KROQ's 2003 Almost Acoustic Christmas at the Universal Amphitheatre on December 14, 2003 (Photo by Amanda Edwards/Getty Images)
The Bash Featuring Rancid
There are '80s and '90s pop-music flashback parties out there, but how about something for the punk and ska fans of the '90s? Over at the Shrine Auditorium and Expo Hall, Rancid will be performing ...And Out Comes The Wolves, and The Mighty Mighty Bosstones will get on stage (hopefully with their bandmate that doesn't play any instruments but only dances). There will also be some newer acts from the likes of hardcore punk band Off! and local ska band The Interrupters. There will be two stages, including an acoustic one, food trucks and a beer garden.
The Shrine Auditorium and Expo Hall is located at 665 W Jefferson Blvd. in University Park, (213) 748-5116. General admission tickets are $41.50 to $46.50. More info here.

Tom Bergin's (Photo via Facebook)
Tom Bergin's Public House
Tom Bergin's holds a special place in our hearts with their Irish coffees and laid back, old-man bar vibes. The historic Irish pub will be celebrating NYE by going back to 1936, the year it opened. You'll be able to snag a $36.19 prix-fixe menu, and new $10 winter cocktails like their Roasted Pecan O'Fashioned and Cranberry Sauc'd. They're asking that you keep with the theme and dress in your best 1930s attire. Plus, a DJ will be spinning old school and new tunes.
Tom Bergin's is located at 840 S Fairfax Ave. in Mid-Wilshire, (323) 936-7151. Call for dinner reservations. More info here.
Townhouse and the Del Monte Speakeasy
Get a throwback dance party at the historic Townhouse and the Del Monte Speakeasy in Venice, where hip-hop DJ Mr. Choc (from the Skam Artist label) will be spinning alongside DJ Vinyl Don. There will be a champagne toast at midnight, too.
Townhouse and the Del Monte Speakeasy is located at 52 Windward Ave. in Venice, (310) 392-4040. Tickets are $20. More info here.
HONORABLE MENTION:
Insomniac Countdown
If you want to get your rave on and don't mind trekking out to San Bernardino's NOS Events Center, Insomniac Countdown will be featuring artists like Kaskade, DJ Snake, Flux Pavillion and What So Not in their long night of pulsating EDM beats. Since it's NYE, they'll also be celebrating in style with costumed performers, art and visual effects.
NOS Events Center is located at 689 South E. St., San Bernardino. Tickets are $125. More info here.
Eds. note: An earlier version of this story included Rhondapolis NYE 2016, but the event has since been cancelled and it has been removed from this post. Also, the Roosevelt Hotel's Boy George event will now be held in the Blossom Ballroom instead of on the rooftop of the hotel. The Prohibition NYE event at Union Station is not a KCRW-run event, and the story has since been corrected to reflect that.
But Yeoh is the first to publicly identify as Asian. We take a look at Oberon's complicated path in Hollywood.

His latest solo exhibition is titled "Flutterluster," showing at Los Angeles gallery Matter Studio. It features large works that incorporate what Huss describes as a "fluttering line" that he's been playing with ever since he was a child — going on 50 years.

It's set to open by mid-to-late February.

The new Orange County Museum of Art opens its doors to the public on Oct. 8.

Cosplayers will be holding court once again and taking photos with onlookers at the con.

Littlefeather recalls an "incensed" John Wayne having to be restrained from assaulting her and being threatened with arrest if she read the long speech Brando sent with her.