This is an archival story that predates current editorial management.
This archival content was written, edited, and published prior to LAist's acquisition by its current owner, Southern California Public Radio ("SCPR"). Content, such as language choice and subject matter, in archival articles therefore may not align with SCPR's current editorial standards. To learn more about those standards and why we make this distinction, please click here.
Neil Young On Trump's America: 'Those Who Behave In Racist Ways Are Not Your Leaders'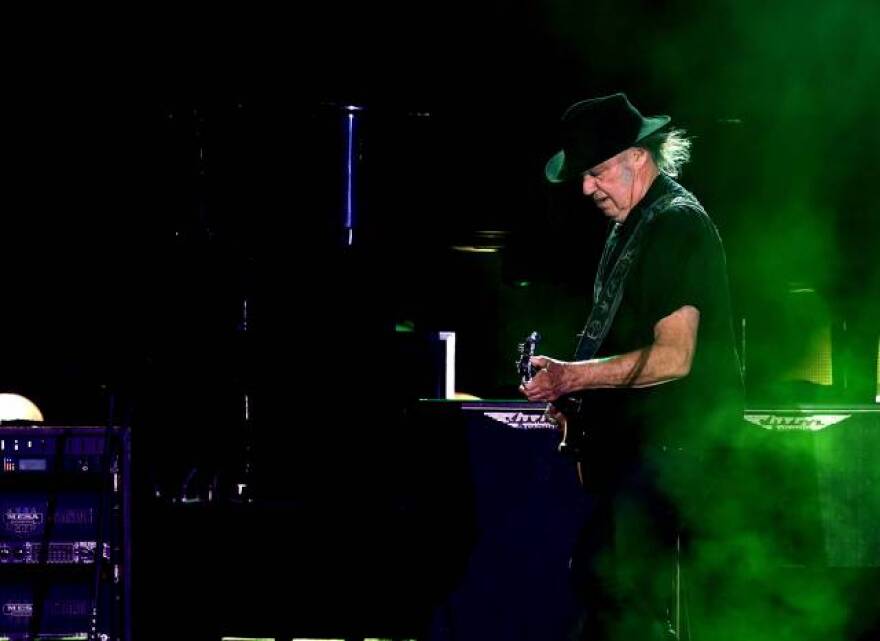 Support your source for local news!
The local news you read here every day is crafted for you, but right now, we need your help to keep it going. In these uncertain times, your support is even more important. Today, put a dollar value on the trustworthy reporting you rely on all year long. We can't hold those in power accountable and uplift voices from the community without your partnership. Thank you.
Neil Young at Desert Trip, October 2016. (Getty)
Neil Young has published a long piece—signed by himself and Daryl Hannah—on his Facebook page regarding the Standing Rock protests and our "surprise president" Donald Trump. This isn't the first time he's spoken out against the pipeline—in September, the musician released a video for his protest song "Indian Givers."
In his post on Monday, he writes of a recent visit to Standing Rock, and asks President Obama to call off the "militarized local and state law enforcement agencies and National Guard, who are seemingly acting to protect the interests of the Dakota Access Pipeline profiteer... Step in and end the violence against the peaceful water protectors at Standing Rock immediately."
He then moves on to President-elect Trump, who he refers to as our "surprise president," stating, quite wonderfully, that he is a racist who will never be our leader:
Like water on the garden of activism, America's surprise president brings a bounty of opportunity. The great issues of our time are now brightly illuminated and people are becoming more aware of them than ever, from sea to shining sea, from Standing Rock to Wall Street. The surprise president elect was not the winner of the popular vote, does not have a mandate for the change of ideals envisioned. Keep in mind, close to over two million more people voted for another candidate.

Nor is the surprise president the leader of the free world. Two hundred of the worlds nations believe in science, above the profits of the oil, gas and coal industries, and are committed to working together to protect the future from an unchecked climate crisis.

The surprise president claims he does not believe in climate science nor the threats it presents and his actions and words reflect that claim in tangible and dangerous ways.

Do not be intimidated by the surprise presidents' cabinet appointees as they descend the golden escalator. Those who behave in racist ways are not your leaders. The golden tower is not yours. The White House is your house.


Closing out, he asks that everyone be "unintimidated, stand, speak up and show up. Be counted." You can
read the full thing here
.
Donald Trump was a fading TV presence when the WGA strike put a dent in network schedules.

Pickets are being held outside at movie and TV studios across the city

For some critics, this feels less like a momentous departure and more like a footnote.

Disneyland's famous "Fantasmic!" show came to a sudden end when its 45-foot animatronic dragon — Maleficent — burst into flames.

Leads Ali Wong and Steven Yeun issue a joint statement along with show creator Lee Sung Jin.

Every two years, Desert X presents site-specific outdoor installations throughout the Coachella Valley. Two Los Angeles artists have new work on display.