This is an archival story that predates current editorial management.
This archival content was written, edited, and published prior to LAist's acquisition by its current owner, Southern California Public Radio ("SCPR"). Content, such as language choice and subject matter, in archival articles therefore may not align with SCPR's current editorial standards. To learn more about those standards and why we make this distinction, please click here.
Nasty Gal's #GIRLBOSS Fires Pregnant Women, Lawsuit Says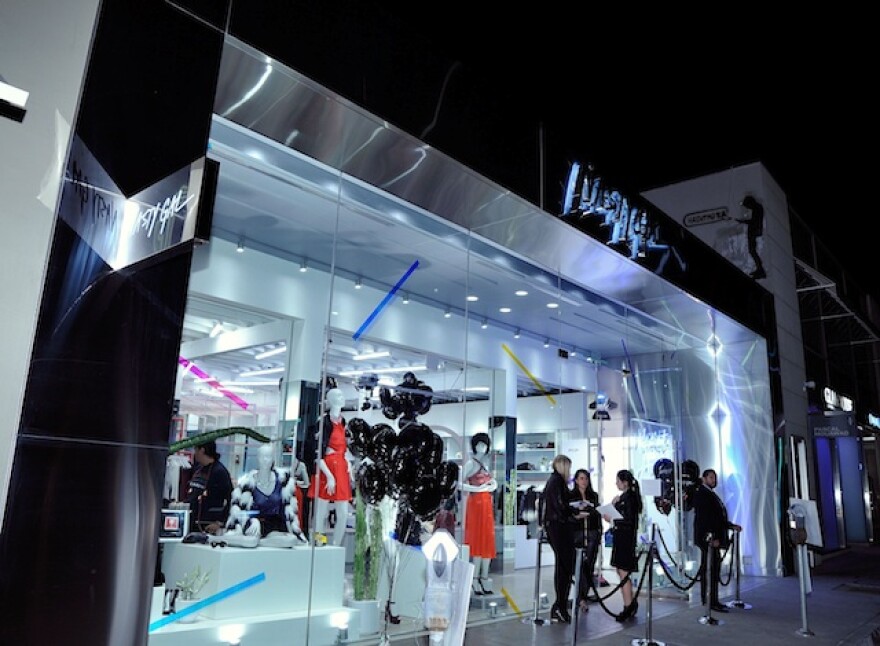 Before you read more...
Dear reader, we're asking you to help us keep local news available for all. Your tax-deductible financial support keeps our stories free to read, instead of hidden behind paywalls. We believe when reliable local reporting is widely available, the entire community benefits. Thank you for investing in your neighborhood.
Even though Nasty Gal is famously known for being founded by a female boss who wrote a book championing for workplace equality, a new lawsuit claims that the chic fashion retailer has been firing women who get pregnant.
Jezebel reports that the suit, which was filed by former employee Aimee Concepcion on March 10, says that Los Angeles-based Nasty Gal fired workers who got pregnant, were about to go on maternity or paternity leave, or were on maternity leave. This includes Concepcion, three female employees and a male worker. Concepcion says that Nasty Gal disguised the firings as layoffs, telling the employees that they were restructuring. One employee, Rosa Lieberberg, was 12 weeks pregnant when she was fired, not for restructuring, but because she was accused of being in a "mean girls club," the suit says.
Concepcion, who left her buyer position at Urban Outfitters in Philadelphia to move to Los Angeles for Nasty Gal, says that even though her supervisor Camilla Whitman gave her "stellar reviews," she was still given the axe in August 2014, just a few months after she told Whitman that she was pregnant. Concepcion was told by her superiors that it was over budgeting issues, the suit says.
She says that Nasty Gal's human resources administrator, Evelyn Meza, also incorrectly told her that they didn't have to give her maternity benefits because she would have only worked for the company for nine months by the time she was due, not fulfilling the 12-month or 1,250-hours work requirement.
However, they didn't tell her that California's Pregnancy Discrimination Leave Law goes against that, and says that if an employer is supplying health insurance, then they have to allow four months of pregnancy disability leave regardless of how much time an employee has worked at the company, according to the suit.
Concepcion says that Nasty Gal told her that if she signed a severance agreement that gave up her rights to sue the company, then they would pay her until her due date in November 2014, and pay for her health insurance until December 2014, but she didn't have health insurance after she was fired.
Concepcion is seeking unspecified damages.
A Nasty Gal spokesperson told Jezebel: "The accusations made in the lawsuits are false, defamatory and taken completely out of context. The layoffs in question were part of a larger restructuring of departments we completed over nine months ago. The lawsuits are frivolous and without merit."
Nasty Gal's founder, Sophia Amoruso, started her fashion company in 2006, and even launched a best-selling memoir in 2014 titled #GIRLBOSS. It was a movement aimed to empower women, especially millennials. However, the company had a tough year in 2014, where they had to lay off 10% of their employees. Amoruso stepped down from her CEO position in January, but stayed on the board as an executive chairman. Sheree Waterson took over the CEO role.
It's not just Concepcion who has complaints about the company. Racked reports that Nasty Gal employees have written scathing reviews about the fashion retailer on GlassDoor, a website where people can write reviews on their employers. They wrote that Amoruso was disconnected from the rest of the company, that company morale was low, favoritism marred the working experience, and there wasn't any room for growth.