Las Posadas at Olvera Street
Stories like these are only possible with your help!
You have the power to keep local news strong for the coming months. Your financial support today keeps our reporters ready to meet the needs of our city. Thank you for investing in your community.
Many people think of Olvera street as nothing more than a tourist trap. There are touristy elements, such as roaming mariachis and margaritas bigger than your head. But Olvera street is more than that. Not only does Olvera street host a number of cultural events throughout the year, it also has its own church with a close-knit congregation, and a community that is centered around the old square.
Las Posadas, like Dia de los Muertos, is a Mexican-Catholic tradition that is not practiced everywhere. We are truly lucky to able to witness this touching ceremony here in our own community. Las Posadas is a symbolic re-enactment of Joseph and Mary's journey to Bethlehem, and their search for a place to bring the Christ child into the world. A group of costumed singers, along with two young people representing Mary and Joseph, travel along a pre-set route. At each location, the people stop and sing a song requesting shelter for the night. The people at the "inn", here the lcoal shopkeepers, reply in song that there is no room. At last, when the procession arrives at the church, the priest sings back that they are welcome and invites everyone in to the warmth and shelter of the church.
At Olvera street, the choir sings a few carols in Spanish, and the priest introduces the adorable, tiny, Mary in his charmingly accented Spanish (her name is Sabrina). It is clear that this priest has learned Spanish especially to work with this community, and he interacts so playfully with the children, it reminds me that the love of humanity is the true basis of all religion.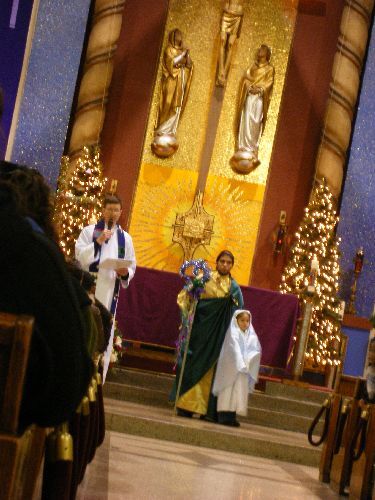 After a short talk and several carols in the church, there is champurado and some very-enthusiastic pinata breaking in the courtyard. Strangers are welcome, and watching the squealing children scramble for candy while their proud parents look on is a beautiful way to celebrate the holiday and feel like part of a community for just one night.
Back over in the marketplace of Olvera Street, La Golondrina Cafe Restaurant offers a dinner and celebration with some fantastic ballet folklorico. Reservations are required. Of course, if you want to sit on the patio and drink one of those giant margaritas, you are welcome. And no one will complain if you happen to linger by the dancing as you meander towards the restrooms. By the way, after drinking one of those margaritas, it is impossible to correctly pronounce La Golondrina.
December 16 - 24, 2004
12/16 - 12 / 24 Family Olvera Street
6:00- 10:00 PM December 16 - 23
5:00 PM - 9:00 PM December 24
Live entertainment! Free champurado, pan dulce, hot punch and plenty of candy!!!
Entertainment from 6 - 7 PM
Procession begins at the Adobe House from 7:15 PM - 8:00 PM
Raffle for children (Twelve years and younger) 8:15 PM
Pinata Breaking 8:30 PM
Entertainment from 9:15 - 10:00 PM
Venue: Olvera Street
Address: 125 Paseo De La Plaza, Los Angeles. Cross streets: Alameda and Ceasar Chavez Boulevard (Across the street from the Union Station)
Admission: Free to the public!
For more information call: Jessica Herrera (213) 485-6855
Or visit: www.olvera-street.com
Email: Webmaster@Olvera-Street.com
12/16 - 12/24 - 7:00 - 9:00 PM Olvera Street
Las Posadas Dinner Show
Celebrate our Mexican Extravaganza, nightly from December 16th-24th. Reservations Required.
Venue: La Golondrina Cafe Restaurant
Address: W-37 Olvera Street, Los Angeles, CA 90012
Admission: $37 per Adult, $25 per Child
For more information call: 213-6284349
E-mail: la_golondrina7@msn.com
Or visit: http://www.lagolondrina.com
Jingle Bells

Jedi Priest

Ballet Folklorico at La Golondrina Cafe Restaurant

All photos and video by Elise Thompson for LAist