LACMA Is Killing It On Snapchat
LAist relies on your reader support.
Your tax-deductible gift today powers our reporters and keeps us independent. We rely on you, our reader, not paywalls to stay funded because we believe important news and information should be freely accessible to all.
We have to give LACMA kudos for not only being one of the few art museums on Snapchat, but for also making memes on their artwork that reference Beyonce and Mean Girls.
(High-five for appealing to the younger generation because we all know we're living in Queen Bey's world.) Although LACMA told Hyperallergic that they believe they are the first museum to be on Snapchat, they may not be the pioneers (since the San Francisco Museum of Modern Art joined the social media platform last year), but they sure are bringing out some laughs with their postings.
Snapchat allows folks to send friends and followers photos and short videos that disappear after you see them (although there's ways to screenshot it). They also have a "stories" capability that allows users, like LACMA (whose username is lacma_museum in case you'd like to follow them for some funnies), to post some photos and videos that rotate on the app for up to 24 hours.
Hey, and Snapchat isn't the only thing LACMA's on—they also have a pretty sweet Instagram you can follow here.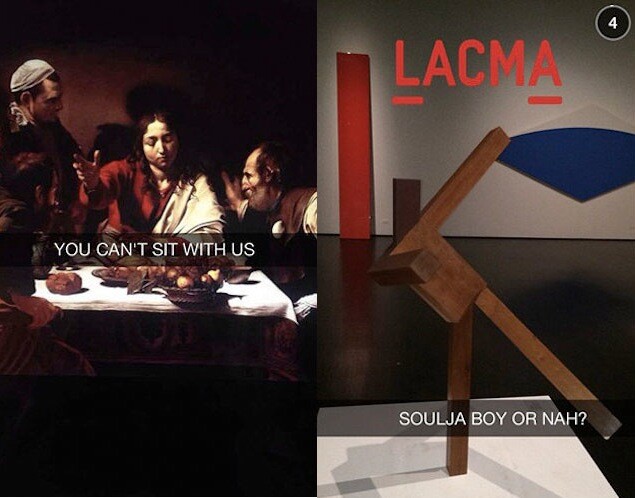 LACMA's Snapchats (Images via LACMA)