This is an archival story that predates current editorial management.
This archival content was written, edited, and published prior to LAist's acquisition by its current owner, Southern California Public Radio ("SCPR"). Content, such as language choice and subject matter, in archival articles therefore may not align with SCPR's current editorial standards. To learn more about those standards and why we make this distinction, please click here.
Summer Guide to Bookish LA
Support your source for local news!
The local news you read here every day is crafted for you, but right now, we need your help to keep it going. In these uncertain times, your support is even more important. Today, put a dollar value on the trustworthy reporting you rely on all year long. We can't hold those in power accountable and uplift voices from the community without your partnership. Thank you.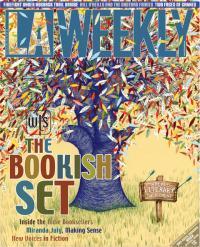 Here's the thing: we've had a two-week back and forth LAist email about our favorite bookstores. Behind-the-scenes-planning-style. We've waxed poetic about the locations, the staff, the cats (with or without tails), the super-secret nooks and crannies of our best loved LA indies. Why did we email about this? Why were we making a list of favorite bookstores and checking it twice? Because we were going to do a nice little post on Indie Bookstores in L.A.
However: LA Weekly scooped us. Big time. They also used the word "bookish" which is, kind of, our word. Whatever.
Instead of wallowing in irritation (because let's face it, that's what we did yesterday), we realize it would be wrong of us to simply pretend it didn't happen. There are many excellent bookstores in LA and, well, you should check them out. LA Weekly highlights the heavy-hitters and a few newcomers that are well worth your time: Book Soup, Vroman's, Skylight Books, Dutton's, Family, Malibu Diesel and other neighborhood favorites.
We would add:
+ Acres of Books: a massive acre-long bookstore in Long Beach that's ideal for hunting book treasures both old and new...just bring a flashlight (really!)
+ Book Alley: a new, used, rare bookstore in Pasadena that has the perfect used-book atmosphere -- creaky but never creepy with great music and a Famima! right next door.
+ Hennesseey + Ingalls: a gorgeous bookstore with gorgeous books that cover all things art, architecture, design, fashion, and photography-related.
+ Samuel French: every play you've ever needed for that next audition, every script you've ever wanted to shoot.
+ Earth 2: best Sherman Oaks selection of comic books, graphic novels and the like.
+ Portrait of a Bookstore: a funky bookstore inside a funky cafe - a perfect marriage of funk!
+ Traveler's Bookcase: a great selection of travel memoirs and discounted travel books when the newest version comes out.
+ Every Picture Tells a Story: the art of illustration - books, art, fantasy, cartoon, you name it, they've got it.
+ Bodhi Tree Bookstore: yes, it's hippy-dippy, but if you're seeking a higher plane, this is the bookstore for you.
When all else fails and we simply cannot find that much-needed book at the indie bookstores scattered across our fair city, the Bookstar on Ventura in Studio City seems to have what we need every time. Not quite indie, not quite big box, but they always cure our fix.
What's your favorite LA Bookstore?
Note: Future LAist guides to bookish LA may include: libraries, neighborhood guides, book clubs, LA as character, local readings, bookstore profiles, author interviews, and other things of this nature. In case, you know, LA Weekly gets to it first.
Donald Trump was a fading TV presence when the WGA strike put a dent in network schedules.

Pickets are being held outside at movie and TV studios across the city

For some critics, this feels less like a momentous departure and more like a footnote.

Disneyland's famous "Fantasmic!" show came to a sudden end when its 45-foot animatronic dragon — Maleficent — burst into flames.

Leads Ali Wong and Steven Yeun issue a joint statement along with show creator Lee Sung Jin.

Every two years, Desert X presents site-specific outdoor installations throughout the Coachella Valley. Two Los Angeles artists have new work on display.