IMDB Writer Calls Kim Kardashian Shallow, Talentless in Online Bio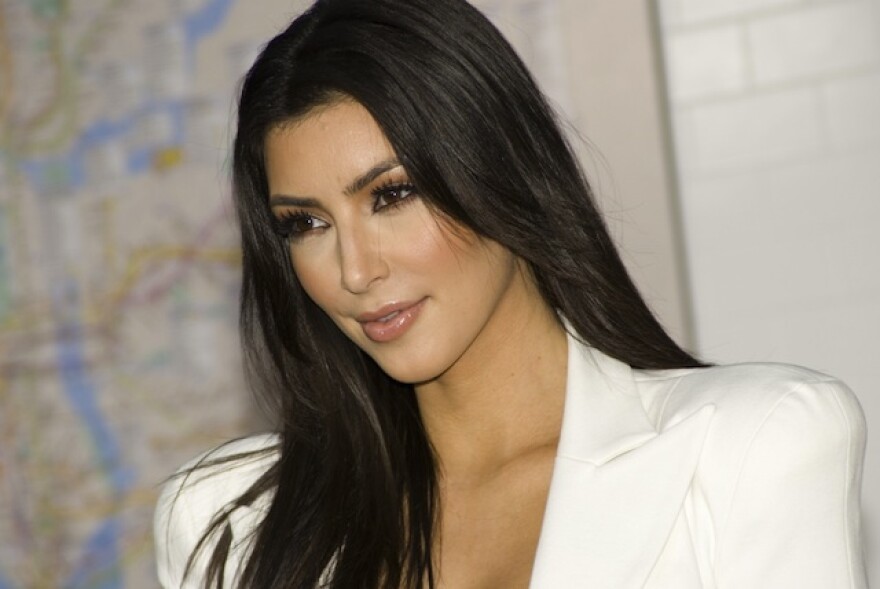 Time is running out to keep LAist funded.
It's the FINAL DAY of our June Member Drive and we are behind on our goal to keep local news strong for the coming months. Your support today keeps our reporters ready to meet the needs of our city. Plus, your gift's impact will be twice as strong because it will be matched dollar for dollar!
The internet is abuzz today with the news that an IMDB writer penned a scathing bio of Kim Kardashian, which was up for at least a few days on the entertainment information site and then promptly removed.
The bio, written by Jon C. Hopwood, called Kardashian shallow, talentless, and then some. He writes:
Kim Kardashian is emblematic of the shallowness of American culture in the first two decades of the new millennium. While some cultural critics call her the prime avatar of the "famous for being famous" faux celebrity crowd, she along with Paris Hilton is a new breed of cat whose celebrity comes from the release of a sex tape and the canny exploitation of the resulting publicity. Like her good friend Miss Hilton (their relationship predates Kim's "celebrity", Kardashian is possessed of photogenic good looks but is short of any other discernible talents outside of the bedroom. Both expanded their celebrity by becoming reality TV "stars".
Hopwood goes on to compare America's embrace of people like Kardashian and Paris Hilton to Rome's "shuffl[ing] off the moral coil of virtue of the Republic." He then quotes Daniel Craig and Jon Hamm saying mean things about Kardashian, and finally wraps up with this:
In the decadence that is America of the $15-trillion deficit and no serious plans from either party for a solution to the economic problems of the "Great Recession", Kim Kardashian is welcomed to her second White House Correspondents Association Dinner in Washington, D.C. in 2012 and made fun of not only by host Jimmy Kimmel but by the President of the United States, Barack Obama, himself and laughs merrily at the merriment. That the women's fame rests on the February 2007 "leaking" of a four-year-old home sex (for which she ultimately received $5 million from Vivid Entertainment) is an apt metaphor for socio-economic-cultural malaise in Washington and the country beyond, where everything seems to be run by amoral prostitutes in bed with each other and merely out for a buck.
On a twitter page that appears to belong to Hopwood, the writer confirms that he wrote the bio, and has one final word for the reality star:
@EWDarrenFranich Yes, I did write Kim Kardashian's IMDB bio. I came across Kim K. and her bio was blank so, like Ray-J, l filled it.

— Jon C. Hopwood (@jonchopwood) May 16, 2012
So. The bio is amusing, and it's being lauded by some bloggers as full of "truth grenades," while Hopwood is being called a "hero" by others.
As much as we hate to rain on anyone's parade, though, can we get real here for just a moment? It's not like Hopwood has said anything that we don't already know. It's not like he's revealing the identity of Deep Throat. Surely no one is surprised to find out that Kardashian is shallow, or that some people find her morally repugnant.
No, the remarkable thing about this is that Hopwood, who has written over 600 bios for IMDB, was apparently willing to put his job on the line in order to make this Kommentary. This bio is basically the blogger's way of grabbing two beers, shouting expletives over an airplane's PA system, then sliding down a chute out the emergency door.
Anyway, it should be interesting to see how this all plays out. Hopwood will probably get a book deal. In the meantime, thanks to him for spicing up our day.
Here's the whole bio, via Uproxx: