This is an archival story that predates current editorial management.
This archival content was written, edited, and published prior to LAist's acquisition by its current owner, Southern California Public Radio ("SCPR"). Content, such as language choice and subject matter, in archival articles therefore may not align with SCPR's current editorial standards. To learn more about those standards and why we make this distinction, please click here.
Ima Robot @ Natural History Museum, 5/4/07
Our June member drive is live: protect this resource!
Right now, we need your help during our short June member drive to keep the local news you read here every day going. This has been a challenging year, but with your help, we can get one step closer to closing our budget gap. Today, put a dollar value on the trustworthy reporting you rely on all year long. We can't hold those in power accountable and uplift voices from the community without your partnership.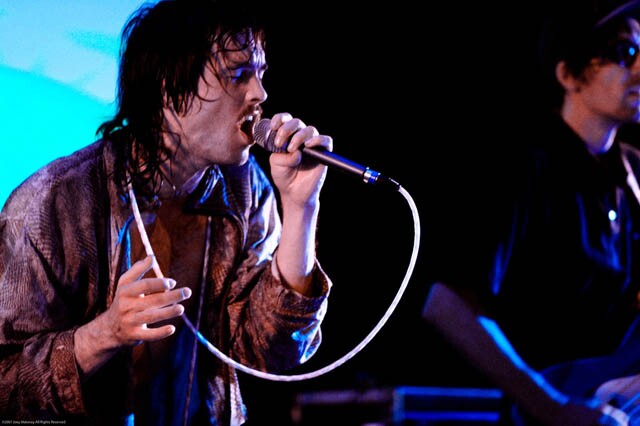 Written and photographed by Joey Maloney for LAist
Did you know that starfish are not really fish? In between rocking out to Ima Robot there were things to be a'learned at this month's First Friday event at the Natural History Museum. Just a bit of back story, I have heard about the First Friday events since I moved to Los Angeles just over two years ago but never made it down to the 'hood to attend. I have also heard the band Ima Robot on Indie 103.1 and through friends since I moved here just over two years ago, but never once attended a show of theirs. Friday night the planets, stars, Paris Hilton and everything else seemed to align and the union of the two got my ass to a museum on a Friday night! There are puns abound when you see a rock concert in the depths of a Natural History Museum, for this review and for the readers sake I will refrain from them (or at least try).
Amidst the ruble of generations of civilizations and creatures, Ima Robot frontman Alex Ebert's warbley falsetto voice echoed and rocked the place to its very bones! (LAME!) As the band reached a high point with the lead single, "Creeps Me Out" off their latest release Monument to the Masses, It became an odd scene as Ebert gyrated and caressed his chest in front of the surprisingly young crowd, who ate up every ounce of it. What this crowd lacked in age they made up for in enthusiasm and energy. They jumped, screamed and sung along like good li'l hipsters-in-training and the place began to feel more like Spaceland or The Troubadour rather than a museum. In the shadows of elephants and lions, Ima Robot brought their brand of electric energy to the lifeless, albeit stuffed, mammals, who seemed completely captivated by the event. (LAME!)
I honestly didn't know what to expect when going to this event, how often do you hear of rock concerts in museums? But I was surprised, entertained and I even learned! It is a genius move by the people at the NHM to make people aware of their exhibits and events and something that everyone should check out next month, the last for the season.

many more photos of the show on Joey's Flickr page
Donald Trump was a fading TV presence when the WGA strike put a dent in network schedules.

Pickets are being held outside at movie and TV studios across the city

For some critics, this feels less like a momentous departure and more like a footnote.

Disneyland's famous "Fantasmic!" show came to a sudden end when its 45-foot animatronic dragon — Maleficent — burst into flames.

Leads Ali Wong and Steven Yeun issue a joint statement along with show creator Lee Sung Jin.

Every two years, Desert X presents site-specific outdoor installations throughout the Coachella Valley. Two Los Angeles artists have new work on display.