This is an archival story that predates current editorial management.
This archival content was written, edited, and published prior to LAist's acquisition by its current owner, Southern California Public Radio ("SCPR"). Content, such as language choice and subject matter, in archival articles therefore may not align with SCPR's current editorial standards. To learn more about those standards and why we make this distinction, please click here.
Hiding the 101 Freeway Beneath a Park (Part II)
Stories like these are only possible with your help!
You have the power to keep local news strong for the coming months. Your financial support today keeps our reporters ready to meet the needs of our city. Thank you for investing in your community.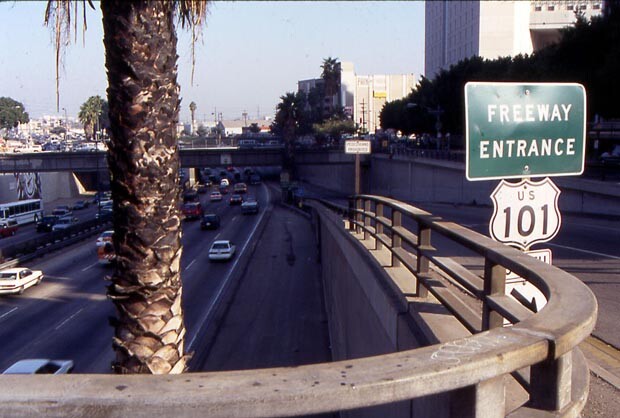 Saturday morning was the first community meeting to discuss the Hollywood Freeway Central Park. Meeting in an elementary school auditorium, like they do in the Simpsons, those that attended saw Assemblyman Mike Feuer, LA City Council President Eric Garcetti and others speak about this park and the story behind it.
In part I, I wrote about the failures of design in Los Angeles and a need to use architecture to embrace our 36 freeways. Before you continue to read about the details and statistics, make sure you've read about the value of this type of project on a larger scale.
The idea for the project starts on a simple need basis. The national average for public space in this country is around 6 acres per 1,000 citizens. Los Angeles, for the most part, is far below the average, with areas like the site of the proposed park hitting an absurd low of .5 acres per 1,000 residents. Two-Thirds of children in Los Angeles do not live near a park, playground or other safe place to play. By comparison, in New York City, 91% of children live within walking distance of a park.
The proposed area for capping the freeway, between the sunset and Hollywood boulevard overpasses has 100,000 people, including 23,000 children, living within just one mile. To give a sense of the demographics of the area, the region of Los Angeles, Riverside and Orange County combine for a median income of $45,913. The median income for the residence within one mile of the park is $23,481.
The freeway "cap" is not a new solution, as similar projects have been built in Seattle, San Diego, Detroit & Barcelona. But Hollywood is actually the most sensible site for this type of park, where the preliminary estimates, indicating a cost of about $200 Million, is less than what it would cost to purchase the land alone.
This is a huge step in accepting our responsibility to beautify and improve our symbiotic relationship with the Los Angeles freeway system. As a result we will have connected areas in Hollywood split for decades by the freeway and will give thousands of park/sunlight/greenery deprived Angelenos a place to enjoy their afternoons.
Some at the meeting suggested a dog park be apart of the picture. Others suggested water features at the ends of the park to drone out the sound of the freeway. I wouldn't mind a series of basketball courts with Lakers logos at mid court, the way snoop personalized his. Maybe we can ask Pinks to open another hot dog stand in the park?
Keep your eyes open for posts when future milestonesare hit. In the meantime, feel free to drop a line or two about what you want to see when green replaces 24 acres of asphalt.
Photo by Fire Monkey Fish via Flickr