Prince's Nightclub Was The Coolest Place To Be In Early '90s L.A.
Stories like these are only possible with your help!
Your donation today keeps LAist independent, ready to meet the needs of our city, and paywall free. Thank you for your partnership, we can't do this without you.
There was a time, not so very long ago, when Prince ruled the Los Angeles nightclub scene. Welcome to Glam Slam.
Rewind to January 1993, and let KPCC's A. Martinez, who recorded a segment on the club Friday, take you back:
The city was still recovering from the civil unrest of the L.A. riots. Excitement was brewing for the showdown between the Buffalo Bills and Dallas Cowboys at the Pasadena Rose Bowl for Super Bowl 27. And in downtown L.A., a new club debuted — and not just any new celebrity hotspot.

Glam Slam exterior. (Photo courtesy of the Los Angeles Public Library Photo Collection)
Glam Slam, whose name was taken from the second single on Prince's 1988 album, Lovesexy was everything you'd expect, and so much more.Think huge purple dance floors, heavy gold mesh fabric, Egyptian-style faces peering down from multicolored walls and a "jewel-strewn bed cradled in a sculpted hand" that came directly from Prince's "Erotic City" concert tour.
Celebrities, club kids, and Carmen Electra all mingled. "On the dance floor, supermodel types [strutted] in platform shoes and bell-bottoms beside the urban-clad B-boys," while go-go dancers took the stage, according to the Times. Suge Knight once beat a security guard so badly that he needed multiple surgeries to repair his spleen.
In an interview with Martinez, Steve Edelson, the Los Angeles club's co-owner, described Glam Slam's aesthetic as being entirely Prince's vision, saying that they had worked from a sketch made by Prince. Set designers, artists and carpenters labored "all day and all night" to bring it to life.
Secrecy was paramount to the famously private singer, especially in the period leading up to the club's opening. Edelson says curiosity about the space was overwhelming, and that people would often pose as delivery drivers to try and get a glimpse inside. They blacked out the windows and implemented tight security policies to keep the club's decor under wraps. And once the club opened, "the P-word [was] avoided by staffers, who were required to sign confidentiality agreements before embarking on the venture," according to the Times.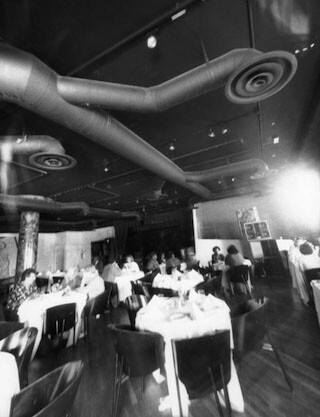 The club's interior circa 1994. (Photo courtesy of the Los Angeles Public Library Photo Collection)
Cliff Cunningham, the club's then-28-year-old designer employed 85 people to help him carry out Prince's vision for the 28,000-square-foot facility. "We wanted to break free of the '80s industrial warehouse theme," he told the Times just after club opened in January 1993. "The '90s is more eclectic and colorful. We purposely carpeted the walls, and we hope to keep (changing) the design." The ankh-like symbol that once served as Prince's chosen moniker was prominently reproduced in the center of the dance floor, along with "giant bikini-clad Egyptian figures staring directly at two sculpted pillars of entwined naked bodies" flanking the stage. The 1,250 capacity nightclub was one of several Glam Slam nightclubs owned by Prince, with the first opening in Minneapolis in 1989.
As the L.A. Times wrote in 1993, six months into the club's reign:
When Prince opened his Glam Slam club downtown in January, he and his cohorts had one goal in mind: to become a permanent fixture in a town where even the flashiest nightclubs often don't make it past the six-month mark. Glam Slam, now in its 10th month, has defied the odds. With the continuing appeal of its heady mix of live and recorded hip-hop, rock, jazz and techno, this 28,000-square-foot facility on Boylston and 3rd streets can reasonably claim the title of L.A.'s hottest club.

(Photo by Wikimedia Commons)
The club was "one of the top hip-hop spots in town, attracting a diverse mix of partygoers as well as the music industry's who's who," Ebony reported in 1995. A 1994 California guidebook described Glam Slam as being "very glam but not posey," and advised potential visitors to "dress nice."
And Prince did more than just create the club's aesthetic, he also provided much of the soundtrack. As the Times wrote in their review of opening night, "approximately every third song on Wednesday featured Prince--'70s Prince, '80s Prince and even '90s Prince—and that suited the crowd just fine."
"It takes more than a mirrored ball and a bunch of smoke to make people happy in the '90s," Steve Edelson, the club's co-owner told the L.A. Times in 1993.