Does MOCA Need New Leadership?
Stories like these are only possible with your help!
You have the power to keep local news strong for the coming months. Your financial support today keeps our reporters ready to meet the needs of our city. Thank you for investing in your community.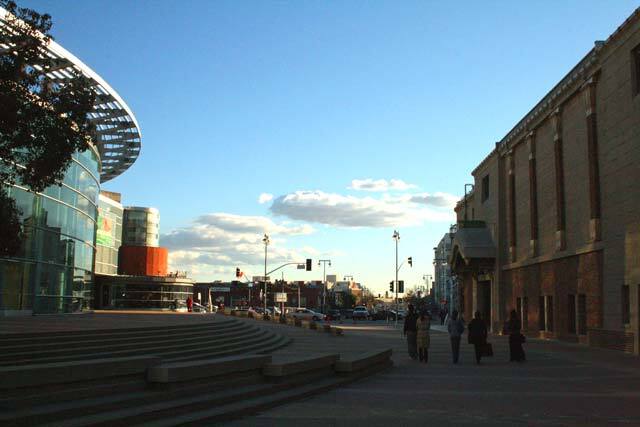 MOCA's Geffen Contemporary is leased from the City for $1 a year | Photo by pink_fish13 via the LAist Featured Photos pool on Flickr
MOCA's grim financial outlook is no secret, and although there has been public mobilization to help raise the profile of the museum's plight and show whoever will pay attention that Angelenos want their art, some see the changes that need to come as being more fundamental.
This weekend's LA Times featured an opinion piece by Tim Rutten, calling for officials from the City of Los Angeles to step in and for MOCA's board and top execs to be replaced. Calling the museum "one of the essential windows on the restless, searching, cosmopolitan creativity of this city's 21st century spirit," Rutten says that because MOCA's Geffen Contemporary sits on land leased from the City ("for $1 a year" no less) and that the City brokered the deal for their Grand Avenue facility, Los Angeles proper "has played a crucial role in MOCA since its inception 30 years ago."
With Mayor Villaraigosa and City Council President Eric Garcetti serving as ex-officio board members it seems to Rutten, and perhaps to others, that an intervention is not out of the question, and perhaps the most viable solution to the problem. Calling for them to "act on the public's behalf," and "as ultimate guarantors of the public's substantial interest in this critical cultural institution," Rutten takes his vision one step further and proposes that Villaraigosa and Garcetti demand the resignation of Thomas Unterman and David G. Johnson, MOCA's co-chairmen in order to jump-start the rescue process.
So why dump the heads of the museum? It comes down to the mis-management of money. Rutten explains that MOCA isn't suffering because of the national economic downturn, but straight up lousy money management. While MOCA hasn't been forthcoming about the specific amount of money they are in the red for, Rutten uses a private document generated by MOCA and provided to the LA Times by an anonymous board member to explain what has been happening:
while the curatorial staff was busy putting on exhibitions that won acclaim around the world, nobody bothered about the cost. Year after year, as expenses outstripped revenue, the board let the professional managers dip into capital -- the endowment -- to cover the shortfall in operating expenses. More recently, they've also been borrowing from restricted gifts to the museum, including those for new acquisitions. While other institutions were pinching pennies and cutting back, [MOCA Director Jeremy] Strick actually increased the size of MOCA's professional staff by at least 50 people.
It is no wonder then that Rutten calls this behavior "arrogant irresponsibility." But are Villaraigosa, Garcettie, and the City of Los Angeles the right people--let alone able and likely--to intervene and make these significant demands?
Wealthy philanthropist Eli Broad recently went on record as saying that to save MOCA it will take more than just his own wallet, but rather the combined financial efforts of many people in Los Angeles. But a few hundred, maybe thousand, extra museum memberships and five dollar bills stuffed in the donation box can't relieve MOCA of millions of dollars of debt, and the City of Los Angeles is in no fiscal position to conduct a bailout, either--Villaraigosa himself is in Washington DC today asking for federal funds to help move Los Angeles forward--with so many voices at the very least clamoring to save MOCA, perhaps a change so swift and powerful is really what's needed.