This is an archival story that predates current editorial management.
This archival content was written, edited, and published prior to LAist's acquisition by its current owner, Southern California Public Radio ("SCPR"). Content, such as language choice and subject matter, in archival articles therefore may not align with SCPR's current editorial standards. To learn more about those standards and why we make this distinction, please click here.
Charles Phoenix Disneyland Tour of Los Angeles
Stories like these are only possible with your help!
You have the power to keep local news strong for the coming months. Your financial support today keeps our reporters ready to meet the needs of our city. Thank you for investing in your community.
Charles Phoenix at Union Station
Walking through the Broadway Arcade mall near the Jewelry District, Charles Phoenix rued the changing face of Downtown. The mall, built in 1922 and billed as Los Angeles's oldest shopping center, was the fourth stop on what could be Phoenix's last tour of some of the oldest and grandest sites in a city long accused of lacking history. But it was in the mall, where naked upper floors could continue the loftization of Downtown, that Phoenix revealed his love/hate relationship with L.A.'s true city center.
Charles Phoenix is an enigma. For more than three years he has led "Disneyland" tours of Los Angeles where he points out the similarities of the epic theme park with some of the city's best themed centers. He has written books has a weekly slide of kitschy Southern California and drives the point home with a Mickey Mouse hat and scripted "Charles" along the back, a macaroni and cheese colored jacket, maroon pleated plants and pink shoes. He exudes hipster cool without trying to be hip, he is a fashionista seemingly without trying and his outfit screams sarcasm even as he maintains his talks are from the heart.
"This is a show tour, a heartfelt tour and I think that will shine through," he said during his 26th and possibly last tour of Los Angeles.
The tour began at noon in front of Union Station, the "last grand train station" built in 1939, Phoenix tells the assembled, who are as much a mixed bag of society as the city they are touring. One couple's outfit of a 1950's suit and dress won the Alice and Ralph Kramden prize; one man was a self described "Disneyland fanatic." There were Phoenix fans, out of town touristas and interested Angelenos.
We strolled through Union Station's old ticket counter, the terminal and the patio filled with shady trees and cleanly brushed hedges. Phoenix tells us about the tile, the brick patio and the clock tower looking down on the station. But when he mentions the needle sticking out of the circular set of roman numerals, its use and history escapes him. The message is clear: Phoenix is not a historian, but he doesn't need to be. At best, he is a societal guidebook, a tour leader for a town that desperately needs guiding among its comparatively short but admittedly rich history.
The group then boards the Gold Line -- "The Monorail" -- to Chinatown where we tour the themed world carved from a Hollywood movie set and the shops that cater to tourists and locals. Munky King has anime dolls fit for teen while Sincere Gifts has some of the cheapest and cheesiest paper lanterns and trinkets.
It makes perfect sense that Chinatown is the second spot on our tour. In a world before Disneyland and Universal Studios, Chinatown was made for out of town guests who needed a tourist spot. The make a wish Wishing Well, the Golden Pagoda restaurant and the ubiquitous paper lanterns all scream kitsch, but it's Phoenix that has lent an air of sincerity by his earnest portrayal, showing off his favorite eateries and gift shops with that goofy hat on and wryness dripping from his stories.
"When you wish upon a star..." in Chinatown
"I'm not being sarcastic," he assures.
Olvera Street, the city's first pedestrian mall is next, and the schmaltz continues. We eat taquitos from Cileto Lindo, see the purported oldest house (1818) in Los Angeles and stroll through a manicured fiesta as cinnamon churros and sleepy Mexican trance music float through the invented Mexi-center.
One of the things that is striking about both Chinatown and Olvera Street are that while both were made for tourists - and both still thrive off of tourism - Latino and Asians were the main purveyors Sunday.
It was as if they had reclaimed a spot that was made to show off what some think Mexican and Chinese culture should be. And that is the essence of a Charles Phoenix tour. He shows these spaces off, he tells you the history, he tells you why they matter, he tells you why they are as fake as any Disneyland attraction and why they should be treated as real cultural centers. Why should we look down on Olvera Street, Chinatown and Tomorrow land when they are important centers of Angeleno history. Everything is invented and history can only tell you what is real.
We board the yellow bus and whirl through Downtown. We bus past the sunken gardens of the Los Angeles Mall (opened in 1973), the Federal Building Mosaic Murals (1961) and wind up at Clifton's Cafeteria, a three-story monument to Mylanta that itself has its own special back story.
In short, Clifford Clinton bought a restaurant and opened it up to the masses in 1935, saying price should be no barrier to a good meal. Other restaurateurs didn't like that. They asked him to stop catering to the riff-raff, he said no, they bombed his Los Feliz home, damaging a small portion of the kitchen, or so the story goes. He survived, the restaurant gained notoriety as Clifford gets on in years
His son and daughter took over. The daughter is later murdered. The case is still open. The son runs the business in mold of father and, what the fuck? Is that a blue neon cross?
I dust off the last crumbs of my biscuit and walk toward the light, glowing softly over a small room carved out of wood. In fact, the whole second floor has fake trees and leaves and it isn't long before Phoenix declares the place Frontierland. He may be right, but I'm pretty sure Disneyland does not have a confessional, unless you count the bathroom stalls that allow you to penance just the same.
I walk in to a dark room and sit on a bench, looking at a grade A Redwood forest replica in the "Little Chapel." It's weird and calming and I start to feel uncomfortable due to the fact that I am sitting in a makeshift confessional, feet from a woman trying to eat lunch.
I hop on the yellow tour bus and we trek less than a mile to the Bradbury Building, a Tomorrowland if there ever was one.
Phoenix tells us that the architects wanted the Bradbury to look like what they thought the year 2000 would look be like. Eight years later and the place still has a whiff of the future ruminating through the light that shines through the windowed ceilings and the running staircases. Or, that could be the baked bread in the Subway down the hall. Either way, Tomorrowland, er, the Bradbury is only a precursor to the strangest part of the tour: a marionette show at the world famous Bob Baker's Marionette Puppet Theater.
We walk into a room of coffee cans turned into spot lights and creepy clown music half expecting Phoenix to jump out with strings attached to his shoulders. Instead, young puppeteers emerge, miniature marionettes attached by strings with wooden crosses in their hands.
They masterfully twist their instruments, they twirl them, whoosh them, slide them. It's amazing and Phoenix tells us it is the oldest and only puppet theater in Los Angeles.
What's not old are the people behind the puppets, some of whom are 19 and 20 years old. One said he was in high school, looking for a summer job when wandered into a place he thought was a movie theater.
"I ended up falling in love with the puppets," he said. "Some people [at school] made fun of me, but they don't know. I don't know where I'll be in a couple years, but I like this. It's different."
After a dessert of strawberry cake and ice cream, we ship off to the penultimate stop: Carroll Avenue, home to the largest number of Victorian residencies in Southern California.
The architecture is interesting and so are the stories Phoenix tells us. One family supposedly bought their entire house from a Sears catalogue, furniture included. It sounds weird, but not when you look at present day catalogues where entire rooms are priced for the taking.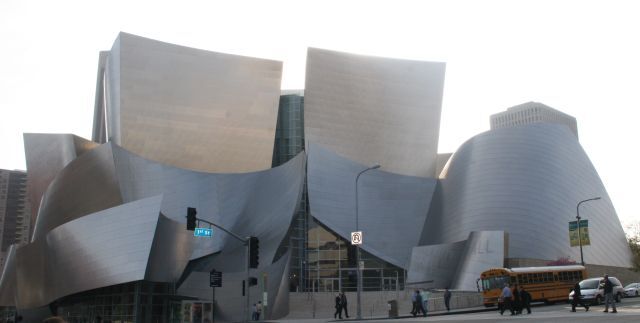 Walt Disney Concert Hall
The most striking thing there were not the houses. The architecture was stunning, but Southern California has no dearth of creativity and architects willing to flex their muscles. No, what was striking was the peacefulness of the street that sits less than five minutes from the 101 and miles from Downtown proper. It was quiet, yet Carroll Avenue's history, as a refuge for Richies wanting to escape the "hustle and bustle" of Downtown, is bathed in elitism and therefore it smacks of nothing more than Beverly Hills east. It was an invented oasis and fit perfectly on this tour de fakery.
We board the yellow bus and ride to the Walt Disney Concert Hall, the logical final destination for Phoenix's on his final tour. He tells us a story about Disney's wife, Lillian, and her love of crushed China and Phoenix takes us up more than 50 steps to the top of center where Downtown is revealed in its beautifully grimy glory.
We stop to take in the view on a perfect L.A. day, most expecting the tour guide to reveal the motivation behind the hike. He says nothing and why should he? A concert hall, a monument to show, named for Disney - the king of The Show - speaks for itself. Or it might be that after six hours of touring some of the most touristy sites in L.A. and after revealing his true love of a city he calls his own and sharing that with 32 strangers, there is nothing left to say.
Instead, Phoenix boards the bus, half apologizing for the sites he chose.
"I know it's kitschy, but this is my way of getting people to come Downtown," he said, exhausted. "I love it down here."

Note: While this may be the last Charles Phoenix tour, it is not his last event. On May 17 and 18, Phoenix presents: A Moonlight Rollerway Jubilee in Glendale.