This is an archival story that predates current editorial management.
This archival content was written, edited, and published prior to LAist's acquisition by its current owner, Southern California Public Radio ("SCPR"). Content, such as language choice and subject matter, in archival articles therefore may not align with SCPR's current editorial standards. To learn more about those standards and why we make this distinction, please click here.
Casiotone for the Painfully Alone
Our June member drive is live: protect this resource!
Right now, we need your help during our short June member drive to keep the local news you read here every day going. This has been a challenging year, but with your help, we can get one step closer to closing our budget gap. Today, put a dollar value on the trustworthy reporting you rely on all year long. We can't hold those in power accountable and uplift voices from the community without your partnership.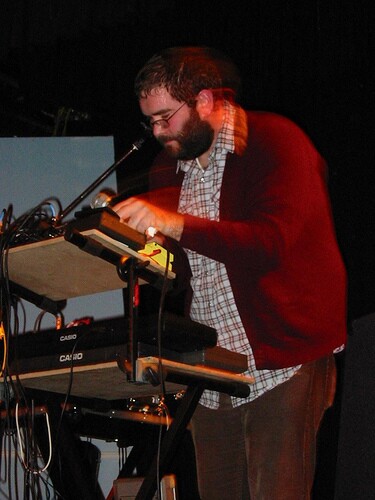 Last night my friend and I had a debate regarding why we liked the bands that we listened to in the 1990s. My friend claims that we liked them because they were good, or at least because they had some magnetism. I say that we liked them just because we didn't have enough musical diversity and choice to have the luxury to discriminate. Sources for new music were limited to MTV and...well...MTV was it really.
Our discussion was sparked by yesterday's performance at the Echo by Casiotone for the Painfully Alone (CFTPA). CFTPA is essentially a one-man band with a lo-fi sound consisting of Owen Ashworth, his beard, his eye-glasses, and at least six keyboards. Ashworth's songs are chaotically deliberate vignettes of electronic cacophony and afterthought. His unassuming stage-presence is both intriguing and endearing. The performance began with an unexpected homage to Bruce Springsteen's "Philadelphia" and concluded with a collaboration with psychedelic rock band the Donkeys.
When asked by my concert companion how I first learned about CFTPA, I admitted with some embarrassment that it was not through some cool in-the-know friend or via my music review reading prowess, but instead through a Live Journal internet search to see who else finds crustaceans and dinosaurs interesting. Given that the first CFTPA CD was released way back in 1998, I am sadly late to enjoin in the Ashworth cultism.
Which brings me back to our debate: the World Wide Web has opened up the musical floodgates making a whole plethora of new bands and sounds available to the public. I am quite sure that I never would have been exposed to CFTPA, and numerous other bands for that matter, if not for internet music blogs and the like. All of this new accessibility to harmonic pleasures and sound-diversity makes me wonder that if the bands that I was force-fed in the 90s were new to the music scene today, would I like them? Would I listen to them? Would I send them MySpace friend requests? Or would I indulge in something more unique like Casiotone for the Painfully Alone?
Check out www.cftpa.orgfor Casiotone for the Painfully Alone tour dates and other stuff.
Photo by Theo Adornovia Flickr
Donald Trump was a fading TV presence when the WGA strike put a dent in network schedules.

Pickets are being held outside at movie and TV studios across the city

For some critics, this feels less like a momentous departure and more like a footnote.

Disneyland's famous "Fantasmic!" show came to a sudden end when its 45-foot animatronic dragon — Maleficent — burst into flames.

Leads Ali Wong and Steven Yeun issue a joint statement along with show creator Lee Sung Jin.

Every two years, Desert X presents site-specific outdoor installations throughout the Coachella Valley. Two Los Angeles artists have new work on display.