This is an archival story that predates current editorial management.
This archival content was written, edited, and published prior to LAist's acquisition by its current owner, Southern California Public Radio ("SCPR"). Content, such as language choice and subject matter, in archival articles therefore may not align with SCPR's current editorial standards. To learn more about those standards and why we make this distinction, please click here.
Book Review - Drenched: Stories of Love and Other Deliriums
Support your source for local news!
The local news you read here every day is crafted for you, but right now, we need your help to keep it going. In these uncertain times, your support is even more important. Today, put a dollar value on the trustworthy reporting you rely on all year long. We can't hold those in power accountable and uplift voices from the community without your partnership. Thank you.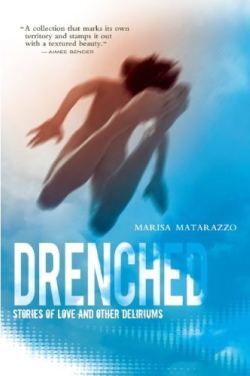 Marisa Matarazzo at Book Soup tomorrow.
When we were sent an early copy of Marisa Matarazzo's first book Drenched: Stories of Love and Other Deliriums, the title, the naked woman swimming on the cover and the gimmicky Valentine's Day release date made us a little dubious of its contents. Would it be a Harlequin-eque bodice ripper? Or another innocuous but banal attempt at chick lit?But what the LA-based Matarazzo has given readers doesn't fall easily into either category. While these interconnected short stories are tinged with the excitement of lust-love, the book is also permeated by heartbreak and melancholy, too. There is much bodice-ripping per se (a lot of bed hopping and shedding of clothes), but many of the characters or situations are fantastical--that's where the "deliriums" part of the title comes in--that sometimes they're more interesting than the sex.
In the short story, "Fisty Pinions," we meet Ashlyn Aschenbecher, the girl with the glass ashtrays for breasts. She wasn't born that way, she just chose to tape two ashtrays to her chests with mounting tape. Ronnie Scartoon, a girl from high school, has been in love with Ashlyn forever. They go on a date, and Ronnie isn't bothered about her date's enhancements one bit.
"Hotmouths" has elements of Romeo and Juliet, with a few twists. The Girlfriend is still in high school and her boyfriend Rose Quartz, 28, works on an oil rig after being discharged from the army. The Girlfriend's mother refuses to let her daughter engage in "hanky panky," so naturally the two keep their relationship a secret. But those twists? The Girlfriend has no hands--and Rose Quartz has pink rocks for teeth that burn hot when he's excited, i.e., when they kiss.
The little twists and absurdities in each of these stories keep readers turning pages. These "oddities" in Matarazzo's characters are seamlessly woven into her love stories; they're not forced, which is a testament to Matarazzo's voice and style. Of course, not all stories are equal, a few in the middle of the book don't work as well because the people are just a little too...normal.
We'll take the deconstructed love stories in Drenched over the usual boy-meets-girl fairytale anyway.
Marisa Matarazzo reads from Drenched: Stories of Love and Other Deliriums
@ Book Soup
Tuesday, Feb 9 at 7 pm
Free

Donald Trump was a fading TV presence when the WGA strike put a dent in network schedules.

Pickets are being held outside at movie and TV studios across the city

For some critics, this feels less like a momentous departure and more like a footnote.

Disneyland's famous "Fantasmic!" show came to a sudden end when its 45-foot animatronic dragon — Maleficent — burst into flames.

Leads Ali Wong and Steven Yeun issue a joint statement along with show creator Lee Sung Jin.

Every two years, Desert X presents site-specific outdoor installations throughout the Coachella Valley. Two Los Angeles artists have new work on display.