This is an archival story that predates current editorial management.
This archival content was written, edited, and published prior to LAist's acquisition by its current owner, Southern California Public Radio ("SCPR"). Content, such as language choice and subject matter, in archival articles therefore may not align with SCPR's current editorial standards. To learn more about those standards and why we make this distinction, please click here.
The Best Places To Meet Someone From The Internet For A First Date In L.A.
Support your source for local news!
Today, put a dollar value on the trustworthy reporting you rely on all year long. The local news you read here every day is crafted for you, but right now, we need your help to keep it going. In these uncertain times, your support is even more important. We can't hold those in power accountable and uplift voices from the community without your partnership. Thank you.
By Alexis Hyde and Julia Wick
All first dates are a form of Russian roulette, at least psychologically speaking. But meeting someone from the internet (and by "the internet" we obviously mean a dating app, because this is 2017) really takes that Russian roulette metaphor to the next level... because you could literally could get killed. All's fair in love and war,* after all.
That said, you've gotta meet the hot dude/lady/ladyboi you've been messaging with eventually, if only to verify that they are, in fact, a real person. An in-person meet is also the only way to assess physical chemistry and actual compatibility. So how to pick a locale?
There are a few main things to look for when you are deciding where to meet. First of all, is it conveniently located for both parties? Meetways, a website that lets you plug in two addresses and see what destinations are in the geographic middle, is an excellent tool to have in your arsenal. Art shows and museums are also always good options. Not a giant, LACMA-type situation, because that can get overwhelming, but something smaller where you can walk around and talk in the open. Galleries and museums also fall neatly under the umbrella of places where the date can easily be continued (or discontinued), depending on how it's going (see also: a coffee that can turn into a walk, an after work drink that can turn into dinner, an after dinner drink that can turn into dancing). There is also something to be said for a place that's a little nicer than your regular coffee shop/dive bar situation. You want a nice, approachable situation that anyone would be comfortable in, because the more comfortable the other person is, the more likely they are to be themselves right off the bat—and you can find out if you like them or if they are actually history's worst monster.
In general—and as much as we adore Grand Central Market—we'd advise against places with too many choices. You're already nervous about meeting someone so your decision making skills might not be at their sharpest, and now you're supposed to decide if you want to eat falafel or pupusas or pizza or spicy Thai, ad infinitum!? Take that extra work (and inevitable 15-plus minutes of awkward, meandering indecision) out of the equation completely, and avoid the Grand Central Markets, food truck fests, and farmers markets of the world on a first date. If things go well, you'll have the entirety of your lives together to silently judge one another for being the kind of person who wants to wait in line at Eggslut! On the flip side, we'd also steer clear of anything too fancy or expensive. Even if both parties can afford to drop tasting menu-level coin, it still lends itself to a formality that compounds the already uncomfortable nature of meeting an internet stranger.
And one final word of advice: no hikes. It's good to have a clear and unobstructed exit strategy that doesn't involve strenuous physical activity and being somewhere where no one can hear you scream.

Sunset Beer Company (Photo by Caroline on Crack for LAist)
SUNSET BEER COMPANY
Located in a little Echo Park strip mall, this all-bottle retail beer shop has wonderfully low-key living room vibes. Alcohol aficionados will be stoked on the massive beer selection and significantly smaller but still strong wine choices (pick up a bottle for purchase in the store, or check out one of the craft brews on tap in the back corner), and non-drinkers will enjoy the fancy sodas and little treats for sale. The bottle shop/tasting bar's aesthetic is cozy and unpretentious but still a little cool. And it's within spitting distance of several other Echo Park go-to spots, so you can stumble to the Gold Room or Little Joy for a second stop if all goes well.
Sunset Beer Company is located at 1498 W Sunset Boulevard in Echo Park. (213) 481-2337.

Hammer Museum is offering free admission starting in February (Photo by Smart Destinations via the Creative Commons on Flickr)
HAMMER MUSEUM
The Hammer is one of our favorite museums in Los Angeles, and not just because it's FREE. It's big enough to allow for a little wandering about, but still manageable and non-overwhelming in size. Their small but growing contemporary art permanent collection has a particular focus on L.A.-based artists, so you'll have plenty to discuss, and the museum's Ammo cafe offers tasty, locally-sourced fare in the tranquil courtyard. The Hammer is also known for its excellent (and unapologetically social justice-oriented!) programming, so check their calendar for upcoming event listings.
The Hammer Museum is located at 10899 Wilshire Boulevard in Westwood. (310) 443-7000.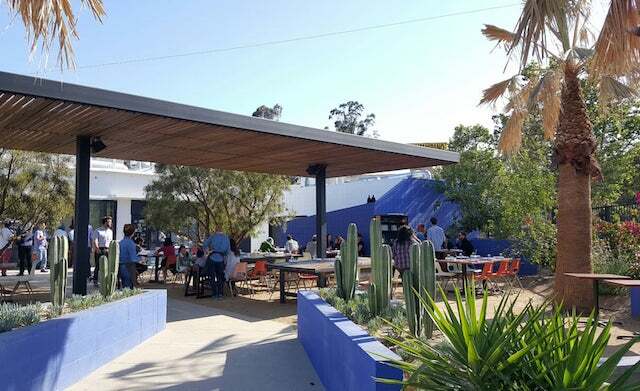 Salazar. (Photo by Benson L. via Yelp).
SALAZAR
Frogtown's new-ish Northern Mexican-style taco joint has been drowning in buzz since it opened in a former auto body shop just off the L.A. River last May, and it's the rare occurrence where it's actually deserved. The food is excellent, the almost entirely outdoor seating is lovely but not Cliff's Edge-level romantic, and the vibe is cool without being off putting. There is often a wait, but the restaurant's L.A. River-adjacent location makes it ideally situated for taking a nice stroll after you put your names down. The carne asada "is simple but perfect," according to no less a source than Patron Saint of L.A. Food Jonathan Gold, and the margaritas are great.
Salazar is located at 2490 Fletcher Drive in Frogtown. No phone.

The Prince interior (Photo courtesy of The Prince)
THE PRINCE
In an ideal world, all bars and restaurants would have booths. And in an ideal, ideal world, all of those booths would be red and circular, like the ones at The Prince. This Koreatown mainstay opened in the 1920s as The Windsor and feels a bit like the land that time forgot, in the best possible way. The red-and-gold walls and vintage lighting make it a favorite for history buffs and location scouts alike: the restaurant stood in for New York City's legendary Toots Shor's Restaurant on the first season of Mad Men, among countless other film cameos. It's classic L.A., with Korean-style fried chicken and a surprisingly extensive menu, plus the booths are usually quiet enough for actual talking, even when the bar is packed. If things are still going well after you've finished your food and drink, cut over to 8th Street and stroll a few blocks west for a sweet treat from our favorite evening crepe stand, which is usually in the Jon's parking lot at the corner of Irolo and 8th.
The Prince is located at 3198 1/2 W 7th Street in Koreatown. (213) 389-2007.

(Photos courtesy of Earle's)
EARLE'S ON CRENSHAW
Angelenos everywhere rejoiced when Leimert Park's beloved Earle's (formerly Earlez Grille) returned to the neighborhood in March after a three-year absence (they had to relocate to make way for the construction of the Expo/Crenshaw Station). The family business began as a hot dog stand more than three decades ago, according to L.A. Weekly, and the Earle family has been serving up quality hot dogs and chili ever since. There are a plethora of ways to customize your dog, and the joint is also known for their vegan options. There is no indoor seating—there's a standing rail to eat at along the front window, and tables outside—so this is one of the more casual options on our list, and particularly well-suited for a weekend afternoon. Enjoy a sweet glass of Playa's Punch, and tell Duane and Carey we say hi.
Earle's is located at 3864 Crenshaw Boulevard in Leimert Park. (323) 299-2867

DeSano Pizza Bakery (Photo by Danny Jensen/LAist)
DESANO PIZZA
East Hollywood's DeSano, which is currently serving our favorite pizza in L.A., offers up a taste of Naples by way of Nashville, where the restaurant began with its first brick-and-mortar. Order at the counter in front and then make your way into the surprisingly cavernous main room and grab a seat at one of the long, wooden tables (the wood-burning oven view can't be beat, to say nothing of the aroma). East Hollywood is also one of those semi-magical Sisterhood Of The Traveling Pants Commuters neighborhoods that manages to somehow be within 20-ish minutes of a whole lot of other places (WeHo, downtown, Miracle Mile, Studio City, etc.), which is always a perk.
DeSano Pizza is located at 4959 Santa Monica Boulevard in East Hollywood, (323) 913-7000.

The lanes at Highland Park Bowl. (Photo by Lynn Millspaugh/LAist)
HIGHLAND PARK BOWL
There is certainly something to be said for a first date location that also offers an activity, and we are especially partial to activity venues that serve Old Fashioneds. All hail having something to do when you run out of things to say, and good whiskey to help you forget that, in an absolute best-case scenario, you could fall in love and spend four or five decades married to the stranger across the table from you—before one of you eventually, inevitably, dies first and leaves the other alone, again. This longstanding L.A. landmark has been gloriously restored by the 1933 Group (the people behind Bigfoot Lodge and Sassafras), to peak old-timey cool. Lounge on a leather couch and hit up the eight-lane bowling alley, just be forewarned that said activity doesn't come cheap (actually bowling will set you back $40 to $60).
Highland Park Bowl is located at 5621 N. Figueroa Street in Highland Park. (323) 257-2895.

Aloha from Duke's (via Facebook)
BAREFOOT BAR AT DUKE'S MALIBU
Westsiders, West Valley-ites, and those who don't mind a slight drive for a first date adventure should look no further than the outdoor Barefoot bar at this Malibu institution. Sure, it's kitschy, but so is the possibility of true love. The ocean views can't be beat (unless you are literally on a boat), the Hawaiian-themed mood is decidedly fun, and the bar food is pretty good. If neither party works a 9-to-5, you could even make it in time for happy hour (4 p.m. to 6 p.m. from Tuesdays through Friday). And your future kids will love the story about your first kiss on the beach at sunset!
Barefoot Bar at Duke's Malibu is located at 21150 Pacific Coast Highway in Malibu, (310) 317-0777.

(Photo courtesy of Sunny Spot)
SUNNY SPOT
Roy Choi may have long since departed from his former role as chef at Sunny Spot, but the Caribbean-inspired food is still delicious, and the vibe (and drink menu!) is fully conducive to whiling away a few hours at this bright Venice/Marina del Rey locale. They're open until 10 p.m. Sunday through Thursday and 1 a.m. on Fridays and Saturdays, so you can definitely come in for a bite or after-work drink, but we are especially fond of Sunny Spot for weekend afternoons.
Sunny Spot is located at 822 Washington Boulevard in Venice. (310) 448-8884.

caption?
AUGUSTINE WINE BAR
Augustine Wine Bar is, as described by a former LAist editor, what would happen if "Bar Covell in Los Feliz grew up, had kids, and moved to The Valley—and that's not a bad thing." There are intimate, two-person booths and a lovely little sidewalk patio... but don't let the cozy charm belie the seriousness of their wine list, which is particularly impressive in the wines-by-the-glass department. They feature a rotating list of wines by the glass from around the world, as well as more rare vintages, also available by the glass. Augustine makes "revelatory sips possible for even the casual drinker," according to our friends at L.A. Weekly. So don't let anyone tell you there aren't hip spots in the Valley, or places worthy of Food & Wine magazine shoutouts.
Augustine is located at 13456 Ventura Boulevard in Sherman Oaks. (818) 990-0938.
***
A few last words of advice: as tempting as it may be to tell that Tinder flame to meet you at your two-visits-a-week neighborhood watering hole, we would recommend avoiding any Cheers-type situations where everyone knows your name. When it's super obvious one person is on their home turf, the other person is automatically the visiting team and it can put them on edge. Save it for the second date—they'll be extra impressed when you walk into said location and the maitre d gives you a hug. And forget about the newest crazy food trend that neither of you has tried until the third date, when you're both feeling adventurous. Anything involving a movie theater or a show should also be put on the back burner until after the first date. Not only does it equal multiple hours of sitting in silence, but you'll also likely spend the drinks/dinner afterwards only discussing about the movie/show that you just spent two hours seeing—and not actually getting to know the other person. Godspeed!
*Fun fact: that phrase actually originated from from Miguel de Cervantes' Don Quixote, which makes sense because the only thing more quixotic than only fighting windmills is obviously trying to swipe your way to being un-alone.
Alexis Hyde is the director of The Museum of Broken Relationships, which does not appear on this list because of the obvious conflict of interest but actually makes for a great first date.
But Yeoh is the first to publicly identify as Asian. We take a look at Oberon's complicated path in Hollywood.

His latest solo exhibition is titled "Flutterluster," showing at Los Angeles gallery Matter Studio. It features large works that incorporate what Huss describes as a "fluttering line" that he's been playing with ever since he was a child — going on 50 years.

It's set to open by mid-to-late February.

The new Orange County Museum of Art opens its doors to the public on Oct. 8.

Cosplayers will be holding court once again and taking photos with onlookers at the con.

Littlefeather recalls an "incensed" John Wayne having to be restrained from assaulting her and being threatened with arrest if she read the long speech Brando sent with her.