5 Things We Learned At The BAFTA L.A. Tea Party
Stories like these are only possible with your help!
You have the power to keep local news strong for the coming months. Your financial support today keeps our reporters ready to meet the needs of our city. Thank you for investing in your community.
BAFTA L.A. held its pre-Emmy tea party at the SLS Hotel on Saturday afternoon, and we were lucky enough to chat up some of the stars from both sides of the pond about upcoming projects and their personal Emmy favs. Here are five things we learned on the BAFTA red carpet:
1. Sansa Stark - fan girl. Well, not Sansa, but Sophie Turner—the statuesque 19-year-old actress who plays her—certainly is. We asked what show—besides her own—would she root for at the Emmys. "American Horror Story. It's the only one I watch, other than Game of Thrones, obviously. "I think it's just an amazing, amazing, amazing show with such talented people. I think it's underappreciated, definitely."

'Veep' creator Armando Iannucci at BAFTA L.A.'s pre-Emmy tea party on Saturday. (Photo: Christine N. Ziemba)
2. What's next for VEEP's creator? Armando Iannucci, who stepped down as VEEP's showrunner, said, "I'm writing a film right now about the death of Stalin. It's based on a true story. When Stalin died—the head of the Soviet Union—died in 1953, nobody quite knew what to do. He had a stroke. That's not part of the comedy. It more just about the after affect." A comedy? "Well, it's kind of funny." Iannucci says he'll direct it sometime next year. We're pretty sure that with his track record, it'll be more than "kind of funny."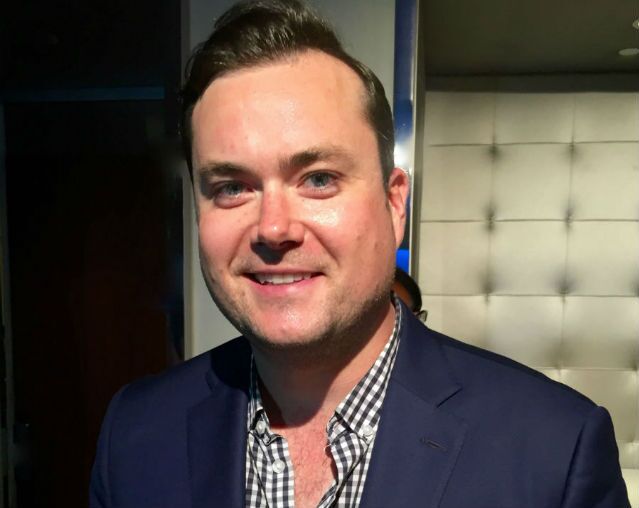 'Orphan Black's' Kristian Bruun at BAFTA L.A.'s pre-Emmy tea party on Saturday. (Photo: Christine N. Ziemba)
3. Advice for a frontrunner. We asked Kristian Bruun, who plays Donnie Hendrix on Orphan Black, what he'd say to nominated Tatiana Maslany to help her prep for Emmy Sunday. "Don't trip going up the stars. Don't forget to thank your boyfriend. Just breathe. Enjoy it. She deserves to win. I hope she wins so badly…." Bruun also told us that the Orphan Black cast has its first table read on Wednesday for the next season. He's read the first two scripts: "I can't tell you much, but I can tell you that the first episode for season four is probably the most exciting to a season yet. It's awesome, and it's unexpected. We go somewhere that people won't be looking out for. It's pretty cool."

Downton Abbey's creator Julian Fellowes at BAFTA L.A.'s tea party. (Photo: Christine N. Ziemba)
4. Julian Fellowes can't move mountains. Or PBS. We asked Downton Abbey's creator why America has to wait until January for the final season of the show, when it begins tonight (Sept. 20) in the U.K. Couldn't he do anything about that? "I've tried. I've tried. But we just can't shift [PBS]. The BBC by showing Sherlock simultaneously proved that it could be done ... or Dr. Who ... whatever on it was. Why don't we? I mean, it doesn't have to be the same hour, but on the same day. I don't know. If it were down to me, it would be."

'Supernatural's' Ruth Connell at BAFTA L.A.'s pre-Emmy tea party on Saturday. (Photo: Christine N. Ziemba)
5. Ruth Connell's British TV recs. We asked the Scottish actress, who plays Rowena on Supernatural, to give us a few of her favorite British TV recommendations. "Okay, so I just watched Catastrophe and loved it. ... It's not so recent, but Happy Valley knocked my socks off with Sarah Lancashire. The Fall. There's so many things. My other love at the moment is Unreal, which is an American production. I'm obsessed with Shiri Appleby and Constance Zimmer. I'd fangirl over them if I'd met them.
And last, but not least, here's pic of Alfie Enoch of How to Get Away with Murder ... just because.

To catch more of your TV favorites, watch the 67th Primetime Emmy Awards tonight on Fox at 5 pm PST (8 pm EST). Andy Samberg hosts.