This is an archival story that predates current editorial management.
This archival content was written, edited, and published prior to LAist's acquisition by its current owner, Southern California Public Radio ("SCPR"). Content, such as language choice and subject matter, in archival articles therefore may not align with SCPR's current editorial standards. To learn more about those standards and why we make this distinction, please click here.
4 Arrested For 'Road Rage' Fight in Dodger Stadium Parking Lot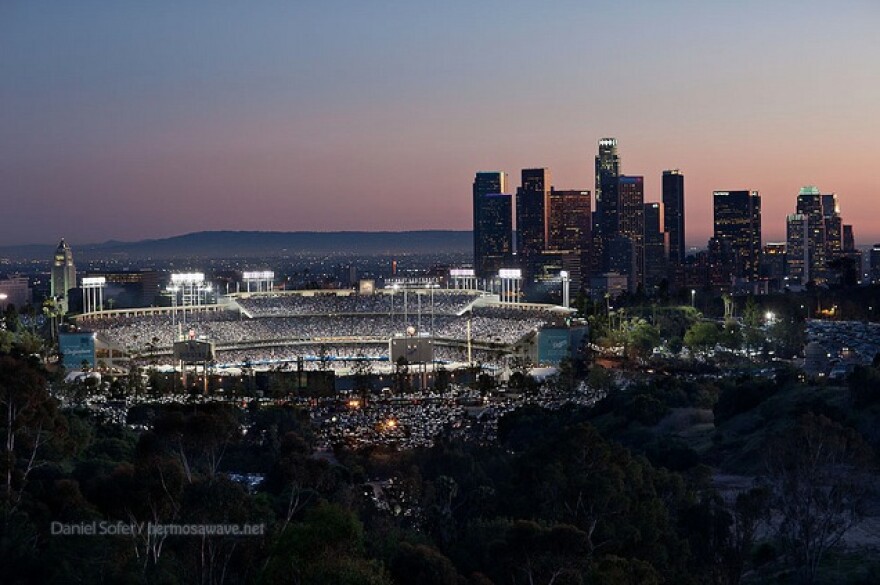 Support your source for local news!
Today, put a dollar value on the trustworthy reporting you rely on all year long. The local news you read here every day is crafted for you, but right now, we need your help to keep it going. In these uncertain times, your support is even more important. We can't hold those in power accountable and uplift voices from the community without your partnership. Thank you.
Four men were arrested Sunday night after the Dodgers/Cardinals game for their involvement in a fight in the stadium parking lot.
The suspects, all in their 20s, were booked on suspicion of assault with a deadly weapon, notably fists and feet, police said, according to City News Service. A fifth man was treated at a hospital for his injuries.
The fight began just the victim and one man, and was likely initiated by a fender bender in the parking lot. But the accident seemed to have sparked some "road rage," and quickly escalated to violence after the two men got into it. "Three friends of one of the drivers -- who were possibly in a third car -- then joined in, according to police," reports KTLA.
Naturally, any sort of tussle in the Dodger Stadium parking lot will call back memories of the horrific beating sustained by San Francisco Giants fan Bryan Stow on opening day in 2011. Unlike that incident, however, this does not appear to be any sort of rivalry or confrontation based on fan allegiances or begun during the game itself.
It's been many, many years since we saw this much snow in our mountains. Going up there right now isn't safe, but here are some places where you can enjoy the view and snap a pic.

April Valentine died at Centinela Hospital. Her daughter was born by emergency C-section. She'd gone into the pregnancy with a plan, knowing Black mothers like herself were at higher risk.

A look at years past when snows creeped into our citified neighborhoods, away from the mountains and foothills.

In the face of a drier future, that iconic piece of Americana is on its way out in Southern California.

Bob Gregory, 62, went missing the same day as Sands. His body was recovered near Mount Islip.