Stories like these are only possible with your help!
You have the power to keep local news strong for the coming months. Your financial support today keeps our reporters ready to meet the needs of our city. Thank you for investing in your community.
I know it may come as a shocking revelation to some of you who know me, but yes, last night I actually put on comfortable shoes and - exercised. OK, I still wore my mules. I always wear my mules.
But I walked.
Really fast too - it is impossible to keep up with those dang bikes!
(Photo essay of the DYKE March down Sunset blvd. during Pride Week after the jump. A few pics may be PG-13)
Some of the bicycle riders were fresh off of the AIDS ride. Xochitl Brown gets the crowd excited - oh, and she also gives us a pep talk!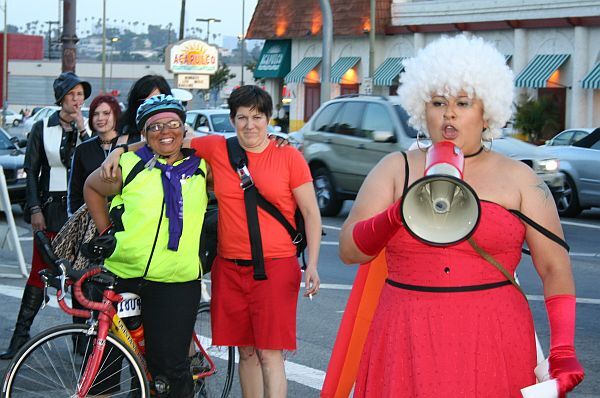 And off we go!
Off Ramp are not only parade queens, burlesque performers, and float designers, they also design their own line of clothing!
Is it ironic that I didn't get a picture of the lesbian visibility sign until it was almost too dark to see it?
(PICS OF THE AFTER-PARTY TO FOLLOW)