This is an archival story that predates current editorial management.
This archival content was written, edited, and published prior to LAist's acquisition by its current owner, Southern California Public Radio ("SCPR"). Content, such as language choice and subject matter, in archival articles therefore may not align with SCPR's current editorial standards. To learn more about those standards and why we make this distinction, please click here.
Manhunt For Ex-Cop Christopher Dorner Continues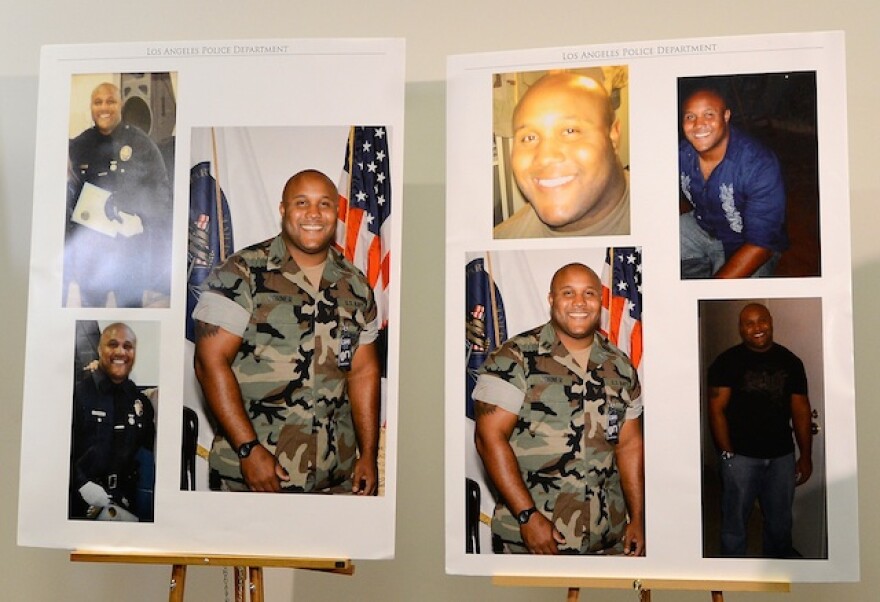 Before you read more...
Dear reader, we're asking you to help us keep local news available for all. Your tax-deductible financial support keeps our stories free to read, instead of hidden behind paywalls. We believe when reliable local reporting is widely available, the entire community benefits. Thank you for investing in your neighborhood.
In a rare and broadly-scoped instance of the hunter being the hunted, the Los Angeles Police Department and other Southern California law enforcement agencies are continuing the search for murder suspect Christopher Jordan Dorner.
The search centered around the community of Big Bear Thursday afternoon and into the night, following the discovery of a burning pickup truck belonging to Dorner off an access road in the mountain town.
All the areas where someone could have walked away from the truck were being searched by ground and the hunt continued into the night, according to Cindy Bachman of the San Bernardino County Sheriff's Department, reports City News Service. Bachman said deputies were going door-to-door to speak with residents and occupants of cabins, though admittedly many of the residences would be vacant on a Thursday.
Complicating the search is a winter storm hitting the area that's expected to dump up to four inches of snow.
It's not known if Dorner did indeed take off on foot into the wooded terrain, or if the burning truck was merely a smoke screen tactic to distract authorities.
According to a live report on KTLA, authorities are focusing on a wooded area about a mile from Bear Mountain ski resort.
Dorner, 33, began his violent rampage on Sunday when he is thought to have fatally shot a young couple in Irvine as they sat in their car near their home. Irvine Police were baffled at why Keith Lawrence and his fiancee, Cal State Fullerton basketball coach Monica Quan, were targeted. A "manifesto" document posted online by Dorner revealed the ex-cop was targeting the children of former LAPD colleagues of his who he believed did him wrong and contributed to his losing his job with the force.
Quan's father is Randy Quan, a former LAPD captain who represented Dorner during his review hearings prior to his dismissal.
In his manifesto, Dorner singles out several people by name. Today, protective details remain in place to ensure the safety of those LAPD personnel and their families, say authorities.
Thursday morning, one such detail, sent from the LAPD Newton Division, were shot at by Dorner in their vehicle in Corona. Shortly after, Dorner shot two Riverside Police Department patrol officers in their vehicle in an ambush-style attack, killing one and seriously wounding the other. No connection between Dorner, the LAPD, and the Riverside officers has been established.
By Thursday afternoon, the discovery of the burning truck in Big Bear shifted the focus of the manhunt--expanded to a statewide "Blue Alert"--to the mountain resort town in San Bernardino County. While area ski resorts were closed Thursday and schools were on lockdown, the ski resorts will be open today, though some schools will not.
The LAPD has been on a full tactical alert, which extends officers' shifts, since shortly after the Thursday morning shootings in Riverside County, according to the LAPD.
Dorner is considered armed and extremely dangerous, and anyone who believes they see him should not contact him, but rather contact 911 immediately.
A 9 a.m. press conference is scheduled in the Big Bear area.
Related:
Ex-LAPD Cop Christopher Dorner Believed to Be on Killing Rampage Targeting Law Enforcement
Christopher Dorner's Manifesto, In Full [Content Graphic and Disturbing]
Who Is Christopher Dorner? What You Need To Know About The Ex-Cop On A Rampage
Police Shoot Newspaper Delivery Women Mistaken For Christopher Dorner During Manhunt [UPDATED]
LAPD Chief Charlie Beck on Hunt for Christopher Dorner: 'Nobody Else Needs to Die'
Killer Cop Christopher Dorner's Rambling Manifesto Praises Charlie Sheen, Anthony Bourdain, Gov. Chris Christie And More
Wounded Riverside Cop Shot By Dorner Expected to Survive, Suspect's Connection to Riverside Unclear
Christopher Dorner's Burned Truck Found Near Big Bear Lake, Big Bear Resort Shut Down
Mayor Villaraigosa on Revenge-Seeking Ex-Cop Dorner: He's 'apparently a sick individual'
KFI Radio Host Tells Christopher Dorner To Turn Himself In: 'Your Story Will Come Out'
Anderson Cooper Reveals Dorner Sent Him a Package