Fashion Designer Anand Jon Guilty on 20 Counts
Stories like these are only possible with your help!
You have the power to keep local news strong for the coming months. Your financial support today keeps our reporters ready to meet the needs of our city. Thank you for investing in your community.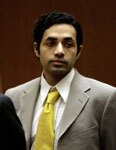 He sexually assaulted seven young girls and women (the youngest was 14), some of them who were lured to Los Angeles with promises of jobs and rooms at luxury hotel rooms. Today, a jury in Los Angeles who deliberated for almost two weeks found 34-year-old Anand Jon Alexander guilty for 20 of the 23 counts he was charged with, which included forcible rape and committing a lewd act upon a child, according to the Associated Press. Alexander is most well known for his appearance on "America's Next Top Model" and for working with celebs such as Paril Hilton. In addition to his Beverly Hills escapades, he is under indictment in New York and is under investigation in Texas and Massachusetts.