Stories like these are only possible with your help!
You have the power to keep local news strong for the coming months. Your financial support today keeps our reporters ready to meet the needs of our city. Thank you for investing in your community.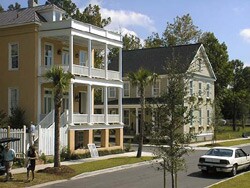 The "Column One" feature, "Holding Up a Tradition,"on the front page of yesterday's Los Angeles Times mystifies us. Why would Angelenos be interested in the antebellum architecture craze sweeping the South?
The piece focuses on the popularity of a new housing subdivision in South Carolina called "I'On" that features houses modeled after antebellum plantation buildings with generous porches and collonades.
Perhaps Times editors thought it time to publish a literal "Column One" feature instead of relegating this piece of fluff to the "Home" section.
For example, Times staff writer Ellen Barry breathlessly writes, "during an unprecedented burst of building in the South, columns are, once again, going up everywhere. Both builders and home-buyers have been swept by nostalgia for a long-ago small-town life, and the architectural detail that goes with it. John Wieland, who owns one of the region's largest home-building companies, says his purchases have 'really gone crazy,' increasing by 20% last year.
Builders know this secret about columns: They sell houses...
Outside Atlanta — whose original antebellum architecture was famously obliterated by William Tecumseh Sherman — brand-new antebellum construction is a thriving industry.
When Cathy Kahn turned off the highway into Ellard Village in Alpharetta, she was charmed by the graceful double staircases and the elegant columns at the doors. She imagined sitting outside on summer evenings and chatting with her neighbors.
'It feels, in a way, like you're living history, that you are bringing some of that Southern charm and gentility back," said Kahn, 40. "It just has a feeling of peace. That was an era where they just enjoyed life.'"
Uh, yeah, so long as you weren't a slave or sharecropper enduring more than 50 years of Jim Crow...