Stories like these are only possible with your help!
You have the power to keep local news strong for the coming months. Your financial support today keeps our reporters ready to meet the needs of our city. Thank you for investing in your community.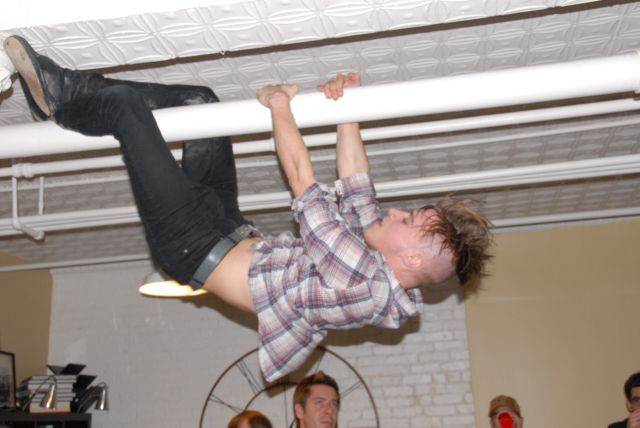 I've always dreamed of attending the CMJ, the annual New York gathering of pretty much every band in the entire universe. The people over at Fader are saying CMJ should be an acronym for Conquering Many Jams. I'm just not sure if I'll be doing the conquering. With thousands of bands to choose from, It's more than likely that the music will be conquering me. As I arrive at the Puck building on Lafayette Street, I see a sinuous line of Press people, who seem to be filling out forms and waiting forever. I'm a bit wary at this point because I've heard a lot of negative things about badge holders in the past. After standing in the wrong line a bunch of times, I see that Global Inheritance has a booth inside. I recalled seeing their decorated trash cans at the Swerve Festival at Barnsdall Art Park. Their projects comprised some of the more redeemable facets of that festival, the ideas that I believe I referred to as genius. Make sure you check out their very creative approach to waste management.
Instead of diving head first into the bedlam of decisions, I opted to take it easy on myself the first night. Trust me, the next four days are absolutely insane. I decided to camp it at the Bowery Ballroom to catch the Brooklynvegan showcase because the lineup was so stellar: Bon Iver, The Shaky Hands, The Most Serene Republic, Miracle Fortress, Dean & Britta, The Rosebuds, and Voxtrot.
Before heading over to Bowery, I decided to check out the Indaba music loft because what better introduction to CMJ than free beer, nice people, and great music. Besides, I had read how hard Underrated Magazine worked to compile a few days worth of awesome lineups. Up a bunch of flights of stairs, past some cute signs that say "one more flight up" and "you're here", therein lied the Indaba music loft on Bowery and Houston.
I arrived just in time for a very short set by Auckland natives Cut Off Your Hands. They played for nearly fifteen minutes, but they brought the rock. The lead singer put his all into what was, presumably, his first CMJ show of the week. He was on the ground at times singing with his all and he concluded their set with a brazen act: climbing the pipe on the ceiling like a monkey. I'll never forget the elation this single moment brought me on my first day of my first CMJ experience. As I was walking in the direction of the Bowery Ballroom, I read on Brooklynvegan that Montreal's Miracle Fortress had been stopped at the border and that it was highly unlikely they would make their set. I was extremely disappointed to hear this because I had planned on seeing them a couple of times this week. I was even more disappointed to hear that the whole schedule was moved back an hour. So I went over to Gray's Papaya and had a hot dog while I waited for the doors to open.
Bowery is set up in an interesting way. The entrance leads you to the basement floor, which is where the bar/lounge is set up. However, the venue is upstairs on the ground floor. It's a pretty sizable room with great sound.
The three-pieced Bon Iver took stage and proved to us what the hype was all about. Their debut album For Emma, Forever Ago isn't even out yet and everyone from Pitchfork to LAist absolutely loves it (I never thought I'd put those two websites in the same sentence). Front man Justin Vernon wore his heart on his sleeve: "I can't believe people are actually here to see us play before a bunch of real bands". Bon Iver's debut was not intended to be unearthed and thus the resoundingly positive reviews are probably a bit overwhelming for him.
Through their short set, I felt as though I finally understood the premise of Bon Iver's debut: a lonely act of utmost sincerity. "Our record is coming out in the first quarter, as they say". Vernon was witty and tremendously entertaining. His pristine, powerful voice soared over their minimal execution. They jammed through "Flume", "Creature Fear", the title track "For Emma", my personal favorite "Skinny Love", and they encouraged a crowd sing-along to help recreate "The Wolves (Act I And II)". After hearing the raspy, silver-plated guitar lines of "Skinny Love", I think I can die a happy man.

Next, Portland-based The Shaky Hands graced the stage. I had never seen them before, but I have been a fan of their music. They rocked a bunch of jangly pop tunes from their latest self-titled release. Their music is appealing for those who enjoy an occasional slide guitar moment or two. Bongo playing and hand clapping occurred, almost simultaneously it seemed. The Shaky Hands' music has breadth. They really covered a lot of ground in their half hour set. Also, I really loved their bassist. His hair is just about the greatest thing since sliced bread. Aside from Bon Iver, I was most excited to see The Most Serene Republic perform. I first discovered their unique sound from their remix of Stars' "Ageless Beauty". Generally, you can't entirely distinguish an artist's sound from their remix of someone else's work. However, The Most Serene Republic defy that as well as many other musical norms. They were some of the most amazing musicians I have ever watched. Their songs contain some of the busiest drum and bass work I have heard in quite some time. I had always noted this while listening to their music, but watching it play out before my eyes was stupefying.
Front man Adrian Jewett led the band, as though he was a conductor, through orchestral exercises. He waved his trombone, occasionally piping a few notes, danced, and did jumping jacks on stage. It's safe to say Jewett is quite comfortable up on stage. They ran through an exhilarating, precise set filled with gorgeous three part harmonies. The Most Serene Republic provided jazzy interspersions, drifting in and out of songs, that made their set seem more like a performance than a set. There is a fine distinction to be made between the two. They ran through songs like "Anhoi Polloi", "Humble Peasants", "Oh God", "Astro", "Phages", "Present of Future End", and "Sherry and her Butterfly Net".
Dean & Britta were unbearable. So I cut out early to head over to see James Murphy of LCD Soundsystem spin records at Hiro Ballroom. The line was insane and it was a completely non-CMJ-related event. The posh surroundings of the Maritime Hotel were also a bit daunting. Not entirely my scene. So I decided to just call it an early night. I'm certain I'll make up for it in the next four twelve hour days of music. More pictures and insanity to follow...