This is an archival story that predates current editorial management.
This archival content was written, edited, and published prior to LAist's acquisition by its current owner, Southern California Public Radio ("SCPR"). Content, such as language choice and subject matter, in archival articles therefore may not align with SCPR's current editorial standards. To learn more about those standards and why we make this distinction, please click here.
Swerve Festival: Day Two 09/30/07
Before you read more...
Dear reader, we're asking you to help us keep local news available for all. Your financial support keeps our stories free to read, instead of hidden behind paywalls. We believe when reliable local reporting is widely available, the entire community benefits. Thank you for investing in your neighborhood.
With indie rock mainstays Devotchka, Oh No! Oh My!, Foreign Born, Snowden, Illinois, The Black Angels, St. Vincent, and Thee More Shallows, how can one really go wrong? Well, quite simply by not publicizing your festival enough. My experience swerving was a little disconcerting, mainly because of the poor turnout. It's my turn to take a stab at this whole Swerve Festival.
Everything seemed perfect on paper (the music, the art, the film, and the ideas) yet for some reason Swerve did not come together as well as I had imagined it to. I was an envisioning an influx of hipsters from the surrounding areas to congregate upon a hill and have a wild time. Instead on Saturday, I arrived at the Swerve Festival to twenty people watching Illinois. Silence prevailed. In between songs there was the distant rumblings of applause, but I doubt the band could even hear it. And as I explained to my friend, "Half of the audience were old people who looked like they didn't even know how they got there or why they were there!" It probably wasn't the warm Los Angeles welcome a small band from PA, who graced a Weeds episode earlier this year, expected.
Although things picked up progressively as the festival continued on Sunday the general consensus was that attendance was lower than expected. My friend, a Los Feliz native, decided to come merely because he heard music coming from a nearby hillside. Not because he had read about it in the LA Weekly or the Times. A photographer reminded me of the more successful Barnsdall festival endeavors in times past. The Arthurfest in 2005 was a perfect example of how to effectively execute such ideas. There wasn't an empty spot on the pinnacle of that hill. The point is if you're going to hold a festival, investing so much time, money, and effort into the music facet, then you better ensure a considerable audience.
I'm too saddened to even write about Foreign Born's incredible set on Saturday, which featured a moment of additional percussion from In Waves' front man Jimmy Notorleva. They deserved so much more than what was provided for them. Cop-out? Yeah, well, the whole Swerve Festival was a cop-out in some shape or form.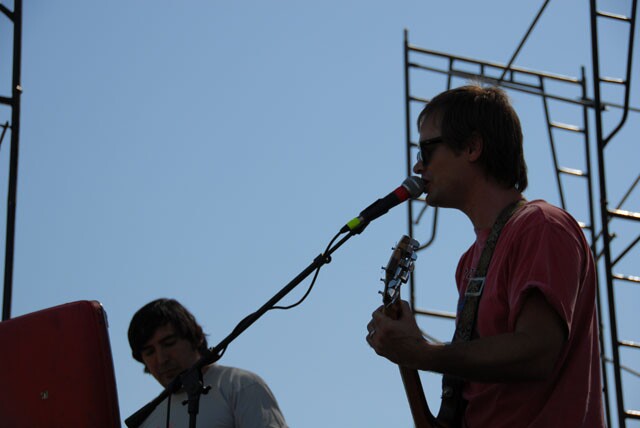 Thee More Shallows blasted experimental indie rock tunes from their latest Book of Bad Breaks. I've been following this band since I saw them at the Fuck Yeah Fest and they continue to impress me each time. Front man Dee Kesler truly understands the ambient side of music. The man is brilliant. I mean, somehow he manages all of these wandering pitches into one concise, poppy tune. Songs like "Night At the Knight School", "Eagle Rock" were memorable. Thee More Shallows is certainly on the road to bigger and better things.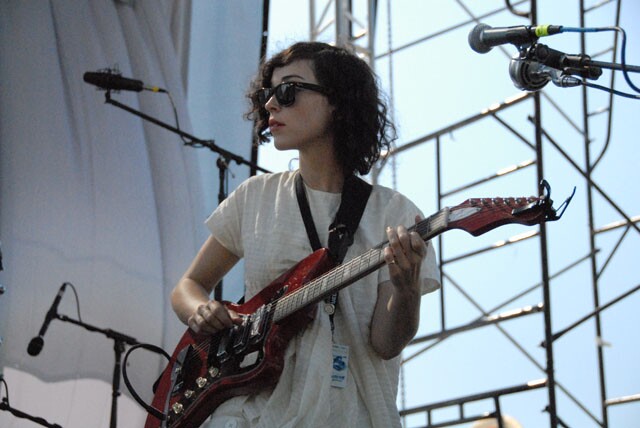 The special guest for Sunday's roster turned out to be Annie Clark, a.k.a. St. Vincent. I've seen her live before and she proved to be all that her debut album Marry Me touted. However, I'd never seen her perform solo before and I must say that it was sub par. A meager stomp box replaced drums and technical difficulties plagued Clark's set. Things just weren't going nearly as well as her previous gig at The Echo. Specific highlights were scant but as follows: "Jesus Saves, I Spend", "Paris Is Burning", "All My Stars Aligned", "Marry Me", and "Your Lips Are Red". Miss Clark's set is much more powerful and engaging with a full-fledged backing.
Oh No! Oh My! was as happy-go-lucky as I had imagined. They playfully jammed through a set of from their 2006 self-titled album. Songs like "Walk In The Park"and "I Have No Sister" stood out most memorably. The crowd continued to grow, but there was still a pervasive sense of despondency amongst the music snobs.
By the time Devotchka hit stage, the sun was on its descent and the crowd was at its peak. Clapping and even whistling along at times, the crowd seemed to enjoy their Eastern European jigs. Devotchka rocked through "The Enemy Guns", "Twenty-Six Temptations", "How It Ends", and "Devotchka!". I believe we also got a rendition of my personal favorite "Queen of the Surface Streets", but I might just be mixing it up with my Bumbershoot experience. This was definitely Swerve's finest hour.
I know that this glimpse of the Swerve Festival may be bleak, but there were some ideas that were pure genius. The whole eco-friendly aspect was a great addition. There were stationary bikes hooked up to batteries so that you could charge things like disco balls, Blackberry's, and iPhones. There were also tables set up that collected bottles for memorabilia including autographed Built To Spill and Earlimart records (fifty bottles worth). The Create-a-Skate station was awesome for kids. They all got an opportunity to build their own boards from raw decks. The sharpie tattoo booth was another great idea. There was so much creativity flourishing throughout this festival. I just wished that there had been a better turnout. All in all, the ideas and components were in their proper place but the execution was off.