This is an archival story that predates current editorial management.
This archival content was written, edited, and published prior to LAist's acquisition by its current owner, Southern California Public Radio ("SCPR"). Content, such as language choice and subject matter, in archival articles therefore may not align with SCPR's current editorial standards. To learn more about those standards and why we make this distinction, please click here.
CMJ Day Four
Our June member drive is live: protect this resource!
Right now, we need your help during our short June member drive to keep the local news you read here every day going. This has been a challenging year, but with your help, we can get one step closer to closing our budget gap. Today, put a dollar value on the trustworthy reporting you rely on all year long. We can't hold those in power accountable and uplift voices from the community without your partnership.
Day Four began with jazz hands. I started off at Cake Shop to see NY native Patrick Cleandenim. He struck my interest with his brand of flamboyant, jazz-infused pop. However, it'd be nearly impossible for him to replicate the orchestral backing live and thus his live performance seemed a bit flat. Regardless, Patrick is destined for large things. His latest effort Baby, Come Home was recorded in Kansas at a studio I am quite fond of. A lot of great records have come out of Black Lodge Recordings. Patrick is slated to open for Jens Lekman on a few East Coast dates.
I stopped in at the Brooklynvegan party at R Bar with hopes of catching Yeasayer. I only went along for a lark. The gaudy bar was jam-packed with self-righteous music snobs and nerdy blogger types, presumably there for the free booze. The stage, even using that term grants R Bar way too much credit, was minuscule and insignificant. It was really absurd, but I guess that's how they do it here in NY. I had already seen them perform once in Brooklyn and so I left after realizing that things were running late, another NY norm. When I relayed the description of the masses at R Bar to my good friend at the Fader Party she replied, "You mean there were a bunch of people like you?" I thought to myself for a moment and realized that there were simply too many music zealots for one cramped room.
I proceeded to the Fader Party on Orchard to catch Wild Light. I had merely heard of them because they opened for Arcade Fire at the monstrous Randall's Island extravaganza. When a small band, who you've never heard of, lands the opening slot for one of the highest paid artists of the year, they get launched into quasi-stardom instantly. So I promised myself I would go see what they were all about. It was easy to see why they had been chosen for such a prestigious opening slot. They have an energy that is comparable to Arcade Fire in that gang vocals, hook-laden piano, and expansive acoustic guitars dominate their songs. The picture emblazoned on their myspace even depicts an Arcade Fire-esque notion: walking down the street freely, jamming in unison as renegade musicians. After all this touring with Arcade Fire, I'm sure they'll be closer to a household name than you might expect.
I ran back over to the Cake Shop to catch San Francisco's Papercuts. I've been a big fan of their second release Can't Go Back ever since Grizzly Bear toured with them. Their lo-fi murmurs are reminiscent of the mid 60s. Front man Jason Quever's voice is so saccharine I almost can't bear it. They ran through a set that included my favorite song "John Brown", which sounds like it belongs in San Francisco circa fall of '68. Their music contains simple, ghostly qualities that bring to mind Simon and Garfunkel. The small underground venue was brimming with appreciative folk. Papercuts were quite well-received.
At some point, I caught Michigan natives The Silent Years at the North vs South showdown hosted by the Annex. They were selected as Spin's "Underground Artist of the Year" for 2007. Unfortunately, the venue wasn't entirely conducive to a memorable show. It was a pretty sad excuse for a venue actually. I sat in on a few songs and left after I realized I might not catch my favorite song "Someone To Keep Us Warm". The Silent Years repped the North hardcore, giving the acts from the South a run for their money.
I paid the Fader Party another visit because it was around the corner and New Zealand's The Checks were playing. I had never heard much of their music, but I find any music from other regions of the world intriguing. They rocked out high-energy, heavy blues-rock that reminded me of Black Rebel Motorcycle Club and Kings of Leon, among other pioneers in this realm. Front man Ed Knowles knows how to bring the rock. His lively antics, jumping around and screaming, were entirely alluring.
Then I ran over to Bowery Ballroom to catch Drug Rug, who hail from Cambridge, MA. They were opening for a pretty substantial bill of Indie rock mid-weights like 1900s, Sahara Hotnights, The Maccabees, and Spinto Band. Drug Rug's retro feel is fueled by dueling boy-girl vocals, psychedelic solos, and a lo-fi backing of keys. Front woman Sarah is just about the cutest thing ever. She seems like an endless source of exuberance, smiling and laughing throughout their set. The crowd, which was scant at that point, enjoyed their playful presence. One of the highlights was seeing "Day I Die" performed live. Spot on. It's a shame people probably weren't heading over to Bowery until later in the evening for the bigger bands because they missed out on a great show.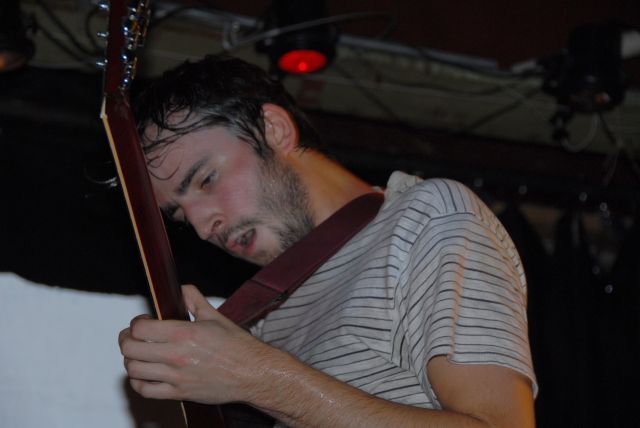 I'm the only person crazy enough to pay for a show during CMJ. I was so enthused by Foals' set on Day Two that I had to see them again. After running into them in the subway, I decided Brooklyn would be a great place to see them perform again. How about right next door to the Music Hall? Yeah, that works. Galapagos is a beautiful, vaulted space that resides directly beside the Music Hall of Williamsburg. It's clear that the space was created for art, first and foremost, and then music. The stage was pretty weak, but I just wanted to see Foals again before they head out to tour Europe with Bloc Party. By then they should be huge. They zipped through a rocking set of infectious new tunes like "Hummer" and "Mathletics". They seemed less fresh-off-the-plane. When I saw them on Day Two they had just come from JFK, they were having amplifier issues, and people were anxiously waiting. Consequently, they didn't appear to have their heads totally in it. However, this time around front man Yannis Philippakis was brimming with explosive energy. He hopped into the audience and ran around, violently knocking into me at the front. I was completely enraptured by the maelstrom. If Bloc Party dared to think outside of the box for an album, they just might have ended up here.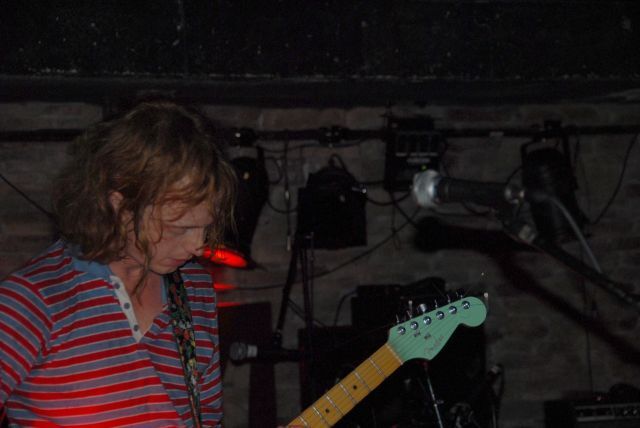 Finally, I landed at Crash Mansion for another round of Wild Light and MGMT. Crash Mansion is a comfortable median betwixt posh bar and relaxing hangout spot. I thought to myself, "I could see myself going there quite a bit if I lived in this city. Not nearly as nauseating as the Brooklynvegan party at R Bar." Wild Light put on more of a performance than they did at the Fader Party. They prefaced some of their songs with actual anecdotes, "Some people were pissed off that we played this song at Randall's Island. Fuck 'em!" Wild Light put on a memorable show, but after seeing them twice in the span of six hours I felt as though I had had my fix for the rest of the year. Besides, my anticipation for MGMT sort of overshadowed Wild Light's set. I had seen MGMT at the Fader Party on Day Two, but I was so jazzed by their performance that I promised myself to see them again. As I said earlier, they're one of my favorite band at this moment. They started plowing through their set around one in the morning and continued to bang out jams until the early morning. Everyone danced like there was no tomorrow. I sweat through all my clothes, nearly went deaf, and sang my little heart out to songs from their latest effort Oracular Spectacular like "Weekend Wars", "The Youth", "Time To Pretend", and "Electric Feel". I'm dying to hear "Kids" live, but alas, we were not afforded the jam. I'm still convinced that these guys are the next big thing.
Also, my brother and his friend caught Ghostland Observatory at Webster Hall last night. "The lights were fucking awesome! Everyone was mad into it. The place was hoppin'." I vowed not to attend because I had seen them recently, but their live performance is so good that I was tempted by the thought of ditching all my other plans. More music mayhem to come...
Cruise off the highway and hit locally-known spots for some tasty bites.

Fentanyl and other drugs fuel record deaths among people experiencing homelessness in L.A. County. From 2019 to 2021, deaths jumped 70% to more than 2,200 in a single year.

This fungi isn't a "fun guy." Here's what to do if you spot or suspect mold in your home.

Donald Trump was a fading TV presence when the WGA strike put a dent in network schedules.

Edward Bronstein died in March 2020 while officers were forcibly taking a blood sample after his detention.

A hike can be a beautiful backdrop as you build your connection with someone.