Chris Schlarb's Most Profound Deaths of 2006
Stories like these are only possible with your help!
You have the power to keep local news strong for the coming months. Your financial support today keeps our reporters ready to meet the needs of our city. Thank you for investing in your community.
Chris Schlarb, the executive producer of 40 Bands 80 Minutes has done something LA hasn't seen in decades. In an incredible melding of classic punk docs like Decline of Western Civilization and Urgh! A Music War, Schlarb and director Sean Carnage took their cameras to Hollywood's Il Corral and beautifully archived what's happening in the experimental punk scene.
Think you like noise? Think you're punk enough? LAist had to tap out after 19 bands 38 minutes. Drummer playing trumpet - fine. Maybe gay rap trio - fine. Chick singing to prerecorded beats and synths - fine. But after a while it wears on you separating the punks from the poseurs and once again we've been found out.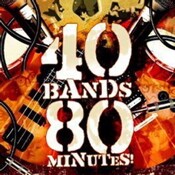 Chris Schlarb's Most Profound Deaths of 2006
Instead of giving some staid mechanical/material top 10 list I figured I'd try to dig a little deeper. This is a list of the most profound losses I experienced this year. Of course this is not representative of the greater importance of anyone included or not included herein and listing them 1 to 10 is nothing more than a contrivance to remember and reflect on these lives lived.
10. Pip Pyle- Curiously monikered and little known British drummer who performed in Gong and Hatfield and the North. Had the distinction of replacing two of the most revered drummers in England: Charles Hayward (of This Heat) in All Wet And Dripping and Bill Bruford (of Yes) in National Health.
9. Rod Dedeaux- Briefly the shortstop for the Brooklyn Dodgers and for 46 years, the manager of the USC Trojan Baseball Team. He played and coached my grandfather and spoke at his funeral. The baseball field at USC is named in his honor.
8. Coretta Scott King- Activist wife of Martin Luther King, Jr. In addition to surviving her husbands assassination and raising their four children she remained a visible icon for civil and human rights. In 1998 she gave a speech in which she said: "Homophobia is like racism and anti-Semitism and other forms of bigotry in that it seeks to dehumanize a large group of people, to deny their humanity, their dignity and personhood."
7. Buck O'Neil- Iconic baseball player and manager of the Kansas City Monarchs. O'Neil was a teammate of Satchel Paige and later a scout for the Chicago Cubs. He took two at-bats in a minor league game at the age of 94 (he walked twice). Inexplicably, he has still not been honored with a place in the Baseball Hall of Fame in Cooperstown, NY.
6. Ali Farka Toure- Superficially known as "the African John Lee Hooker," Ali Farka Toure was a Malian born guitarist who inverted Morocco's gnawa music into transcendent electric guitar blues meditations. A memorial benefit concert, with performances from Peter Gabriel, collaborator Ry Cooder and Bonnie Raitt will be held in his honor in Bamako in 2007.
5. Syd Barrett- Influential, mentally ill vocalist and lyricist of Pink Floyd. He wrote often of lost loves, animals and a gnome named Grimble Grumble. Disappeared from public life in the early 1970's and perhaps as a result of medication taken to cure his mental illness stopped writing music altogether.
4. Malachi Richter- Chicago-based musician and activist who set himself on fire in protest of the Bush policies and practices in Iraq and abroad. He was an estranged father, an active member of the Chicago experimental and free jazz community and wrote his own obituary.
3. James Kim- A columnist and television/internet personality Kim died in the Oregon wilderness after he and his family were snowbound in their car. After six days he left his wife and two children in an attempt to find help but succumbed to hypothermia. His family was rescued two days later and when his body was found rescue workers called his attempt "superhuman."
2. Robert Altman- A true auteur, he directed such iconoclastic and irreverent films as The Long Goodbye, Nashville, The Player and Short Cuts. His multi-tracked, improvisational approach to dialogue heavily influenced almost every ensemble driven film made three decades out. He adroitly said, "Retirement? You're talking about death, right?"
1. Gregoria Lomas- The Saint of San Pedro. A gentle, loving woman who fed all who stepped foot inside her home. She smiled at and prayed for thousands more. Over 300 people waited to pay their respects at the tiny church, many bringing flags and photographs celebrating my abuelita and her beloved Dodgers. She is deeply missed by all.
Honorable Mentions (Rest In Peace):
Rufus Harley- the one and only king of jazz bagpipery
J. Dilla- beloved hip-hop producer
Don Alias- prolific session musician
Red Auerbach- greatest coach in the history of the NBA
Ray Barretto- the Godfather of Latin jazz
Don Knotts- Incredible Mr. Limpet and Mr. Furley
Arthur Lee- Founder and leader of Love
György Ligeti- Stanley Kubrick's favorite modern composer
Billy Preston- "the fifth Beatle"
Tony Jay- actor and inimitable voice talent
Jackie McLean- avant garde jazz saxophonist responsible for "Antiquity"
Arif Marden- producer and record label mogul
Dave Cockrum- artist and co-creator of many of the modern X-men characters
screen cap of Health performing in 40 Bands 80 Minutes which you can get on Amazon