This is an archival story that predates current editorial management.
This archival content was written, edited, and published prior to LAist's acquisition by its current owner, Southern California Public Radio ("SCPR"). Content, such as language choice and subject matter, in archival articles therefore may not align with SCPR's current editorial standards. To learn more about those standards and why we make this distinction, please click here.
Chicken Boy is Coming!
Support your source for local news!
The local news you read here every day is crafted for you, but right now, we need your help to keep it going. In these uncertain times, your support is even more important. Today, put a dollar value on the trustworthy reporting you rely on all year long. We can't hold those in power accountable and uplift voices from the community without your partnership. Thank you.
Chicken Boy, who once stood proudly atop the Chicken Boy restaurant in downtown LA, may finally have found a permanent home. Measuring around 22 feet tall, this statue is impressive not only for its height, but because it is a statue of a man with the head of a chicken. Or a chicken with the body of a man. I'm not sure which is better. Plus, he cannibalistically holds a bucket of chicken parts. He appears to have been created by Steve Dashew's International Fiberglass Company, creators of the legendary "muffler man" statues. You may have seen the golfing muffler man that watches over the 405 freeway just south of the 110 split. Chicken Boy is like the muffler man's cousin. The chicken-headed cousin that the family would prefer not to discuss.
Chicken Boy was rescued by Amy Inouye in 1984 after the restaurant closed down and he was threatened by impending construction. She was surprised to discover that local museums were not interested in housing this historic monument. So she held on to him, year after year, until he became a defining element in her life, as well as the mascot of her burgeoning catalog business. She resigned herself to being known forever as Chicken Boy's "mom".
Recently, I started hearing some buzz about Chicken Boy again. Then I started noticing the sock chickens. Sock monkeys are one thing, but sock chickens? I started asking questions. I was told that his name is Chicken Monkey (naturally). Inouye has been selling the Chicken Monkeys as a fundraiser. The plan is to finally erect Chicken Boy at her Highland Park shop, Future Studio.
I happened to "stumble across" the disassembled form of Chicken Boy lying in repose in a back alley off of Figueroa. I also just happened to catch a few pictures of the elusive Chicken Boy by standing on my tippy-toes and holding the camera above the locked gates like a crazed paparazzo. The gallery was closed for the night, so I was unable to speak with Chicken Boy's mom, or buy a Chicken Monkey. But is is with great anticipation that I await the proud erection of Chicken Boy.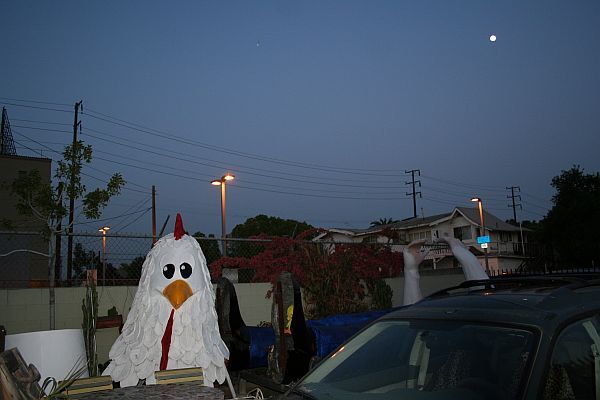 Cruise off the highway and hit locally-known spots for some tasty bites.

Fentanyl and other drugs fuel record deaths among people experiencing homelessness in L.A. County. From 2019 to 2021, deaths jumped 70% to more than 2,200 in a single year.

This fungi isn't a "fun guy." Here's what to do if you spot or suspect mold in your home.

Donald Trump was a fading TV presence when the WGA strike put a dent in network schedules.

Edward Bronstein died in March 2020 while officers were forcibly taking a blood sample after his detention.

A hike can be a beautiful backdrop as you build your connection with someone.