This is an archival story that predates current editorial management.
This archival content was written, edited, and published prior to LAist's acquisition by its current owner, Southern California Public Radio ("SCPR"). Content, such as language choice and subject matter, in archival articles therefore may not align with SCPR's current editorial standards. To learn more about those standards and why we make this distinction, please click here.
Bumble Bee Foods Charged In Death Of Employee Cooked In Industrial Oven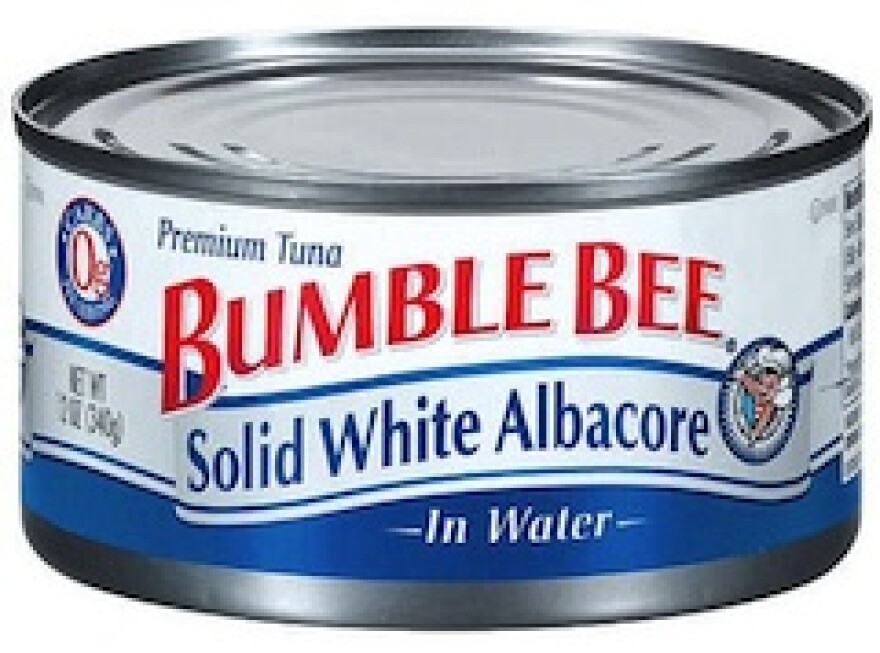 We need to hear from you.
Today, put a dollar value on the trustworthy reporting you rely on all year long. The local news you read here every day is crafted for you, but right now, we need your help to keep it going. In these uncertain times, your support is even more important. We can't hold those in power accountable and uplift voices from the community without your partnership. Thank you.
The company that makes Bumble Bee tuna, along with two managers, have been charged with violating worker safety laws that allegedly led to the gruesome death of an employee.
In 2012, Jose Melena, 62, was cooked to death after getting trapped in an industrial oven at a Santa Fe Springs plant run by Bumble Bee Foods LLC. This week the Los Angeles County District Attorney announced that the company was being charged with willfully violating worker safety rules.
Bumble Bee's former Safety Manager Saul Florez; the company's Director of Plant Operations Angel Rodriguez; and Bumble Bee Foods LLC were charged with three felony counts of violating worker safety laws that caused an employee's death. Florez and Rodriguez each face three years in state prison along with a $250,000 fine. San Diego-based Bumble Bee Foods faces a maximum fine of $1.5 million. The defendants are scheduled to be arraigned May 27.
Prosecutors say Melena entered a 35-foot-long oven, a pressurized steam cooker that sterilizes the tuna at 270 degrees in a 2-hour process. Coworkers were unaware he was inside while they loaded 12,000 pounds of fish, closed the door and started the oven. The victim got trapped inside and was cooked to death. Melena's severely burned remains were found in the oven. He had worked for the company for six years.
District Attorney Jackie Lacey said in a statement that this case is part of a broader plan to step up prosecution of safety violations that affect workers:
"For the past year, prosecutors and investigators from my office have begun rolling out to major industrial incidents involving serious worker injuries and death. Our goal is to enhance the criminal prosecution of workplace safety violations. Although the Bumble Bee investigation began in 2012, this case represents our commitment to protecting workers from illegal - and, potentially, deadly - on-the-job practices."
Cal-OSHA is still investigating the case. They released a report earlier detailing some of what led to Melena getting trapped in the oven.
Related:
Bumble Bee Foods Employee Dies After Being Cooked In Oven
How A Bumble Bee Foods Employee Got Cooked To Death In An Oven
Former Bumble Bee Employee on Worker Cooked to Death in Plant Oven: Someone Made a 'bad mistake'
It's been many, many years since we saw this much snow in our mountains. Going up there right now isn't safe, but here are some places where you can enjoy the view and snap a pic.

April Valentine died at Centinela Hospital. Her daughter was born by emergency C-section. She'd gone into the pregnancy with a plan, knowing Black mothers like herself were at higher risk.

A look at years past when snows creeped into our citified neighborhoods, away from the mountains and foothills.

In the face of a drier future, that iconic piece of Americana is on its way out in Southern California.

Bob Gregory, 62, went missing the same day as Sands. His body was recovered near Mount Islip.