This is an archival story that predates current editorial management.
This archival content was written, edited, and published prior to LAist's acquisition by its current owner, Southern California Public Radio ("SCPR"). Content, such as language choice and subject matter, in archival articles therefore may not align with SCPR's current editorial standards. To learn more about those standards and why we make this distinction, please click here.
DEVELOPING: Explosion in Downtown, LAPD Officer Injured
Before you read more...
Dear reader, we're asking you to help us keep local news available for all. Your financial support keeps our stories free to read, instead of hidden behind paywalls. We believe when reliable local reporting is widely available, the entire community benefits. Thank you for investing in your neighborhood.
First Responders to the scene of an underground explosion in downtown Los Angeles | Photo by Callie Miller/LAist
The 4th St. bridge and 3rd Street is closed between Alameda and Central due to an explosion at 637 E. 3rd St. Unknown in nature at this point, the explosion left one LAPD officer with minor injuries who was transported to the hospital. Another officer in the patrol car was not hurt.
According to Don Allen, a dogwalker who witnessed the incident from 20 feet away, the explosion sounded larger than what he saw in the resulting smoke. "I heard a loud explosion, stopped in my tracks and saw some white smoke." He also said that the police were already on the scene before the explosion setting off flares.
Before the explosion, a LAPD unit on routine patrol driving 3rd Street spotted smoke coming up from a manhole near Alameda, proceeded to call the fire department and began to block traffic. "As the LAFD Engine Company arrived, the Officer drove to the Fire Department's location and parked his patrol car to block traffic - and by happenstance, parked atop a distant manhole," LAFD Spokeman Brian Humphrey explained in a phone interview and followed up with in a comment on LAist.
"Moments after he exited the patrol car (to point out the formerly smoking manhole to LAFD personnel), an explosion occurred in the manhole he inadvertently parked above." Luckily, he was not hit be debris, but felt lower back pain and strain, probably due to the inertia of the blast. He was reported to be in good spirits and laughing about the situation soon after. The forceful explosion damaged the undercarriage of his Ford Crown Victoria
Around five bomb squad vehicles responded to the scene and pedestrian access was cut off.
The underground, maybe electric-related, explosion was reported to the Los Angeles Fire Department at 2:21 p.m. this afternoon prompting no evacuation or escalating hazard, according to LAFD spokesperson Brian Humphrey. 3rd Street remains closed between Alameda and Central as the City's Department of Water and Power investigates a spontaneous matter that appears to be purely within their domain, he said.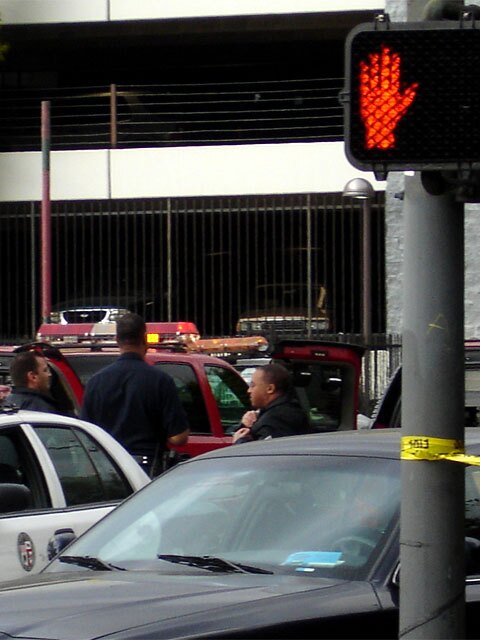 Callie Miller contributed to this report with photos and interview subject findings