This is an archival story that predates current editorial management.
This archival content was written, edited, and published prior to LAist's acquisition by its current owner, Southern California Public Radio ("SCPR"). Content, such as language choice and subject matter, in archival articles therefore may not align with SCPR's current editorial standards. To learn more about those standards and why we make this distinction, please click here.
Downtown Fights Doggy Pee Problem With AstroTurf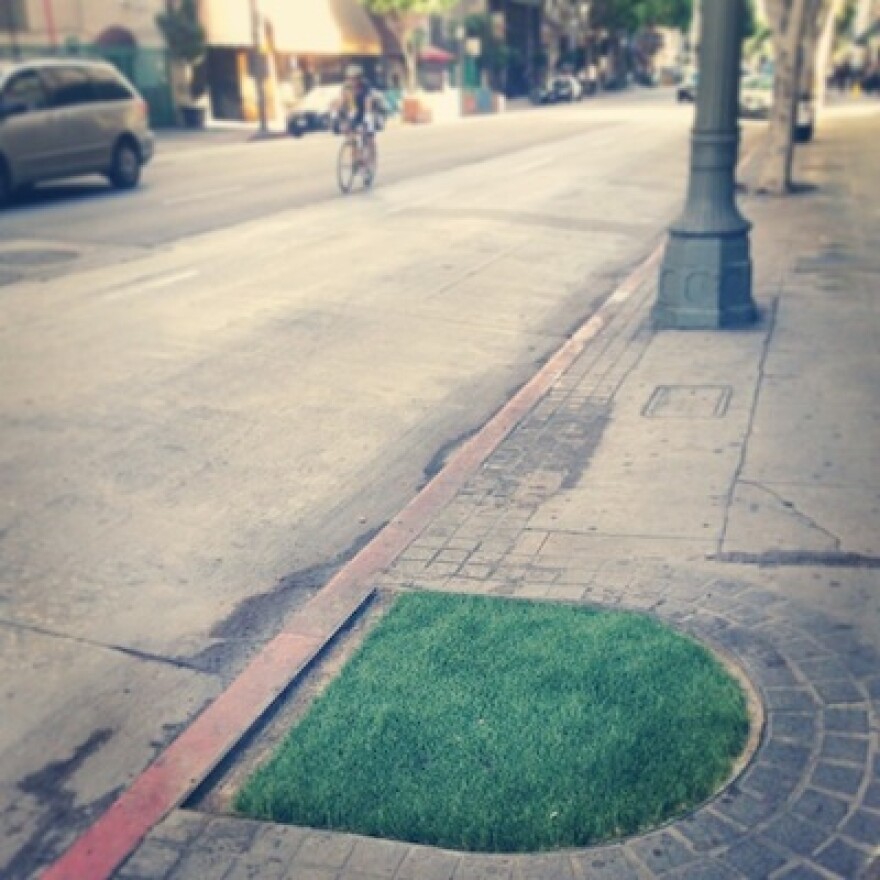 Our June member drive is live: protect this resource!
Right now, we need your help during our short June member drive to keep the local news you read here every day going. This has been a challenging year, but with your help, we can get one step closer to closing our budget gap. Today, put a dollar value on the trustworthy reporting you rely on all year long. We can't hold those in power accountable and uplift voices from the community without your partnership.
Downtown folks have been embracing the dog culture with open arms, but things are getting a little stinky. New patches of AstroTurf on the city streets might be the solution to curbing the growing dog-pee problem.The Historic Downtown Improvement District (HDBIB) launched a program in August that added three fake plots of grass measuring 50-by-50-inches to the concrete in the heart of Downtown: at 6th and Main, 7th and Main, and 7th and Spring streets, according to CBS Los Angeles. The turfs are located away from restaurants and pedestrian traffic, and get hosed off and deodorized daily, reported Downtown News. If the pilot program grows in popularity, the grassy spots could grow throughout the city.
Downtown residents have been facing a major issue with their concrete jungle and love for dogs. One-third of the residents there own a dog, according to a 2013 demographic survey by the Downtown Center Business Improvement District. With the lack of actual greenery in the area, dog owners have been letting their pups mark their territories anywhere from restaurant walls to sidewalks and metal trashcans. HDBIB has also been putting up signs on garbage cans reminding pet owners where they should and shouldn't be allowing their dogs to do their business, according to the Los Angeles Times.
Related stories:
Downtown's Newest Bar Features a "Dog Check"
Cruise off the highway and hit locally-known spots for some tasty bites.

Fentanyl and other drugs fuel record deaths among people experiencing homelessness in L.A. County. From 2019 to 2021, deaths jumped 70% to more than 2,200 in a single year.

This fungi isn't a "fun guy." Here's what to do if you spot or suspect mold in your home.

Donald Trump was a fading TV presence when the WGA strike put a dent in network schedules.

Edward Bronstein died in March 2020 while officers were forcibly taking a blood sample after his detention.

A hike can be a beautiful backdrop as you build your connection with someone.