This is an archival story that predates current editorial management.
This archival content was written, edited, and published prior to LAist's acquisition by its current owner, Southern California Public Radio ("SCPR"). Content, such as language choice and subject matter, in archival articles therefore may not align with SCPR's current editorial standards. To learn more about those standards and why we make this distinction, please click here.
A New Car-Free Festival Will Close 17 Miles Of Road In The San Gabriel Valley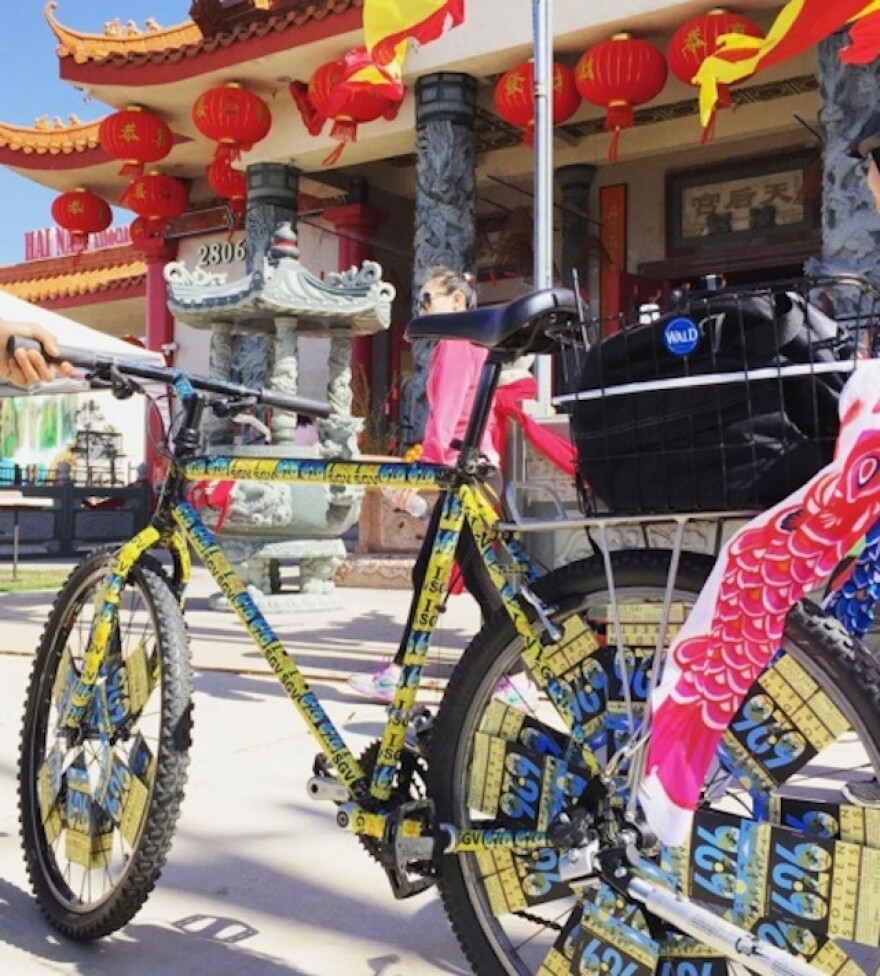 Support your source for local news!
The local news you read here every day is crafted for you, but right now, we need your help to keep it going. In these uncertain times, your support is even more important. Today, put a dollar value on the trustworthy reporting you rely on all year long. We can't hold those in power accountable and uplift voices from the community without your partnership.
This June the San Gabriel Valley will host a street festival over 17-miles-long for pedestrians and bicyclists, connecting six Gold Line stops.
The sprawling car-free event—known as 626 Golden Streets—will take place on Sunday, June 26 and will temporarily close a continuous stretch of streets from South Pasadena to Azusa for people to walk, run, skate, or bike to their heart's content. Heck, you can even ride a penny farthing if you want, or really just about anything that doesn't have a motor. Inspired by other similar open streets and CicLAvia-type events, the day is designed to let people freely explore the SGV without cars and to get familiar with the recently opened Gold Line Foothill Extension that runs the length of the route. So, in case you're not feeling up for trekking the whole 17+ mile route—seeing as CicLAvia routes are usually just 4 to 6 miles—you can always hop on board the Metro.
The event will take place from 8 a.m. to 2 p.m. and pass through the cities of South Pasadena, San Marino, Arcadia, Monrovia, Duarte, Irwindale, and Azusa. Along the way there will be activity hubs—similar to ones at CicLAvia—where you can rest and hydrate, use the bathroom, and participate in fun activities. Details for the hubs are still in the works, but here's the route in the meantime:

(via 626 Golden Streets)
If you're feeling particularly ambitious, you can also sign up for the Train Run half marathon, which begins in South Pasadena and continues along the event route. There's also an added twist where you can "Train Jump" and cover just select portions of the run by hopping on the Metro.
The event is free and open to the public, though tax-deductible donations are welcome.
You can find out more and stay tuned for updates here.
h/t: Curbed LA
Cruise off the highway and hit locally-known spots for some tasty bites.

Fentanyl and other drugs fuel record deaths among people experiencing homelessness in L.A. County. From 2019 to 2021, deaths jumped 70% to more than 2,200 in a single year.

This fungi isn't a "fun guy." Here's what to do if you spot or suspect mold in your home.

Donald Trump was a fading TV presence when the WGA strike put a dent in network schedules.

Edward Bronstein died in March 2020 while officers were forcibly taking a blood sample after his detention.

A hike can be a beautiful backdrop as you build your connection with someone.