This is an archival story that predates current editorial management.
This archival content was written, edited, and published prior to LAist's acquisition by its current owner, Southern California Public Radio ("SCPR"). Content, such as language choice and subject matter, in archival articles therefore may not align with SCPR's current editorial standards. To learn more about those standards and why we make this distinction, please click here.
Pencil This In: Amoeba Film Series, Insomnia @ ALOUD
Support your source for local news!
The local news you read here every day is crafted for you, but right now, we need your help to keep it going. In these uncertain times, your support is even more important. Today, put a dollar value on the trustworthy reporting you rely on all year long. We can't hold those in power accountable and uplift voices from the community without your partnership. Thank you.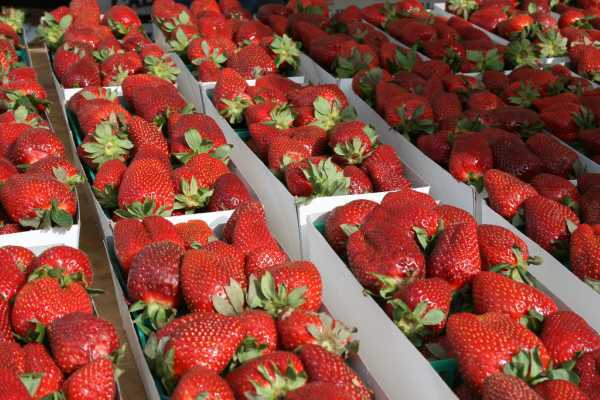 Vroman's hosts a reading by author Adam Leith Gollner who's obsessed with fruits. / Photo by pink_fish13 via LAist's flickr pool.
TALK
Author Gayle Greene will discuss her book An Insomniac's Slant on Sleep with Alice Wexler, research scholar at the UCLA Center for the Study of Women. Greene weaves memoir and investigation on the science of sleep -- from the perspective of a life-long insomniac. She'll guide the audience through the "hidden terrain of a devastating and little understood condition." The free event begins at 7 pm tonight at the Central Library as part of its ALOUD series. Reservations are recommended.
FILM*
Amoeba's hosting a free Monday Movies series @ Space15Twenty in Hollywood for the month of March. There will be free Izze Soda and popcorn, director Q&A's, guest DJs and a few more surprises. All the films are related to and tonight Amoeba screens This is the Life, a film that examines "the racial, social and musical implications of South Central Los Angeles' famed '90s Hip Hop venue The Good Life." The film features interviews with various members of Freestyle Fellowship, Project Blowed, Busdriver, Cut Chemist, Chali 2na, 2Mex, Pigeon John and others." Director and producer Ava Du Vernay will be attending to sign DVDs and answer questions.
CLASSICAL
Southwest Chamber Music celebrates the work of American composers Wadada Leo Smith, Charles Ives and another composer who helped shape American music: Antonín Dvořák. The concert begins at 8 pm at the Colburn School of Performing Arts with the pre-concert talk beginning at 7:30 pm. On the program are Ives' "String Quartet No.1, 'From the Salvation Army,' Smith's "Black Church, First Gathering of the World Spirit" and Dvořák's "Quintet for Piano & Strings, Op. 81."
READING
Tonight at 7 pm at Vroman's in Pasadena author Adam Leith Gollner discusses and signs his book The Fruit Hunters: A Story of Nature, Adventure, Commerce and Obsession. "Gollner examines the fruits we eat and explains why we eat them (the scientific, economic and aesthetic reasons); traces the life of mass-produced fruits (how they are created, grown and marketed) and explores the underworld of fruits that are inaccessible, ignored and even forbidden in the Western world." Is Gollner as obsessed with fruit as Michael Pollan was with his four meals? See for yourself tonight.
*Pencil pick of the day
Donald Trump was a fading TV presence when the WGA strike put a dent in network schedules.

Pickets are being held outside at movie and TV studios across the city

For some critics, this feels less like a momentous departure and more like a footnote.

Disneyland's famous "Fantasmic!" show came to a sudden end when its 45-foot animatronic dragon — Maleficent — burst into flames.

Leads Ali Wong and Steven Yeun issue a joint statement along with show creator Lee Sung Jin.

Every two years, Desert X presents site-specific outdoor installations throughout the Coachella Valley. Two Los Angeles artists have new work on display.