12-Story, Origami-Like Building To Spring Up In Miracle Mile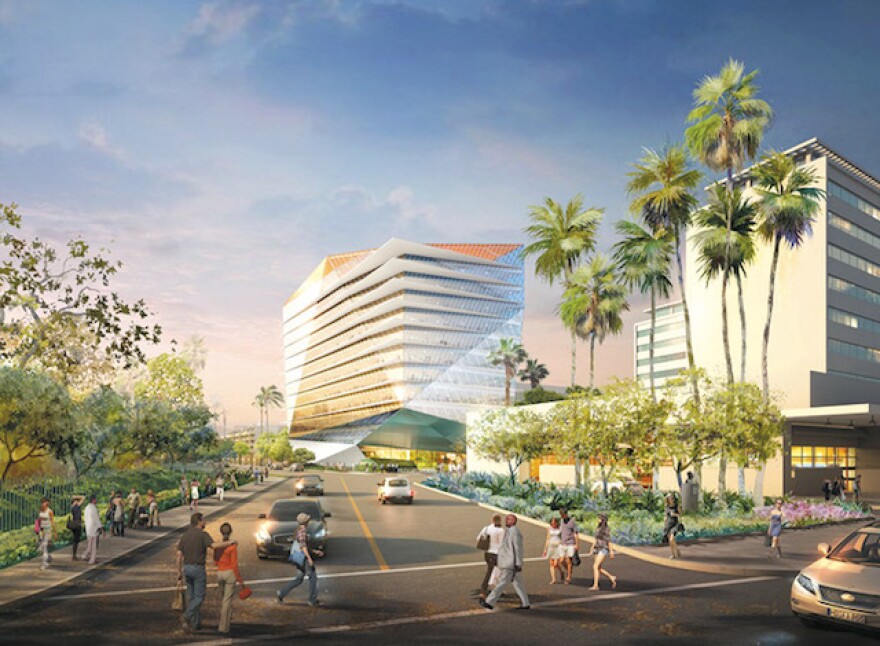 Stories like these are only possible with your help!
Your donation today keeps LAist independent, ready to meet the needs of our city, and paywall free. Thank you for your partnership, we can't do this without you.
Looks like the Miracle Mile area is going to see a lot more construction in the future.
There's LACMA's $600-million makeover and the Purple Line's new stop at Wilshire and Fairfax. And now we have word of a new 12-story, 250,000 square-foot office building that will land on 620 South Curson Avenue, reports the Real Deal. It'll be right across the street from the La Brea Tar Pits, so this new, gleaming development will be a novel way of telling prehistoric animals to shove it.
Called the Wilshire Curson building, the $170 million project is expected to break ground next spring and should be be completed by 2017. According to developers, the building will supply the area with much needed office space; the nearby SAG-AFTRA building is already at full capacity.
"I think it's badly needed. There is very little office space available of any quality in the area. There are quality buildings but no space," said Stephen W. Kramer, founder and president of the Greater Miracle Mile Chamber of Commerce, told the Beverly Press.
The Wilshire Curson is also set to include public gardens and 2,100 parking spaces. In the renderings, the building looks a bit like a piece of origami, or one of those glass awards that physicians have lying on their desks.
The project is helmed by the J.H. Snyder Company, who also own the SAG-AFTRA building, the Wilshire Courtyard across the street, as well as a 27-story office building that's just a few yards away. So, all in all, the company will pretty much dominate that large swathe of property.