When It Rains It Pours: Yorba Linda Braces for Mudslides
Stories like these are only possible with your help!
You have the power to keep local news strong for the coming months. Your financial support today keeps our reporters ready to meet the needs of our city. Thank you for investing in your community.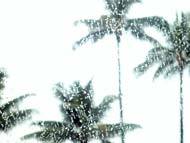 After sections of Yorba Linda were devastated last weekend beneath the powerful flames of the Triangle/Freeway Complex Fire, the city now faces another potential natural disaster: Mudslides. The OC Register explains how their city's public works director, Mark Stowell, has been "doing his best to impress upon the residents that the city's bare, fire-blackened hills now pose a huge threat to those homes that escaped last weekend's firestorm." With rains due to fall as early as tomorrow night, residents are not only having to recover from the fires, but also shore up their hillsides and homes with sandbags, in case the dried-out soil can't hold and the mud comes crashing down.