When And How To Watch Mayor Eric Garcetti's Speech Tonight At The DNC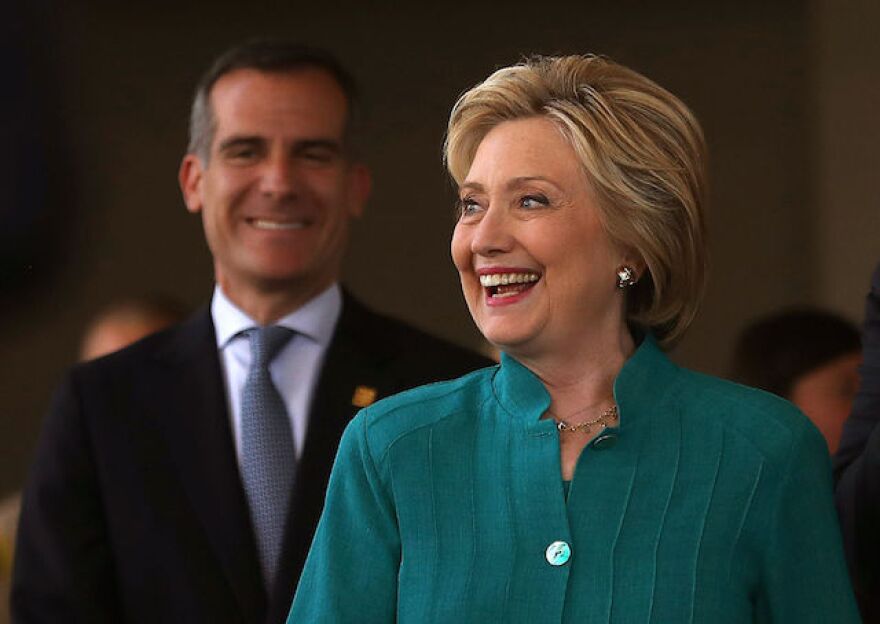 LAist relies on your reader support, not paywalls.
Freely accessible local news is vital. Please power our reporters and help keep us independent with a donation today.

Update [3:05 p.m.]Due to a last-minute scheduling change, Mayor Eric Garcetti spoke just after 3 p.m. Thursday. We'll post a link to the clip of his speech when it's up.Los Angeles' very own Mayor Eric Garcetti will be addressing the Democratic National Convention in Philadelphia tonight. Garcetti is serving as a democratic superdelegate at the convention and has also appeared on a number of panels.
"This is electric," he told KTLA from the convention floor on Tuesday. "As a father of a four-year-old girl, I couldn't be more excited to witness this history."
The mayor will be one of a number of speakers to precede Hillary Clinton's Democratic Party presidential nomination acceptance on the convention's closing night. He is scheduled to go on at 7 p.m. in Philly, or 4 p.m. here on the West Coast. You can stream his speech here.
Our mayor isn't the only elected official from City Hall repping L.A. this week in the City of Brotherly Love: four of Los Angeles' fifteen City Councilmembers are also in attendance. And, from the looks of it, they are having a pretty good time—here's a #squadgoals snap of the gang hanging on the convention floor:

From left: Councilman Joe Buscaino, Councilman David Ryu, Mayor Eric Garcetti and Councilman Bob Blumenfield, all chilling on the convention floor. Councilman Marqueece Harris-Dawson is not pictured, but was also in attendance. (Photo courtesy of Bob Blumenfield)